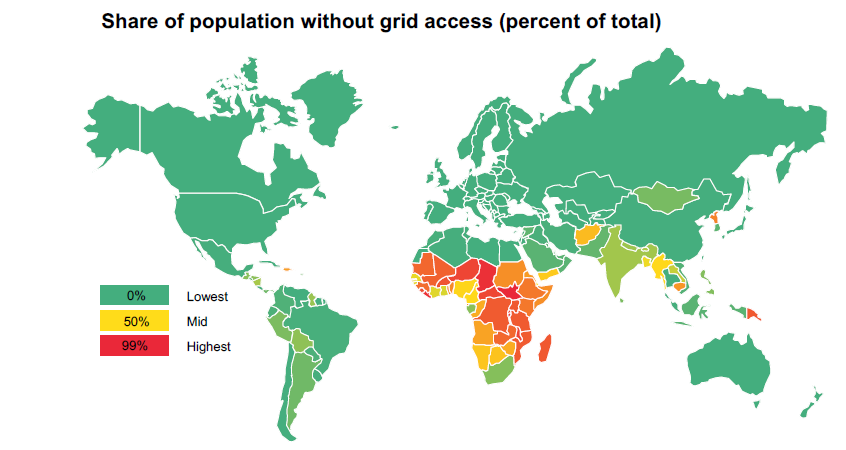 One in three off-grid households worldwide will use solar products by 2020, according to a new report from the World Bank and Bloomberg New Energy Finance (BNEF).
The 'Off-grid Solar Market Trends Report 2016' found that there are 1.2 billion people without access to the power grid, who spend $27 billion annually on lighting and mobile-phone charging technologies using kerosene, candles, battery torches and other fossil-fuel technologies.
The report claims that solar-powered portable lights and home kits offer a better service at a lower cost and such products are facing rising demand with US$276 million invested in the off-grid solar industry in 2015, a 15-fold increase since 2012.
Furthermore, there is a US$3.1 billion market opportunity for the off-grid solar industry by 2020, reaching just short of 100 million households. This will see highest concentrations in Sub-Saharan Africa, South and East Asia where 95% of the world's 1.2 billion people without access to the grid are living.
There are now more than 100 companies active in the stand-alone solar lanterns and solar home system kit market who are targeting people without electricity access. Cumulatively they had sold 20 million pico-solar products, which are products with panels of less than 10W power, by mid-2015. These sales were driven mostly by portable lights (59%). Portable lanterns retail for less than US$20 and have reached prices as low as US$5 of late.
For now the market growth has been concentrated in specific countries with Kenya, Tanzania and Ethiopia accounting for 66% of unit sales in Africa, while India leads the way in Asia. In Kenya more than 30% of people that are living off the grid have a solar product at home, according to estimates.
Many other countries in these regions offer significant growth opportunities in the off-grid solar sector.
However, the report warned that cheap generic pico-solar products, which are unbranded or brand-copies represent a market just as big as the brand-quality market. It claimed that these products, which challenge brand names by retailing at lower prices, could increase risk of market spoilage through unpredictable quality and a lack of warranties or after-sales service.
Nevertheless off-grid brands have reacted to this competition by focusing on developing distribution networks, entering new countries, selling more powerful systems with higher margins or developing new applications for urban back-up lighting or camping.
The Pay-as-you-go (PAYG) model of selling solar kits against small instalments rather than lump sum payments has attracted four times as much investment in half the time compared to those selling products for cash, however, firms extending consumer loans need far larger pools of money to scale effectively. Consequently the majority of households will still adopt off-grid solar through cash payments, said the report.
Along with the steep rise in off-grid solar lighting by 2020, seven million off-grid households are also expected use solar-powered fans and 15 million to have solar-powered TV by the same year, with small businesses also capturing the benefits.
The report was produced by the World Bank Group's Lighting Global Program, a platform supporting sustainable growth of the international off-grid solar market, written in collaboration with Bloomberg New Energy Finance (BNEF), and in cooperation with the Global Off-Grid Lighting Association (GOGLA).
PV Tech's publisher Solar Media will be hosting the second Off-Grid Solar and Renewables West Africa, in Accra, Ghana on 19-20 April 2016. The event will feature a top-level lineup of speakers from government and industry. Further information is available here.