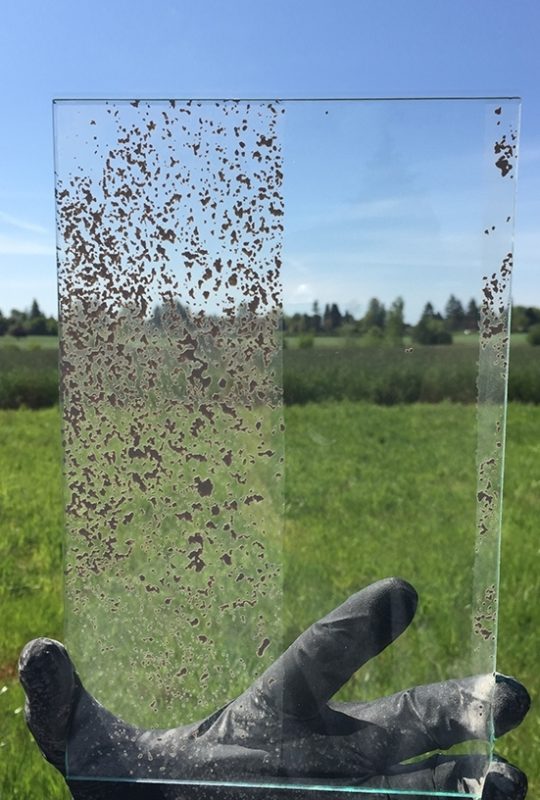 Pellucere Technologies has claimed to have developed the world's first field-installable, anti-reflective, anti-soiling solar panel coating, which is said to boost energy generation and reduces cleaning. The MoreSun products include an Anti-Reflective (AR) & Anti-Soiling (AS) silica shield to any solar array.
Problem
PV power plant performance optimization has become a critical operating metric to secure the highest IRR and lowest LCOE. Boosting plant performance without retrofitting PV panels is costly and time consuming.
Solution
MoreSun was developed based on advanced research at Oregon State University with support from the National Science Foundation, the Oregon Nanoscience and Microtechnologies Institute (ONAMI). MoreSun is a proprietary solar coating and application system that adds an Anti-Reflective (AR) & Anti-Soiling (AS) silica shield to any solar array. MoreSun includes the company's Talus Dirt Rejection Technology. 'Talus DRT' optimizes the unique physical properties of its silica shield's nano-structure to prevent buildup of dirt and other particulates. Unlike typical hydrophobic anti-soiling technologies, the unique properties of Talus DRT allow it to reject the dirt without waiting for rain or cleaning with water. Independent testing was said to have shown that MoreSun, which can be applied to any solar array, increases total energy output by up to 4.7% and increases power from direct axis light by up to 3.8%.
Applications
In-field application of Anti-Reflective (AR) & Anti-Soiling (AS) silica compounds on PV panels as well as being applied in the factory to modules or glass substrates.
Platform
MoreSun helps solar modules without AR capture more light, increasing energy output from direct axis light by 3.4 – 3.8% and total energy output by up to 4.7%, according to the company. The coating is formulated with Pellucere's proprietary Talus Dirt Rejection Technology that has been shown in testing to reduce the build-up of dirt, dust and other particulates by as much as 90%. Beyond the MoreSun chemistry, the company's patented field deposition technology allows far greater precision in installation to ensure a highly uniform and accurate application. Pellucere is currently testing a robotic applicator system that is expected to be released for field trials in the first part of 2020.
Availability
Currently available.