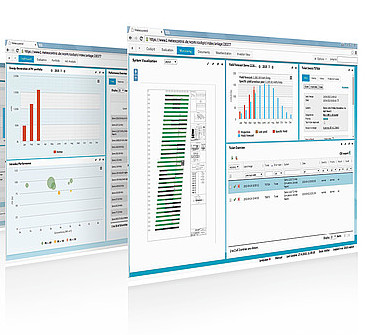 meteocontrol, a subsidiary of Shunfeng International Clean Energy (SFCE) is launching several new features and refinements made to its SCADA Center and VCOM monitoring solutions for PV power plants at Intersolar Europe 2016, as well as its 'Pit Stop' service for existing systems.
Problem
PV power plant owners continue to demand greater services and increased accuracy and response to maximize plant operations. Greater clarity on plant issues and alerts as well as the ability to react better to the needs of grid operators are required.
Solution
The new Pit Stop service provides a professional system check for a fixed price, comprises an expert inspection of components and a valid report that outlines faults and recommends solutions. The service is helpful for investors on the secondary market. Risks can be minimized and profits maximized when buying or selling systems. Further refinements to the blue'Log X series of data loggers focus on new functions that enable status information to be quickly and easily processed. These enhancements include configuration of the status inputs, real-time visualization of status changes and alerts from current status alarms. With the MX Module AO add-on module, system operators can use analog outputs to react even more flexibly to the needs of grid operators. meteocontrol is further refining its VCOM (Virtual Control Room). Functions such as the heat-map diagram, keyboard shortcuts for faster operation and analysis diagrams for ticket evaluation underscore the company's commitment to providing an effective monitoring platform. The improved alarm system with user-defined alarm rules is another highlight. Improved usability is found, for example, in a new feature that optimizes the further processing of incoming alarms by filtering and prioritizing them on a system-specific basis.
Applications
Operation and maintenance of PV power plants.
Platform
For operation management and managing large PV power plants, meteocontrol has developed a high-performance SCADA system that it continuously adapts to meet market requirements. Because this system does not depend on having a stable Internet connection and features a flexible user interface, it can be used anywhere and adapted to suit local requirements. Data is stored on a high-performance industry server and available on location for analyses. High-resolution live values allow errors to be located quickly and easily.
Availability
June 2016 onwards.