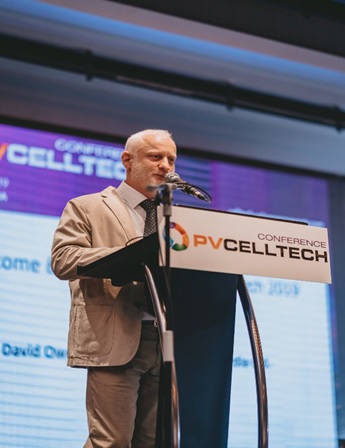 Ahead of PV Tech launching its new PV IndiaTech conference, on 24-25 April 2019, in Delhi, I review in this blog what the event is all about, and why the timing of the event has turned out to be perfect as India debates how to create a sustainable manufacturing segment that supplies quality modules to its downstream segments.
The event has been devised by PV Tech, following our successful global upstream conferences PV CellTech and PV ModuleTech.
Factors prompting the decision to hold a dedicated event within India
For the past few years, we have had many requests from the India PV sector, and in fact from many overseas companies seeking to increase their presence in the region, to hold a high-quality focused event in India.
In fact, during the past few years of the PV CellTech and PV ModuleTech events, it became clear that there was an Indian-specific requirement to capture many of the findings from these events as they relate directly to the Indian PV market.
However, towards the end of 2018, and so far in 2019, the announcements from SECI related to DCR carve-out capacity for Make-in-India product (cells and modules) going forward, finally convinced us of the need to hold the inaugural PV IndiaTech event in Delhi on 24-25 April 2019.
There appears to be a strong desire from all stakeholders within India to understand not only the production issues related to manufacturing, but also the impact on site reliability and investor returns.
During the past 6 months, we have been speaking to most of the key stakeholders within the India PV community, from government officials to asset managers. This ultimately guided the scope of the two-day PV IndiaTech agenda but also the companies and speakers on stage.
Outlining the agenda for PV IndiaTech 2019
The two day event is dominated by invited presentations, with some discussion sessions included also.
Day one starts with an inaugural session, where government bodies, such as MNRE, SECI and Invest India, spell out the existing and future landscape for solar within India, with a focus on how manufacturing and new capacity expansions are being supported and prioritised.
This is followed by a session that looks at the India market in more details, including how inward investments are being facilitated, the role of state governments. Among the speakers within this session are Bridge-to-India and Ernst & Young.
Central and state government initiatives and new manufacturing investments
While MNRE/SECI is providing the framework for future domestic content requirement (DCR) carve-out capacity levels, and indeed various other types of domestic manufacturing related investments, there is also new drive from various states to accelerated regional manufacturing bases for cell and module production, including also aspects of the module BoS eco-system such as EVA and backsheets.
There are about 4-5 states that are currently reviewing setting up manufacturing 'clusters' that would entail several gigawatts of new cell and module capacity, and possibly module materials production, such as that reported by Maharashtra back in September 2018.
These initiatives are akin to previous efforts to facilitate Indian PV manufacturing across its special economic zones (SEZs), but also are no different to regional manufacturing drivers that permeate most countries. In the solar sphere, US states are often seen to entice companies to set up new manufacturing sites for example; and of course, analogous have to be made to how China's regional drivers have so dramatically aided upstream capacity expansions there in recent years.
The opportunity created by state involvement within India today, to create regional manufacturing clusters, is interesting from several standpoints. For overseas companies looking to set up manufacturing within India, this route may assist in addressing infrastructure/build issues such as land availability, utility supply and permitting, while also linking some with local parties that wish to bring in financing in some kind of joint venture activity.
The fact that so many of the well-publicized inward investments of recent years, albeit mostly tenuous letters of intent or similar, have not come to fruition is in part due to companies overseas (mainly from China) perhaps not being fully au fait with the intricacies of Indian facilities and construction.
In this respect, the states' involvements may provide some hand-holding of sorts, making it easier for previous advocated of Make-in-India PV such as LONGi Solar, GCL, Trina Solar and others.
What is interesting however about the involvement of the states is that they effectively become devolved inward-investments umbrellas, and therefore need to be fully aware of what they are potentially getting involved in. From a solar perspective, this involves knowing what to do, and being fully informed about the key metrics driving manufacturing today in the industry.
Examples of effective inward investment
During the last 10 years, I have been fortunate enough to have had numerous discussions with central and devolved government and policy officials globally, on the topic of domestic PV manufacturing and the role of overseas company involvement.
The strategies across these bodies have been very different, with some simply grabbing any short-term opportunity that comes their way, irrespective of the company getting any regional incentive or the technology being deployed. In fact, this also relates to whether the goal has been to establish cell and module assembly facilities, or just final module assembly. This makes a huge difference.
Looking at the results, what has happened in Malaysia stands out by some margin, and much of this can be traced back to the inward investment agency there (MIDA) that put a focus on which companies to back, and to dive into the technologies they were seeking to deploy. This included also the demand to make cells, not simply modules, and to equip the factories with new state-of-the-art equipment, and not simply to ship over used and outdated tools from mothballed sites from the companies HQ regions.
If the various states within India can learn from the MIDA case-study in PV, they will go a long way to succeeding in their goals, but this will require their staff and advisors to go through a steep learning curve. In part, we are hoping that PV IndiaTech 2019 provides them with some facts and figures in terms of benchmarking cost and performance of PV manufacturing, and we have been actively seeking to bring these organizations to the event in Delhi for this purpose.
More on the event agenda
The morning of day one the conference concludes with presentations from some of the leading PV manufacturing companies globally today, spelling out production benchmarks and where they see technology going in the coming years. Talks here come from the likes of LONGi Solar and Meyer Burger.
The afternoon of day one starts with a session focused on existing PV manufacturing within India, and features the market-leaders today for cells and modules, including Adani Solar, Vikram Solar, and Waaree Energies. This session is critical, as these companies are uniquely positioned to comment on how Indian manufacturing can be successful and how the new policies being implemented can be best put into effect. New capacity expansions across cell and modules within India will certainly have strong involvement of domestic companies, not simply from inward investment.
Day one concludes with one of the most asked-for topics of PV IndiaTech 2019: module quality, certification, reliability and bankability.
Discussions over the past year with Indian companies (in particular developers, EPCs, IPPs, and site owners) routinely comes back to the issue of module quality and reliability. While not uncommon globally, the concerns from the Indian downstream community are much more pertinent, and have been driven by the low-ball capex tactics employed regularly for utility-site builds.
This issue is dominating all aspects of the Indian PV sector, and is fundamental to all parties, with the government's 2030/300GW plans being largely conditional on its initial 2020/100GW goal being deemed good value-for-money in setting up solar as a viable, competitive and reliably energy source.
More than 50 companies wanted to speak in this session alone! However, we decided to keep the company and speaker line-up highly focused and including complementary aspects of what feeds into module quality and reliability.
The session includes National Solar Energy Federation of India (NSEFI), STS (Senergy Technical Services) Certified, the independent engineering arm of L&T-Sargent & Lundy, and PV Evolution Labs. Each of these companies has specific involvement in the parameters guiding and measuring company and product reliability and bankability metrics used in the selection of product for utility scale solar deployment today. A panel discussion (expected to have eager participation from the audience!) will follow the invited talks.
Day two of PV IndiaTech 2019
We start day two of PV IndiaTech 2019 with a session specific to R&D technology-transfer. We decided to include this due to the need for Indian PV manufacturing – in particular cell production – to become state-of-the-art today and also to understand what next-generation cell architectures were being implemented outside the country.
When looking at many of the companies setting benchmark performance metrics for PV manufacturing today, a key component of this has been their engagement with some of the leading PV R&D institutes and how they have effectively transferred technology from lab-to-fab at the GW mass production level.
Speakers are from the University of New South Wales (UNSW), CEA-INES, the ISC Konstanz, SERIS and domestic-based IIT Bombay (NCPRE).
Returning to a key theme of day one, the following session is spearheaded by DuPont, looking at how quality through the value chain, in terms of module component supply, module assembly, system build, and tracking performance on-site back to materials and supplier choice. This issue also feeds into a host of topics impacting the India sector today, many of which were flagged above during the day one overview above.
The closing afternoon of PV IndiaTech 2019 starts by looking at companies that are market-leaders in technologies that differentiate from the China-centric c-Si wafer/cell production offerings today. This session is particularly relevant to India today, with the country having to ensure that future technology support is not simply adopting me-too variants of what China can dominate through economy-of-scale and single-digit gross-margin operations.
Technologies and companies challenging the China status-quo
Two of the companies presenting at this session are First Solar and 1366 Technologies.
First Solar already has a multi-GW track-record of module supply to the India market, is in the process of investing billion-dollar levels of capex into its new Series 6 thin-film panels, and has shown repeatedly that it can build its 'copy-exact' methodology in different countries with rapid pace and efficiency: factors that the Indian market needs during its next phases of investment.
1366 Technologies has hit the headlines recently, when reporting it would ramp its 'Direct Wafer' production at a new facility in Malaysia. The technology seeks to lower silicon utilization rates to below 1.5g/W with a lower cost structure seen today in the mainstream ingot/wafer two-stage process stages of the c-Si value-chain. The talk by 1366 is important now within the Indian context, with policy makers still grappling with how to create domestic production upstream from the cell stage, without simply being a second-rate option to Chinese wafer supply today.
Hearing from leading downstream players in the India market
The remaining talks in the afternoon of day two of the event are dedicated to some of the leading companies driving project development, EPC construction, portfolio ownership, O&M, asset management and IPP activities.
PV IndiaTech 2019 is featuring market-leaders during this session, including Adani Green Energy, ReNew Power, Mahindra Susten, ACME Group and Fortum. Further perspectives on O&M and asset management are being delivered by Alectris.
This session is critical within the scope of the two-day proceedings, as the Indian downstream segment is at the heart of the whole-industry drive to higher performing products with improved quality and reliability, and how this ultimately impacts on asset return-on-investment.
Furthermore, with increasing levels of DCR and domestic content use in the coming years, it is vital that the domestic downstream sector understands how to benchmark imported products (and materials) with those that are available today within India, or will be offered when the new upstream factories come online in the coming years.
How to attend PV IndiaTech 2019
The event takes place at the Leela Palace, New Delhi during 24-25 April 2019. Information on how to register to attend can be found by navigating the tabs at the event website here.