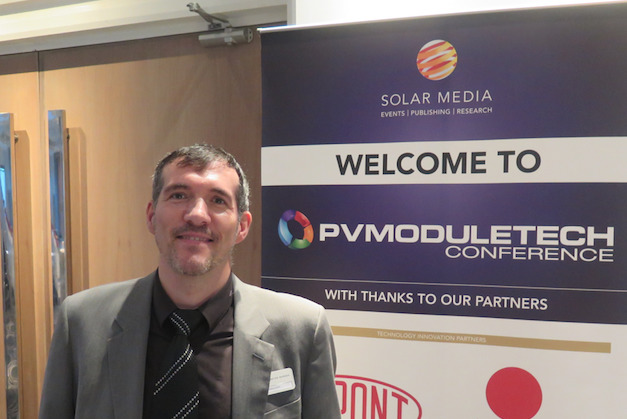 The movement to 6-busbar module architectures and the emergence of multi-wire technology were key topics at PV ModuleTech 2017. PV Tech caught up with Franck Genonceau, business manager PV portfolio, at leading PV manufacturing equipment supplier Meyer Burger, to look at what to expect in the next wave of mainstream module technologies.
Meyer Burger is one of the leading equipment suppliers to the industry. How important is it for your customers to invest in upgrades and new technologies going forward?
Franck Genonceau: First of all, everyone in the industry today races for power gain at the module level. As a technology innovation leader, we believe this needs to be addressed with two key technical developments, first in cell improvement and second in module improvement. In cell improvement Meyer Burger is leading the PERC wave with our MAiA upgrade in the cell line. We also offer high efficiency cell solutions, the Heterojuntion (HJT) cell technology which currently delivers cell efficiencies of 23.5% upwards.
On the module improvement side, our innovative cell connection technology, SmartWire Connection Technology (SWCT), improves the conversion of power in the module for all types of cell architecture. We believe this can be achieved as an upgrade of existing module lines with the SWCT stringer solution and the interconnection solution replacing existing conventional machines.
Can you discuss the balance between upgrading equipment and buying new?
This conference shows clearly the preferable path that our customers would like to pursue; they'd like to reuse their installed base as much as possible and go for incremental improvements for mass production. In addition, machine or line upgrades are less capex intensive than new equipment with new technology.
However every technology has its own limits. For instance PERC technology might not be able to go beyond 24%, even though we have seen some cell roadmaps during PV ModuleTech showing 24%+ efficiency. Another example is about the number of busbars, increasing the number of busbars is happening and the switch to multiwire technology, like SWCT, becomes a question of time. There are some trade offs that needs to be evaluated case by case.
Module manufacturing has moved to 5-busbar as the industry standard. What will be the new industry standards and why is that important to solar farm operators?
That's right. There are a few things to discuss at the module level. Firstly, there is a trend to increase the number of busbars, but at some point in time when you look at the dimensions of those busbars it's most likely to become wires or rounded wires. That's why I think the natural trend is to go to that multi-wire solution. From a Meyer Burger perspective, that fits very well with our SmartWire Connection Technology, which by nature is a multi wire technology.
Secondly, you need to look at how to improve your bill of materials (BOM) in terms of power conversion efficiency, such as encapsulant or glass and how to decrease the cell-to-module (CTM) losses. For instance, at the conference, there was talk about how to increase the back reflectivity from the backsheet, getting as much light as possible scattered back through the cell.
Thirdly, there is this bifacial trend, which requires glass-glass module design, where the power of the module can be increased by taking advantage of the bifacial cell within the glass-glass module.
So that's the three major improvements that solar farm operators can consider to increase their performance at the energy harvesting level and therefore module manufacturers are looking at those improvements. Of course, it's also dependent on the market requirements. Glass-glass modules are about 10-20% of the market today, and the trend is increasing, and especially from a climate conditions and lifetime perspective. Meyer Burger is prepared for this market development.
When do you expect multi wire interconnection technology to become industry standard. What's needed to make that happen?
When we look at the trends, 3 busbar was mainstream 2-3 years ago. A year and a half ago 4-busbar became mainstream. Now it's most likely that 5-busbar will become mainstream within the next 12 months or so. In some cases, customers are already going to 6-busbar so the natural trend beyond that is that multi-wire will come.
Another talk from Hanwha Q CELLS at the conference showed that they are using 6-busbar but with rounded wire, so they are moving already to the multi-wire concept.
Time-wise, we expect to see multi wire establish itself as the industry standard within the next 12 to 24 months. Solutions such as Meyer Burger's SmartWire Connection Technology are cost effective and offer significant benefits to manufacturing customers. We are currently generating module reliability results and energy yield data in different climate conditions to demonstrate the deliverable values of SWCT and are engaging with major module manufacturers to validate market acceptance.