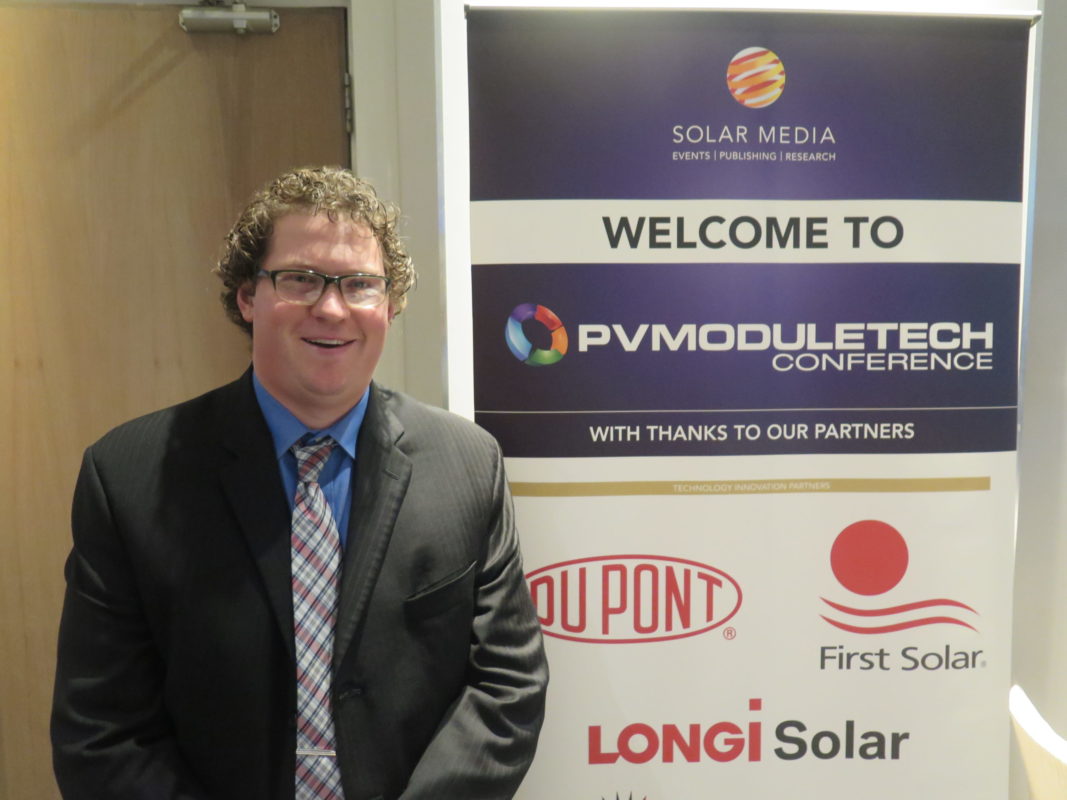 Outsourcing in the various stages running up to module assembly versus having one's entire supply chain in house was a major theme at PV ModuleTech 2017. PV Tech caught up with Nick Strevel, director, global technical sales, vertically-integrated thin-film PV manufacturer First Solar, to discuss the benefits of having all in-house production and the drivers for high expenditure in R&D.
How has First Solar's full control over Bill of Materials (BOM) and manufacturing benefitted the quality of your module supply?
Nick Strevel: For a long time, First Solar has had a pretty clear view. We've been of the mind-set that the one BOM, one process and one operating procedure delivers a consistent product and throughout all of our manufacturing locations we instil this culture into our business. We've called it a number of things along the way, but we just call it our copy-smart programme where we copy the recipe, material selection, supplier qualifications and inspections.
It's really important for us to have deep relationships with our suppliers to drive them to continuously improve and have the focus around the complete product and control of the different aspects of it.
Our BOM is simple in that there's not many items, however, the items that are built into that are very complex and in many cases very bespoke to what we do. As a result, we are not buying products like backsheets off the open market, which is common amongst our peers in the industry. In many cases, we are an altogether different entrant to the market, so we have to develop our own competitive supplier base as such.
First Solar has invested a lot of money in R&D and Capex over the last 10 years. What's been the driver for that and how has it benefitted customers?
If you look at the R&D space for PV in general, there are many segments, but for silicon there exists a lot of interest and R&D expenditure that is spread across many organisations, whether its third-party institutes, equipment vendors, material vendors.
You can see that many of our peers don't spend on R&D as much as we do and one obvious reason is because we are essentially the single entrant for our technology in the market, however, we are not afraid to commit our cash to move our product forward, not waiting for others to do it for us. We are technology driven, and to be world class we have to drive most of the technological elements ourselves, and that generally requires a consistent level of spending that likely exceeds the competition.
That spending has driven some incredible results over the last decade or so at First Solar. We've grown our efficiency tremendously, where our modules coming off the line today are beyond where world record numbers were less than 10 years ago in terms of small area cells and that's with high volume manufacturing tools and high consistency.
Efficiency is not the only thing we focus on. Quality, reliability and performance of the product are key so our R&D really doesn't have boundaries to just the semiconductor device or the module. We've also developed modelling software to predict the performance, because again Cadmium Telluride performance under real world conditions is quite different than silicon and while there's been a community focused on silicon to understand that, our technology is different so we need to do that groundwork so our customer base can understand the product and investors can make a well-informed decision.
You've mentioned how First Solar duplicates its manufacturing sites around the world. How do you balance making improvements with this strategy of duplication?
We are of the mind-set that the same BOM and same process should equal the same result and that is important to customers, our financiers, lenders and us.
However, we are constantly making improvements so that is the challenge. If you just made one recipe and one product and went into production for five years, that is a pretty easy memo to follow. However, when you're constantly changing and constantly making improvements it requires rigour and focus on change management, as all changes, however small, can have effects in wide-reaching areas.
That culture is really inherent to our success in dealing with change in a process-oriented way. The hard part is bringing in change smartly so that you're not holding yourself back but you are also not pushing things to the market too fast without having dealt with all of the specifications of quality control. It's really just dealing with the change in an effective and intelligent way and being very careful, cautious and understanding that the long-term performance of the product is so instrumental to our future success as a company.