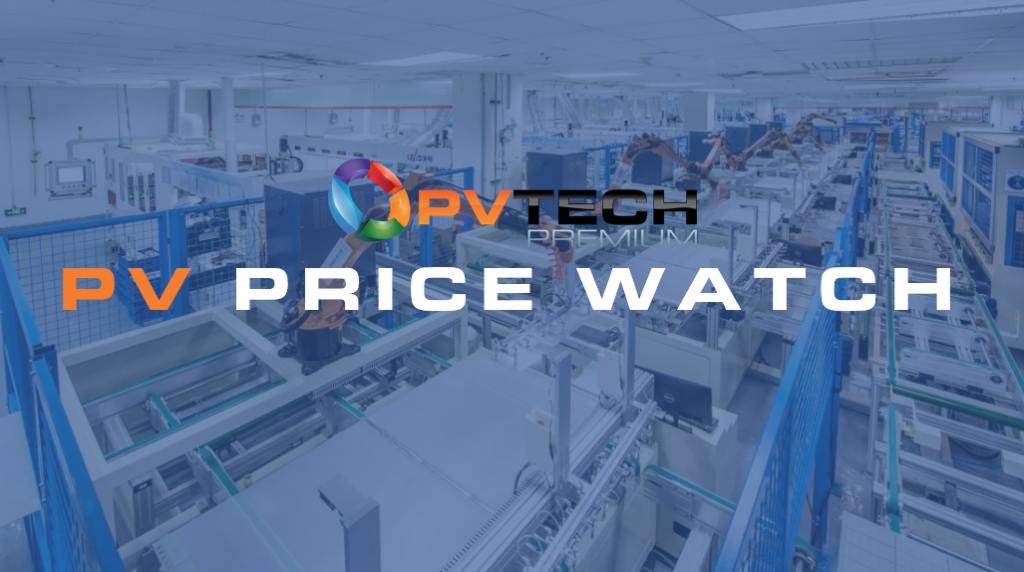 Last week saw yet another price increase from some of the solar industry's largest manufacturers, continuing a trend that has placed some of the sector's largest providers under heightened margin pressure and PV project developers the world over under strain.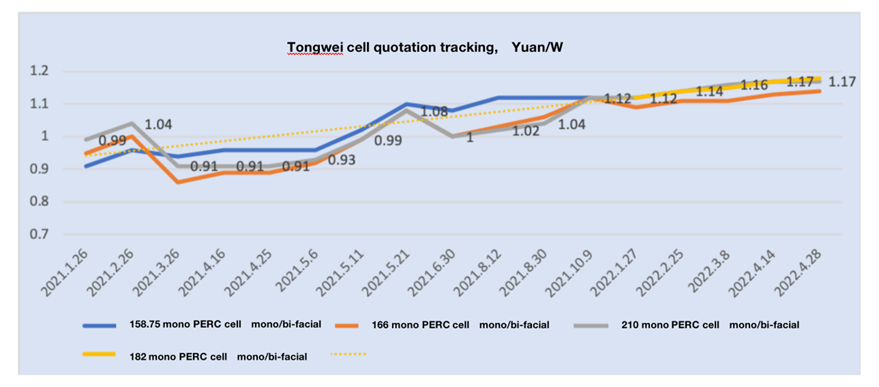 Since the beginning of this year, the PV industrial chain has seen unabated price increases, undoing all of the price reductions witnessed towards the end of last year. The price for silicon material, for instance, has climbed to a high of RMB250-260/kg (inclusive of China's 20% sales tax – representative of an actual price of RMB208.3 -216.6/kg (US$31.52 – US$32.77/kg).
According to the latest polysilicon price quotation from the silicon segment of trade body the China Non-ferrous Metals Industry Association (CNIA) on 27 April, the week's domestic mono recharging chip price ranged from RMB252 – 260/kg, with the average transaction price rising to RMB255/kg, representative of week-on-week growth of 0.83%.
The trade body has predicted that in the short term, silicon material prices will maintain their momentum based on the current market supply-demand conditions and, importantly, acceptance of those prices downstream.
Jinbiao Lv, deputy director of the silicon segment of CNIA said, "This week's price information mainly reflects that upstream and downstream companies has carried out the volume and price of their long-term orders in May. Six domestic companies mainly served long-term orders and their own downstream demand. The silicon material in the retail market couldn't meet SME demands. Therefore, market price is expected to remain very high in Q2."
Sustained high prices for silicon are reverberating downstream, with both LONGi and Zhonghuan Semiconductor (TZS) increasing wafer prices last week.
| Date issued | Thickness | 218.2mm | 210mm | 182mm | 166mm | 158.75mm |
| --- | --- | --- | --- | --- | --- | --- |
| 27 April 2022 | 160μm | 9.88 | 9.15 | 6.87 | 5.70 | 5.80 |
| 27 April 2022 | 150μm | 9.68 | 8.95 | 6.75 | 5.60 | 5.70 |
TZS mono wafer price quotations, effective 28 April 2022.
Prices for wafers have been rising since the beginning of the year, and the latest round of prices for 182mm wafers are now higher than any price seen in 2021, indicating just how much pressure the polysilicon price is having on the industry.
According to TrendForce analysis, due to the demand of poly wafers last week, the mainstream transaction price climbed to RMB2.45 per piece. A few transactions even traded around RMB2.47 per piece, although only a limited number of transactions reached that price point.
Based on market feedback, recent COVID 19-related lockdowns in China are having a tangible effect on solar's upstream value chain. The transportation of imported silica sand has slowed and the production of some crucibles for ingot pulling has been limited. As a knock-on effect, the utilisation rate of wafer facilities is said to have stood at around 70-80% in recent weeks.
Delays in material transportation caused by the pandemic has been undeniable, with orders still exceeding the actual supply, hampered by lockdowns. Demand for M6 mono wafers is flat, however fluctuations in costs have been sizeable. Demand for M10 and G12 wafers has remained high, however.
It is therefore of no surprise that solar module prices are rising in tandem. PVInfoLink has said that module suppliers have not withstood pricing further up the vale chain, passing any price increase onto customers and in auctions. Last week, centralized project delivery prices in China were adjusted upwards from an average of RMB1.85/W to RMB1.88/W (US$0.284c/W), however new orders for centralized projects this month have been priced at RMB1.9 – 1.95/W (US$0.288 – 0.295c/W).
Instances of prices creeping up to RMB2/W (US$0.30c/W) have been since as well.
With lockdowns still in effect and word of projects being pushed back, suggestions that the market remains in a 'wait-and-see mode' would appear to be accurate. Project developers are still waiting for suppliers to publish module prices for this month, and many domestic projects in China remain dormant, while others are even further behind schedule as a result of the pandemic.
As a result, module manufacturers are increasingly turning to Europe and South America for module shipments, as indicated by the likes of JinkoSolar last week.