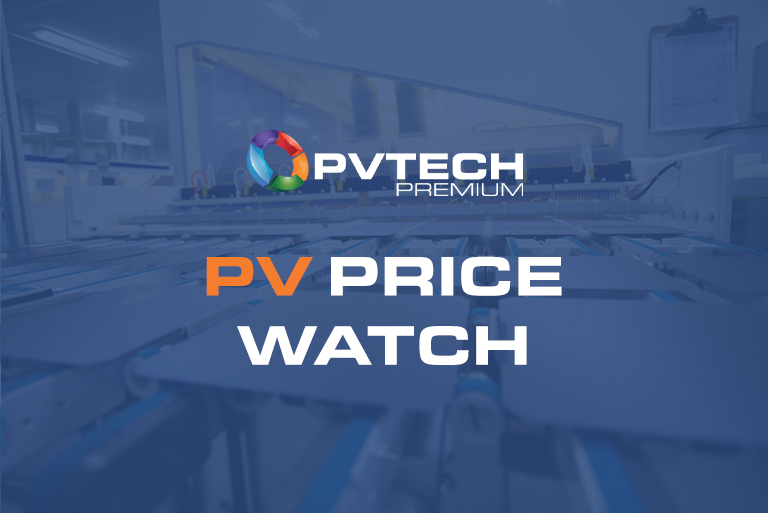 With silicon material and wafer prices on the rise, the impact is being felt further downstream amid warnings module prices could continue increasing this month.
"Our cell supplier has informed us about the price rise to RMB1.2/W (US$0.18/W). And the module price has to rise along again, probably will soon exceed RMB1.8/W," a module company manager told PV Tech on 3 February.
On the same day, a procurement officer at a module company said: "We can't place orders now. The cell manufacturers do not take more orders." In the face of prominent price rises, cell suppliers will surely halt sales.
On 4 February, TCL Zhonghuan announced updates of silicon wafer prices, all of which rose sharply. 150μm p-type 210 and 182 wafers were quoted at RMB8.2 per piece and RMB6.22 per piece, up by RMB1.1 and RMB0.82, respectively, from 23 December.
N-type wafer prices also rose sharply, with 140μm n-type 210 wafer and n-type 182 wafers at RMB8.52 per piece and RMB6.52 per piece, respectively. 130μm n-type 210 and 182 wafers were RMB8.35 per piece and RMB6.39 per piece, respectively.
Around Chinese new year, the prices of silicon materials and wafers fluctuated sharply, causing prices of the whole PV manufacturing industry chain to fluctuate violently.
As silicon material and wafer prices soar, will cell prices remain flat for long?
People are waiting for Tongwei's official announcement on cell prices. It is worth noting that Tongwei has not updated cell price information for more than a month. According to module procurement staff, Tongwei is selling very few cells externally as it is focusing on supplying internally to meet the company's module capacity expansion.
Figures from research firm InfoLink show that since the first week after Chinese new year, cell prices have followed wafer price rises to trade at higher levels, with mainstream prices reaching RMB0.95-0.98/W.
At the same time, more than half of cell manufacturers suspended delivery, preparing for updated quotations. A few manufacturers quoted at RMB1/W, with some quoting even higher.
Mainstream cell prices reached RMB1-1.03/W last week, in part due to upstream price increases, according to Shanghai Metals Market. Many cell manufacturers are facing a raw material shortages, leaving them with weak bargaining power when negotiating with wafer suppliers.
As the trend spreads downstream, module prices also increased rapidly. Module prices were RMB1.6-1.7/W on 30 January, but they then began to rise on 1 February and climbed again on 3 February.
So far, the volatile quotations have left many at a loss about the upcoming trend of industry prices, but InfoLink predicts that module prices may jump to over RMB1.8/W this month.