On March 22, the Silicon Industry Branch updated the latest silicon materials price information, which maintained a descending trend.
According to the price monitoring service of the China Nonferrous Metal Industry Association, in the week beginning 20 March, China mono recharging chips prices ranged between RMB215,000 and 222,000/ton, with an average trading price of RMB218,200/ton, a week-on-week decline of 2.63%, while mono-grade dense polysilicon ranged between RMB213,000-220,000/ton, with the average trading price at RMB216,200/ton, a 2.66% decline from the previous week.
The Silicon Industry Branch said that this week was an off-week for silicon trading, with only about three companies receiving new orders. The price gap among mainstream transaction prices by silicon material companies further narrowed to RMB7,000-8,000/ton.
The highest price for mono-recharging chips in the market reached RMB228,000/ton, with the lowest price for popcorn polysilicon registered at RMB180,000/ton.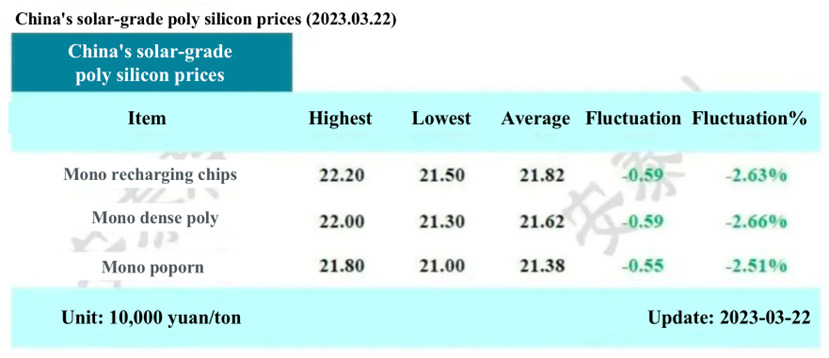 However, trading volume was minimal and mostly came from special orders which were not included in the weighted average price to affect the mainstream market.
According to the Silicon Industry Branch, the slow decline of silicon material prices was due to some companies who signed expensive orders last week not placing new ones this week, with some high prices accounting for a relatively large proportion that was removed from the weighted average system. This slightly intensified the week-on-week price decline, along with the operating rate of wafer enterprises reaching a relatively high level.
Affected by crucible quality problems, demand for silicon material levelled off, and the supply ended up basically flat. With the supply-demand relationship not changing or reversing, this left market prices to retain the previous trend.