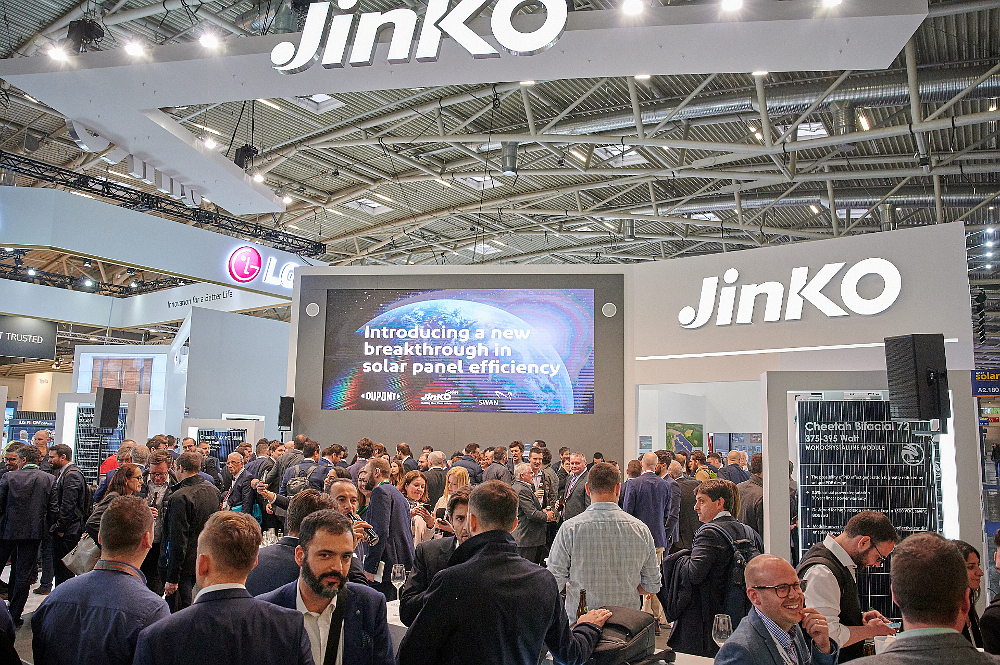 Leading 'Solar Module Super League' (SMSL) member, JinkoSolar has set its sights on PV module shipments globally in 2019, reaching between 14GW to 15GW, which would be a new industry record for a module manufacturer after setting a new shipment benchmark of 11.4GW in 2018.
Coupled to the overseas shipment growth, which is expected to account for over 80% of total shipments in 2019, is a greater focus on increasing its capacity and production ratios to high-efficiency products, led by new product introductions such as the Cheetah (bigger wafer dimension) and Swan (bifacial) module series.
During Intersolar Europe 2019, PV Tech had the chance to sit down at the end of the week with JinkoSolar's General Manager Europe, Frank Niendorf to discuss a number of topics that spanned market to technology trends in the European market.
It has been a busy week at Intersolar 2019. What do you put his down to?
Frank Niendorf, General Manager Europe, JinkoSolar: The show has been very busy but not surprising when you can plot the upsurge in interest for solar in Europe from the moment in time when the minimum [import] price (MIP) fell in the beginning of September [2018]. From that point in time the [European] market started to take off. The MIP era was in some ways very frustrating as somehow the market felt artificial, with little proper demand or supply relations. The competition was not comparing apples with apples and there were companies trying ways around the MIP.
This meant the market was very challenging and kept [panel] prices artificially high. Then, once the minimum price fell – the global market price kicked-in – meaning 25 percent below the MIP and that automatically triggered parity.
Immediately the market moved, yet I was actually surprised how quickly that happened, like big investment funds and developers all allocating investment funds again in to parity projects, almost everywhere [in Europe], not just countries such as Spain but also Italy and Germany for example. These funds were being reallocated back to Europe after around five years of being allocated elsewhere.
It was a simple system cost question. By the fall of the MIP, very few cared about subsidies or feed-in tariffs etc. any longer . The limiting factor all of a sudden changed and became things like grid integration and capacity. It was really eye-opening to see all of sudden that parity was there and that changed things considerably.
This has also meant greater interest from European utilities, not just the likes of Enel or EdF, but more conservative utilities that are meanwhile working on projects in the 200MW range, all without subsidies.
There is also growing a big interest from big corporates since the fall of the MIP, which are quickly become key players in the PPA (Power Purchase Agreement) market and is therefore driving the market as well.
I would have to do some new calculations as to which European markets are expected to be over one gigawatt but definitely these include Spain, Italy, Germany, Netherlands and Ukraine. That brings us to a sort of outlook, personally, I am pretty confident of the next few years that we will observe annual installation volumes of around twenty gigawatts per-year in Europe.
Finally, the market is following natural rules of the market, supply and demand and so avoids the boom and bust cycles of support policies.

Your painting a very positive picture of the European market over the next few years but what countries are lagging behind?
Poland springs to mind, which has definitely been disappointing as there had been hopes over the last three years that the Polish market would pick-up. Hungary is also far behind the ambitions and targets that they had set. In Scandinavia we have seen a pick-up, specifically in the residential market and partially in the commercial rooftop segment. However, there are utility-scale projects in the planning stages for instance in places like Denmark.
In some regards, Germany is lagging behind as well. The auction system has been relatively successful with the overall system cost reductions and improved LCOE. The main concern in Germany is the overall threat of the 50 gigawatt cap on installs, which the government has yet to decide to remove and would be reached in only the next few quarters.
France could also easily be a multi-gigawatt market, but the domestic carbon footprint requirements help to keep prices higher than the global market prices. Ambitious plans by EDF and Total for example, show the potential but its being held back.
What is your take on the rapid transition to high-efficiency mono and larger wafer sizes?
Technology is evolving fast and this is also providing catalysts for growth, notably in lower irradiance markets as the new technology helps close the gap with high-irradiance markets.
Here at Intersolar it has been eye-opening…if you look back four or five years ago there was still this standard module in 60 and 72-cell configuration, polysilicon mainly, a small niche of monocrystalline and not much else, while poly represented the commodity market. It is amazing to see the changes since then.
Significant R&D investments started to happen and this leads to a huge diversification in the market today. Like all of a sudden the leading players have a module portfolio starting with 275 watt peak poly and every five watt peak it goes up to 400 watt peak and even higher. It is amazing and impossible to have thought that five years ago – and this is just starting.

The biggest challenge at the moment is that customers cannot compare anymore the different new technologies Every several weeks it seems new products are launched to the market. Now 410 watt, 415 watt, there is half-cut, shingling and there is the next possible big wave of n-type technology. Companies are forced to innovate and the speed this innovation has kicked-in over the last few years is absolutely amazing.
If you ask me? In the next twelve months the industry would have reached the 500 watt peak level. Don't ask me which technology but there is obviously a lot of developments in the pipeline right now. One of the mega trends we see is the shift from poly to mono. Poly will not come back anymore in my opinion.
Even standard mono is out, replaced by PERC (Passivated Emitter Rear Cell) technology. We see this trend of half –cut cells quickly becoming a mature technology and a new market standard.
With the cell technology changes we are also facing a new wave of wafer size migration but not a single new standard dimensionally. What is JinkoSolar's strategy on wafer size migration?
It is all about market standard. There has been a lot of internal discussions and we closely involved some of our global EPC partners and talked in detail with them about larger wafer sizes and the impact this could have on module sizes. Obviously, a key question asked of our partners related to what was the ideal module size for use in PV power plant projects.
We had closely analysed different alternative wafer size dimensions like 161mm [161.75mm x 161.75mm] diameter size and the 166mm [166mm x 166mm] size, but the feedback from many EPC's was that they had concerns about changing the market standard towards significantly larger module sizes, which would have an impact on their project designs and BOS costs. This led us to maximise the wafer size without changing the module dimensions significantly, which meant we chose the 158mm wafer [158.75mm x 158.75mm] in order not to make the life of the EPC partner too difficult. That turned out to be a huge success because with only a small module dimension increase this set a new market standard in mono over last 12 months and was followed by many of our direct peers.
The big question now is, will this trend continue? At the show we have seen some peers trying to launch some 161mm or 166mm wafer size new mono PERC modules. We would be flexible to produce such bigger dimensions, but we are still careful, because setting new market standards always comes at a certain risk as you have to gain market acceptance by educating the market. With so much differentiation happening it is becoming very complicated now for our clients to compare "Apples with Apples" in the market as just looking at the power output without looking at wafer size, efficiencies and module dimensions is simply not enough. I see the trend rather to compare products on an LCOE and IRR basis than on a pure power output basis.
Clearly, bifacial modules were centre stage at Intersolar but will bifacial become the next high-performance mainstream product in Europe?
Yes, what is also starting here at Intersolar is the move to bifacial modules. This is the next big new thing and you see them everywhere and personally I believe this will become a new market standard in the next two to three years in the project business in Europe.
There is a mixed take on the use of glass/glass bifacial modules due to weight penalty and logistical expense. However, the emergence of a transparent backsheet is potentially the game changer for bifacial modules as it can be used like any other module with all the advantages of bifacial without the downside of the glass/glass. This is what is giving me the confidence in bifacial transparent backsheet modules becoming the standard, much sooner than originally expected as for example it was questionable whether we would see a lot of glass/glass bifacial modules on commercial rooftops but now you can apply it like any other module.
There is also a possible trend of PV manufacturers only producing bifacial cells in the future and with the use of different backsheets the module becomes a mono facial or bifacial. In essence therefore every module would carry bifacial cells. The use of high quality transparent backsheets like the 'Tedlar' – based from DuPont even allows us to offer product warranties up to 30-years for our new bifacial 'Swan' product series.