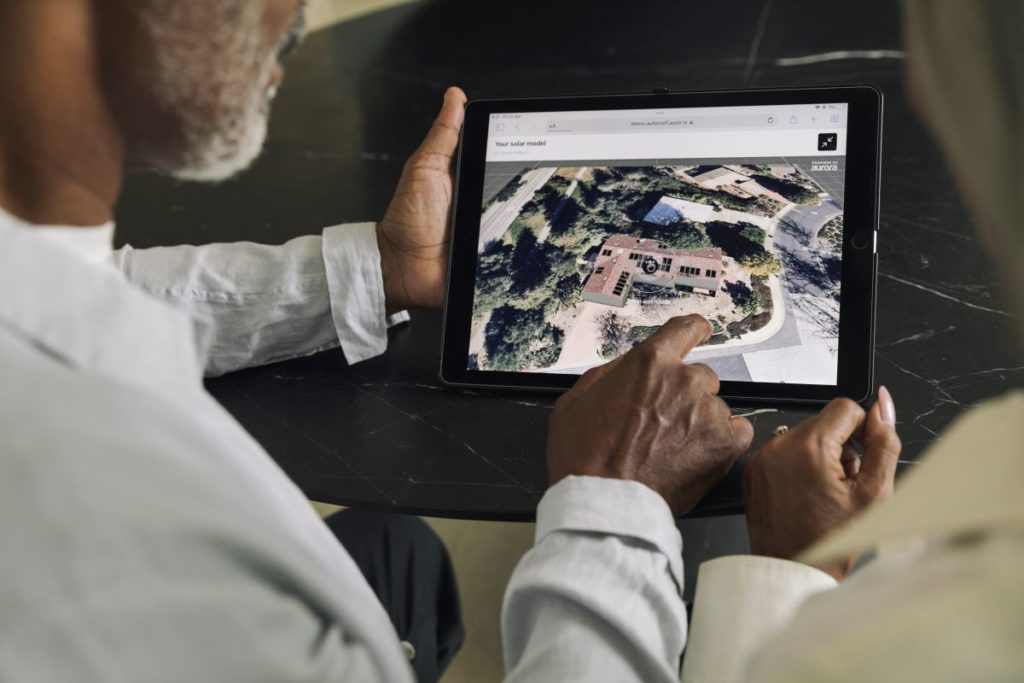 Despite a slowdown in the deployment of solar PV in the US during Q3 due to supply chain constraints – which are expected to continue until the second half of 2023 – and supply bottlenecks, the residential market remained strong as interest from consumers to gain energy independence grows while retail power prices increase.
PV Tech Premium spoke with Chris Hopper, co-founder and CEO at software provider Aurora Solar about the advantages of using AI-powered software to streamline the process of installing solar panels both for homeowners and businesses, as well as what lies ahead for the residential segment in the US.
As supply chain restraints and other bottlenecks are set to continue over 2023, how can solar software help reduce the soft costs associated with installing solar panels to streamline the process?
Chris Hopper: Supply chain restraints and bottlenecks are challenges that nearly every sector has had to face over the last few years. As a result, many industries have had to take a deep look to see how they can be more efficient in order to balance rising material and service costs. For both the residential and C&I segments, our AI-powered software can help streamline the design, sale and delivery of solar installations in order to reduce soft costs that are driven by lengthy manual processes. 
Installing solar systems without software can be a long process. Driving to the site, measuring the roof, mapping shade and estimating savings traditionally has required a lot of manual work. Our software changes this. Aurora's advanced technology pulls this complex data into a single platform so teams can confidently engage with the customer, measure, model, sell and deliver the system. All without visiting the site. 
As US solar PV installs are expected to decrease in 2022 compared to 2021, the residential segment, however, seems to thrive. What can we expect in 2023 for residential solar, especially after California recently passed NEM 3.0?
The outlook for solar is extremely positive. According to Wood Mackenzie, cumulative solar installations across all market segments will nearly triple in size by 2027. There are a lot of initiatives that are going to continue to accelerate solar adoption. For instance, when the Inflation Reduction Act (IRA) was passed, Wood Mackenzie increased its five-year outlook by 40%.
We expect the 2023 residential solar segment to remain strong. Many homeowners aren't looking at solar as a one-off system, they are looking at it as a critical component in the full electrification of their homes which encompasses solar, storage, smart appliances, EV chargers and more. 
This philosophy aligns with some of the trends that NEM 3.0 is going to trigger in California. NEM 3.0 is designed to promote the adoption of systems that combine solar and storage. As such, more solar installers in that market are going to need to start offering energy storage as part of their offerings in order to offer systems that provide the best ROI possible. However, before NEM 3.0 fully goes into effect, there's going to be a spike in solar interest. Homeowners are going to be rushing to get installations online during the NEM 3.0 transition period, which is already in effect and ends on 13 April so that they can be grandfathered into the more beneficial NEM 2.0 pricing structure. 
It's not just legislation that is driving residential solar interest. Homeowners are attracted to solar due to the energy independence and reliability it provides them. A good example of this is the winter storms that occurred in February of 2021 in Texas. Following those storms, we saw a 33% spike in quotes when looking at the week following the storm (21-27 February 2021). Since then, the demand has stayed at this elevated level, despite Texas's deregulated utility market which can make it difficult to estimate bill savings.
What can we expect for the US solar industry in 2023 and how the implementation of AI can be beneficial for accelerating solar projects and reducing costs?
AI is going to help put more power in the hands of homeowners to simulate if their home or property is a good candidate for solar and able to generate the returns they need to be serious solar buyers. Having this "self-serve" ability is going to lead to more qualified solar candidates that will streamline the adoption of residential systems.
Aurora has already started to offer this with its Lead Capture AI. This tool, which installers can offer to homeowners, allows people interested in solar to create a 3D model of their homes directly online. All a homeowner needs to do is input their address and a bill estimate. Aurora Solar's AI then simultaneously evaluates HD aerial imagery and LIDAR data to generate an accurate 3D model of the homeowner's residence outfitted with solar. This process only takes 30 seconds. Homeowners receive fast answers on how much energy they could generate with solar, while installers effortlessly receive new leads.
Installers who adopt this technology are going to streamline their operations and work with more qualified leads. This will allow installers to offer more competitive pricing for solar since they will be more efficient with their crews' time. Ultimately this is another way soft costs can be reduced.
With the IRA expected to bolster the US industry in the coming years, how can software help the upcoming accelerated growth of commercial solar in the US as more companies (led by tech and retail giants) try to increase their renewables capacity? 
A key component of ensuring the smooth adoption of solar is having an end-to-end platform that can be used to streamline the solar installation process from mapping the panels on the roof to installation. Our technology pulls the data into a single view so that solar professionals can engage with the customer, measure, model, sell and deliver the system all in the same platform – integrations even allow installers to offer financing options. We have worked with 90% of the top solar installers and they have noted that the software allows them to grow their companies faster due to an increase in accuracy, speed and customer experience. This is yet another way software is accelerating solar adoption.
After raising more than US$200 million in a Series D round in 2022 – and more than US$500 million overall – as well as the acquisition of Folsom Labs to enter the C&I segment, what lies ahead for Aurora Solar?
First and foremost our focus is on continuing to enhance our software to address as many pain points as possible for solar installers and allow them to deliver an experience to customers that is smooth, easy and enjoyable. This is critical to building on our mission "to create a future of solar energy for all".