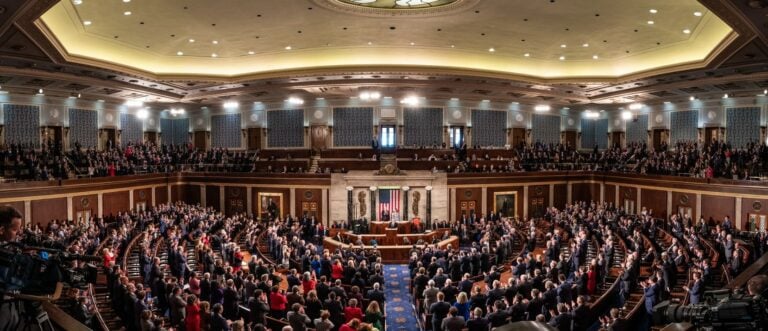 Clean energy trade bodies ACP, ACORE and SEIA have denounced an attempt by Republicans to roll back the Act, which has spurred unprecedented investment in the US market.
House Bill 'H.R.2811 – Limit, Save, Grow Act of 2023′, put forward by Republican Representatives passed in the House yesterday (26 April). It would significantly scale back the the federal support for renewable energy and energy storage enabled by the Inflation Reduction Act (IRA), which came into law this year, as well as other non-energy federal financial support schemes.
"This bill increases the federal debt limit and decreases spending. It also repeals several energy tax credits, modifies the permitting process and other requirements for energy projects, expands work requirements for the Supplemental Nutrition Assistance Program (SNAP) and other programs, and nullifies regulations for the cancellation of federal student loan debt," the Bill reads.
The Bill "…repeals or modifies tax credits for renewable and clean energy, energy efficient property, alternative fuels, and electric vehicles".
Clean energy trade bodies have been quick to slam the move, pointing out that the Inflation Reduction Act (IRA) has spurred billions in investment and created thousands of high-paying jobs since it was announced.
The Solar Energy Industries Association (SEIA) pointed out that new solar module manufacturing investment announcements since the Act would bring the US' capacity to 47GW a year, and cautioned strongly against rolling it back.
"Repealing the IRA will stop this investment in its tracks, pulling the rug out from under the communities that are counting on these factory jobs," it said.
"Playing games with the debt limit has very real consequences for businesses, workers and the entire economy. The IRA is expected to create an additional 200,000 jobs and US$600 billion in private investment in the solar industry alone over the next decade. Companies need to trust that the policy landscape will remain stable in order to put forward this level of capital, and it's up to responsible lawmakers to ensure that certainty remains."
To read the full version of this story including analysis and further comment visit Energy-Storage.news.