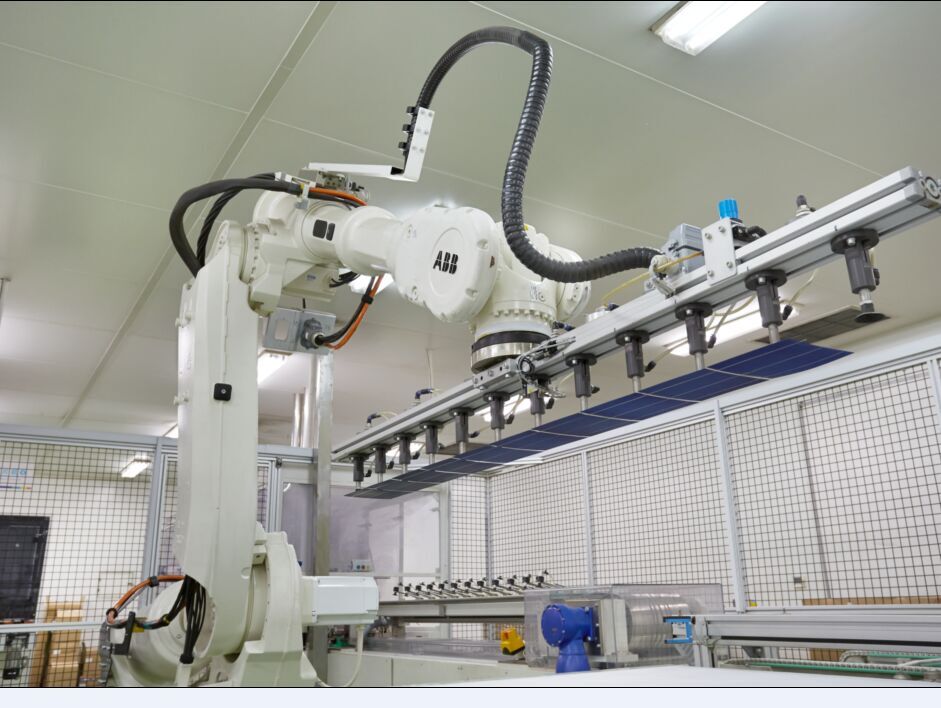 'Solar Module Super League' (SMSL) member Risen Energy has recently reported a decline in 2018 annual revenue and net profit, due to the overall decline in PV installations in China, which also led to pricing pressure across its PV module, PV encapsulant and EPC business divisions.
Risen Energy reported full-year total revenue of RMB 9.75 billion (US$ 1.488 billion), a 14.84% decline from 2017. The company cited the 'China 531 New Deal' for the slump in utility-scale project development and installations, which resulted in pricing pressure.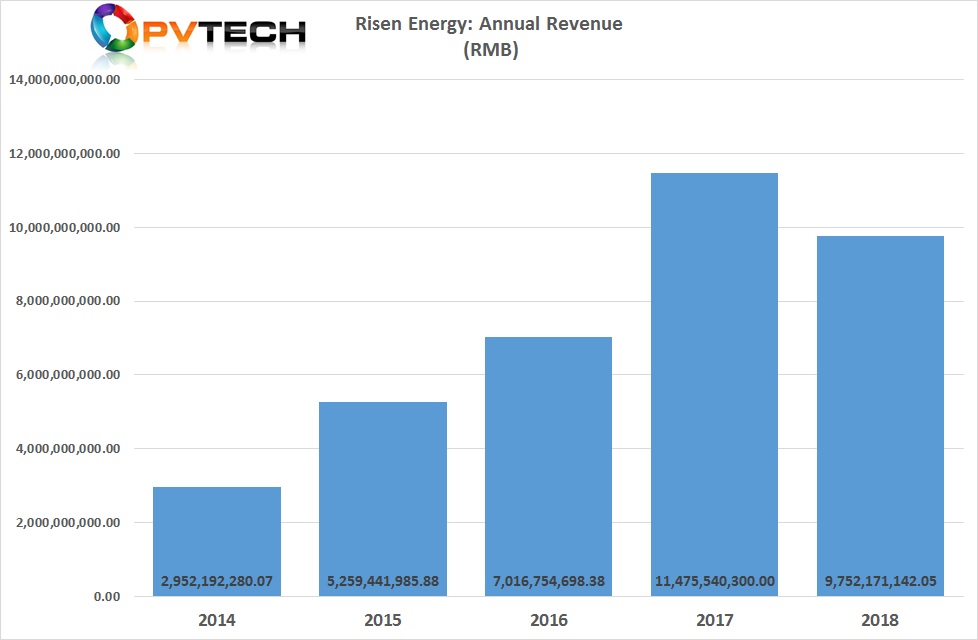 ASP declines led to net profit declining 56.81% to RMB 278.8 million (US$ 41.4 million) in 2018, compared to RMB 645.5 million (US$ 95.8 million) in 2017.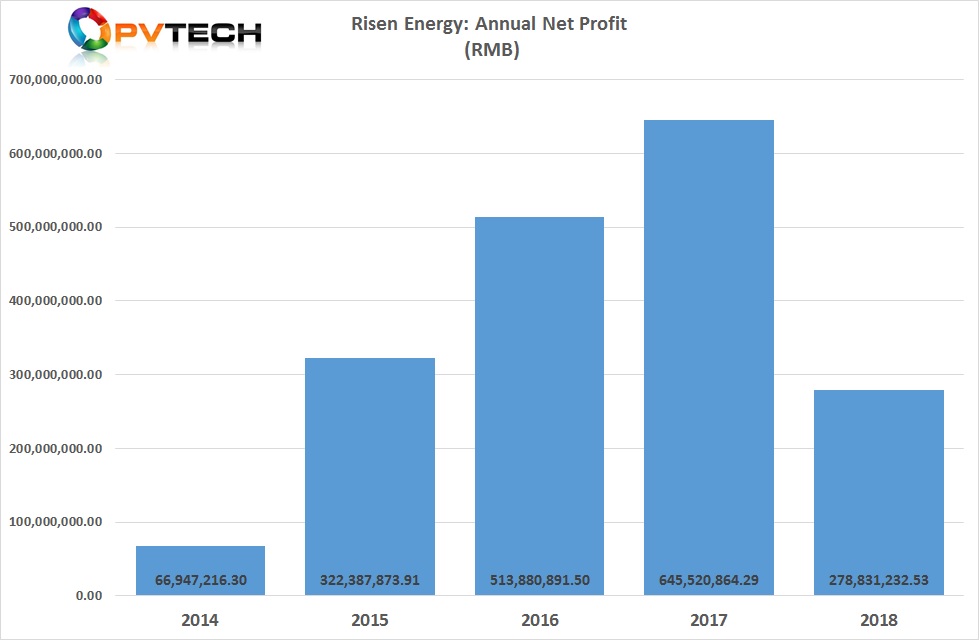 Operating income in its EPC business declined 24.81% in 2018, compared to the previous year, although PV power plant projects installed were 202.17MW in 2018, compared to 263.55MW installed in 2017. EPC profit margins were 15.78%, compared with 11.33% in the previous year.
Operating income from PV modules only declined by 3.7%, retaining profit margins of 13.26% in 2018. PV encapsulant (Jiangsu Swick) operating income only declined by 2.38% and retained profit margins of 18.6%. Profit margins were lower at 13.03% in 2017.
On a quarterly basis, revenue generation was markedly down from the previous year peaks of the second and fourth quarters, but were higher than in the previous year in the first and third quarters.

The peak in second and fourth quarters were typically led by module shipments for utility-scale projects and EPC work completions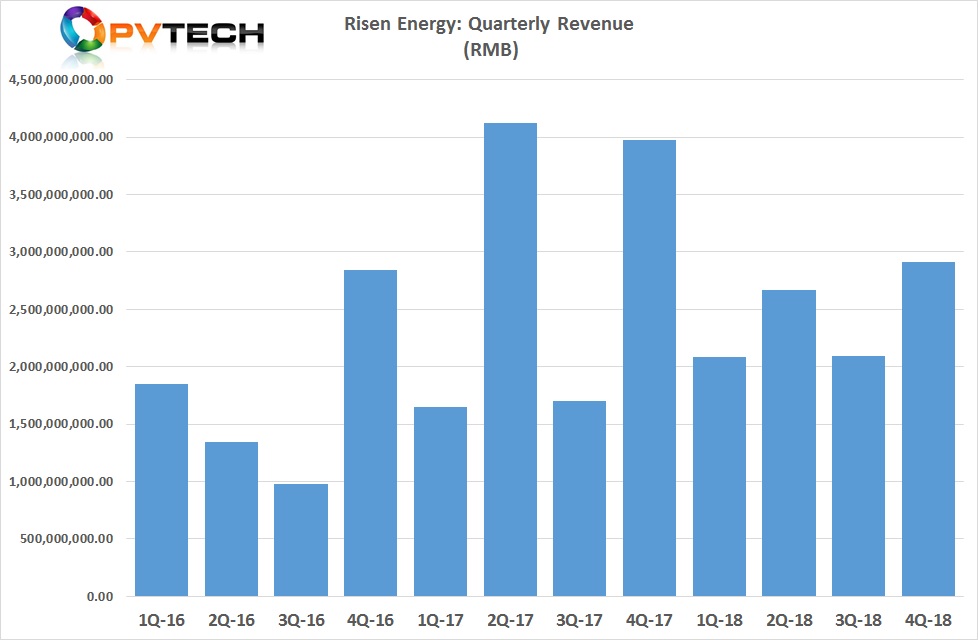 However, Risen Energy had its best revenue generating in the fourth quarter of 2018, while net profit declined significantly to a recent year low of RMB 21.2 million (US$3.16 million).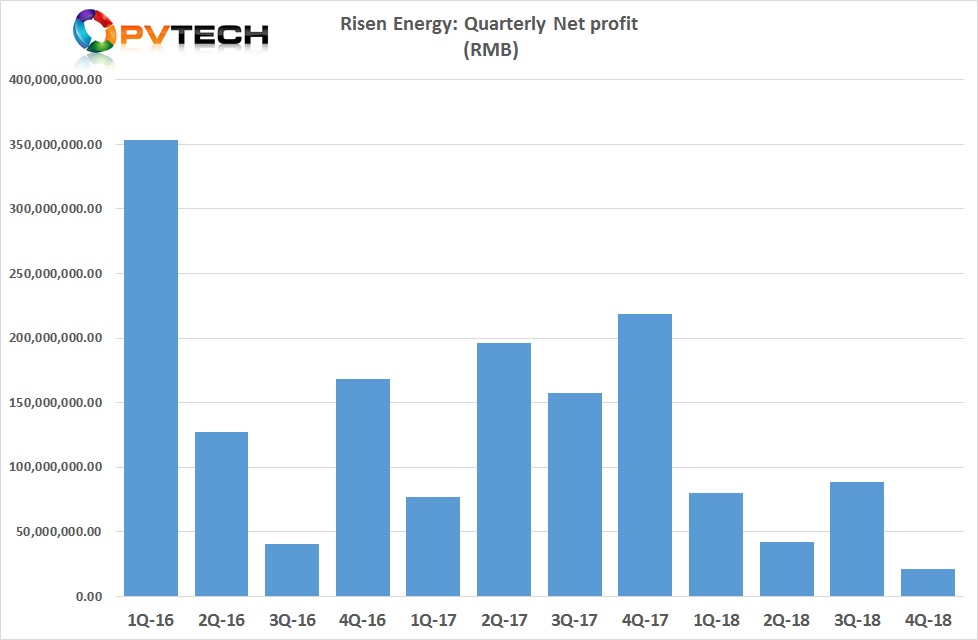 The company had highlighted that its, Jiangsu Jintan 5GW high-efficiency, highly automated monocrystalline cell and module manufacturing base had started mass production of its 2GW, Phase 1 expansion in the fourth quarter of 2018, which could have contributed to start-up costs and a major reduction in fourth quarter profitability.
Risen Energy also noted in its annual report that the Phase 2 expansion at Jiangsu Jintan was expected to be put into operation in June 2019, as well as high-efficiency component capacity expansion for encapsulants was planned to be operational in October 2019.

The company has 4GW of cell and module capacity under construction and exited 2018 with 6.6GW of module assembly nameplate capacity. Module sales in 2018 were 3,350.08MW.
The company expects to continue to focus on high-efficiency products to expand its overseas business in 2019. Risen Energy continued relatively high R&D spending in 2018, despite the profit fall.
Risen Energy reported that its high-efficiency solar cell technology in mass production had conversion efficiencies exceeding 22%, including PERC, TOPCON. In 2018, the company said it had been the first to fabricate bifacial PERC cells using atomic layer deposition (ALD) passivation at the gigawatt-scale with cell efficiencies exceeding 22.2%. The company is also developing heterojunction cell technology.
R&D spending in 2018 was approximately US$49.2 million, compared to US$53.2 million in 2017.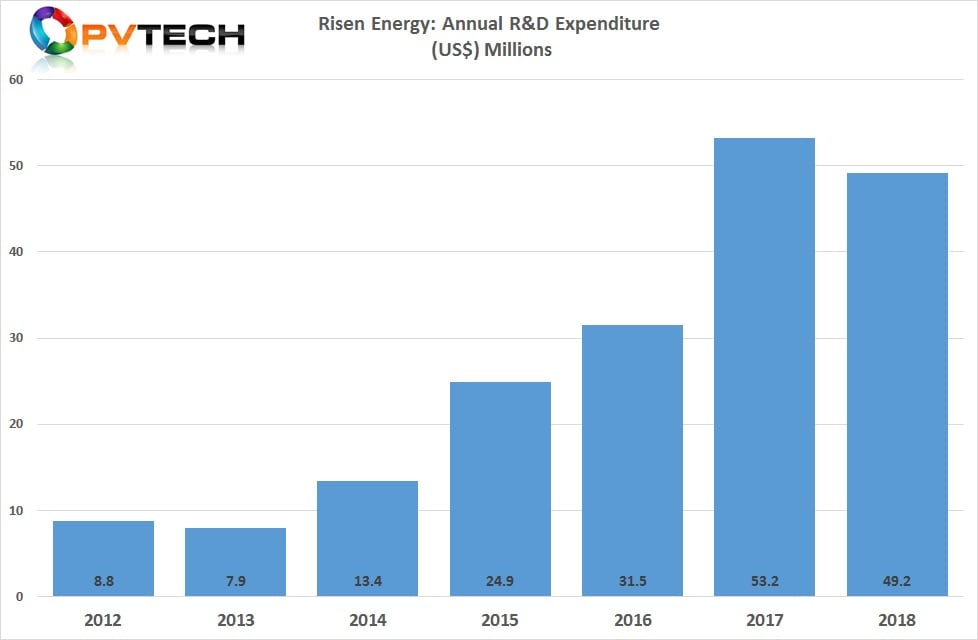 The company has already established a global sales network in more than 50 countries and regions. Risen Energy expects to focus on market share gains in the Middle East, Africa, India, Americas and Oceania in 2019.