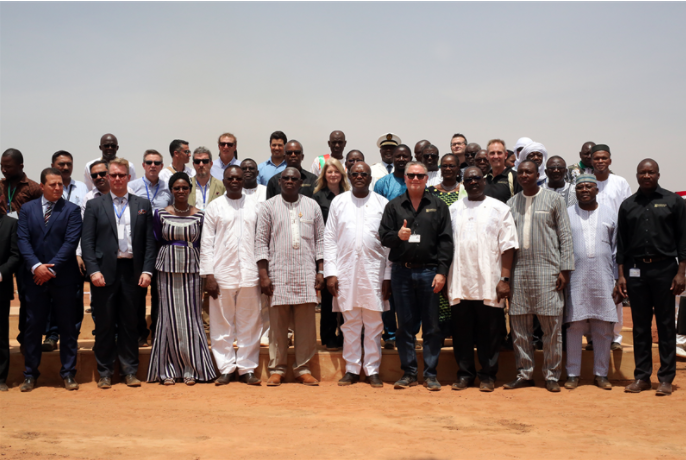 Astroenrgy completes 15.5MW project in the Netherlands
19 March: Astronergy, a subsidiary of Chint Group, has inaugurated a 15.5 MW solar park in the municipality of Veendam, Province of Groningen, Netherlands.
The project was acquired from local firm Powerfield at the end of 2016 and was connected to the grid in December 2017 by Chint. It was built on polluted land that was found unsuitable for agricultural use.
The 15-hectare strip of land located in the heart of the industrial area of Veendam, was vacant for a long time and part of the ground had suffered from contamination during years of industrial use.
Construction of the solar park was carried out by Golbeck Solar, which installed 57,288 solar panels on site.
Chint intends to remain very active in the Netherlands and is already planning the construction of the next solar park with 15.2 MW in Andijk, Municipality of Medemblik, province of Noord-Holland.
Total Eren and Wärtsilä deliver hybrid PV and thermal plant at Burkina Faso gold mine
19 March: Total Eren and the African Energy Management Platform (AEMP) have opened what they claim to be the world's largest hybrid solar and thermal plant at an off-grid gold mine in Northern Burkina Faso.
The new 15MW solar PV project has been connected to an existing 57MW heavy fuel oil (HFO) power plant. It is made up of 130,000 modules and will supply power to IAMGOLD Essakane SA for its gold mining activities.
The IAMGOLD Essakane S.A. gold mine is one of the largest privately-held companies in the country, producing 389,000 ounces of gold attributable to IAMGOLD in 2017.
Wärtsilä was selected Total Eren SA and African Energy Management Platform (AEMP) to build the PV project.
Wärtsilä said that by hybridizing an existing 57MW diesel power plant with the new solar PV plant and related hybrid plant controls, the plant's performance has been significantly enhanced. Wärtsilä has also been contracted to operate and maintain the plant under an Operations & Maintenance agreement.
Solar Philippines completes Southeast Asia's largest solar-battery micro-grid
16 March: Solar Philippines has completed the largest solar and battery storage-based micro-grid in Southeast Asia.
It includes 2MW of solar panels, 2MWh of batteries, and 2MW of diesel backup and is designed to supply reliable power 24 hours a day, over the entire year, at 50% less than the full cost of the local electric supply.
The project uses panels from the Solar Philippines Factory, and is also the first micro-grid in Asia to feature Powerpacks from Tesla, a leading manufacturer of batteries and electric vehicles.
This project also marks the launch of 'Solar Para Sa Bayan', an initiative by Solar Philippines founder Leandro Leviste to bring cheaper, more reliable power to areas poorly served by utilities, in support of the Duterte administration's aim to end energy poverty by 2022.