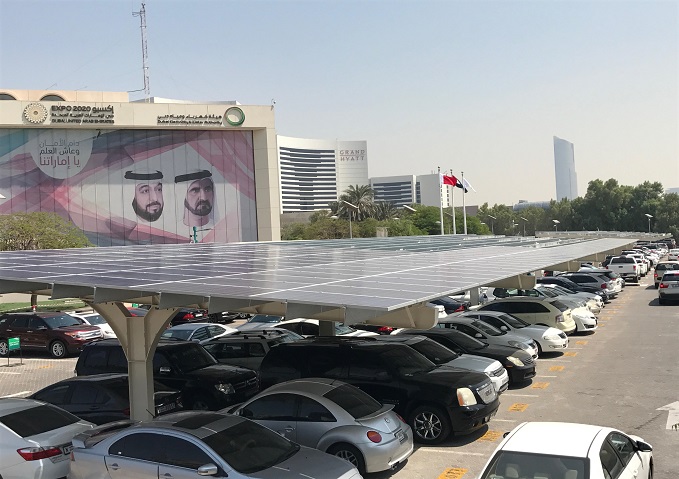 DEWA opts for solar carports
6 October: Dubai Electricity and Water Authority (DEWA) plans to install solar carports at its headquarters and at the Ministry of Climate Change and Environment building.
This will come as part of the Shams Dubai initiative and will involve two sites with 902 car parking spaces. The DEWA parking lot will have a PV capacity of 1,780kW, and the Ministry building will have 220kW.
"Through the project, we intend to provide comfort and enhance the happiness of our stakeholders, to fulfil our mission, in line with our core values, as well as promote the initiative among all stakeholders, both individuals and institutions, in the public and private sectors. This will happen by providing practical examples of green and sustainable buildings, to spread a culture of sustainability, reduce energy consumption, and dependence on traditional energy sources, and help Dubai's government organisations achieve the goal set by the Dubai Supreme Council of Energy (DSCE) to reduce 20% of the energy consumption in all government buildings, by 2020," said HE Saeed Mohammed Al Tayer, MD & CEO of DEWA.
DEWA has already completed linking its network with 450 residential and commercial buildings, with a total capacity of about 17.7MW, through Shams Dubai. DEWA plans to increase this number to reach all buildings in the Emirate by 2030.
DEWA recently signed a power purchase agreement of US$0.073/kWh for a 700MW concentrated solar power (CSP) project.
Adani signs PPA for US$200 million Australia PV project
6 October: Indian conglomerate Adani has signed a power purchase agreement (PPA) for the Rugby Run solar farm in Australia, according to a tweet from Adani chief Gautam Adani.
Earlier this year, Adani said it would be investing US$200 million on the 100-200MW Rugby Run farm at Moranbah, Queensland, using mono-PERC technology and single-axis trackers.
No other detail on the project has been provided, although a Reuters brief reported that the PPA would account for 80% of the electricity generated by the plant.
The firm also targets 1.5GW of renewables in Australia within a five-year period.
HECO launches online PV application tool
4 October: Customers of utilities Hawaiian Electric, Maui Electric and Hawaii Electric Light will now be able to submit applications for rooftop solar using an online platform launched by the Hawaiian Electric Companies (HECO).
Customers using the Customer Interconnection Tool (CIT) will be able to check their application status from submission to the final stages of the agreement.
"We're excited to offer a streamlined electronic process to our customers," said Jim Alberts, senior vice president of customer service. "The tool is able to show customers exactly where they are in the application process, which eliminates guesswork. This is one more way to make interacting with our companies as smooth and as easy as possible."