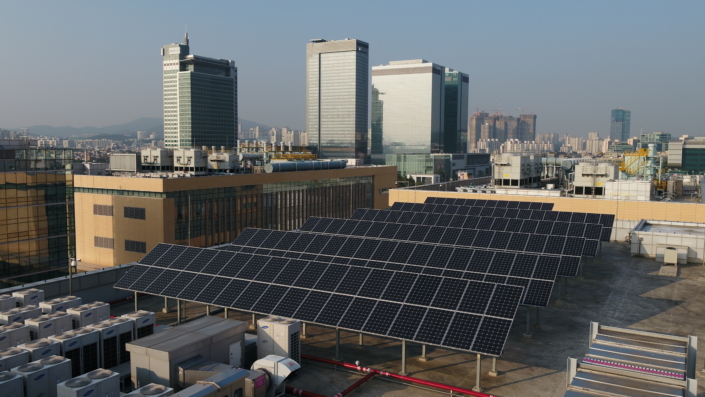 GE delivers inverters to Pacifico's 96MW Japan solar project
13 June: GE has delivered inverters for Pacifico Energy's 96.2MW Hosoe solar plant in the Kyushu region of Japan.
Along with the 50 units of its 1.26MW Brilliance inverters delivered to the project, GE also supplied transformers, ring main units and recombiners, preassembled on skids and optimized for flawless integration.
The Hosoe project has also been financially supported by GE Energy Financial Services, the global energy investor of General Electric.
GE recently signed a rooftop PV deal with Tata in India.
Samsung Electronics eyes 100% renewables in China, Europe and US with solar and geothermal
14 June: Samsung Electronics has committed to 100% renewable energy use in all of its factories, office buildings, and operational facilities in the US, Europe and China.
Starting this year in Korea, Samsung will install approximately 42,000m2 of solar panels in Samsung Digital City, its headquarters in Suwon. The company will continue to add approximately 21,000m2 of solar arrays and geothermal power generation facilities beginning 2019 in its Pyeongtaek campus and 2020 in its Hwaseong campus.
Samsung Electronics is now positioned to increase its use of renewable energy globally to match the equivalent amount of energy created by an average 3.1GW solar power plant by 2020.
Voltalia commissions 10MW PV project in France
13 June: Voltalia has completed construction of the 10.4MW Canadel solar power plant, in the Provence-Alpes-Côte d'Azur region of France, which it was awarded during the CRE III tender at the end of 2015.
The plant is located in Brignoles, in the Var department, and benefits from a twenty-year PPA.
Voltalia recently signed a power purchase agreement (PPA) for a 50MW solar project located in Kopere, Nandi county, Kenya.