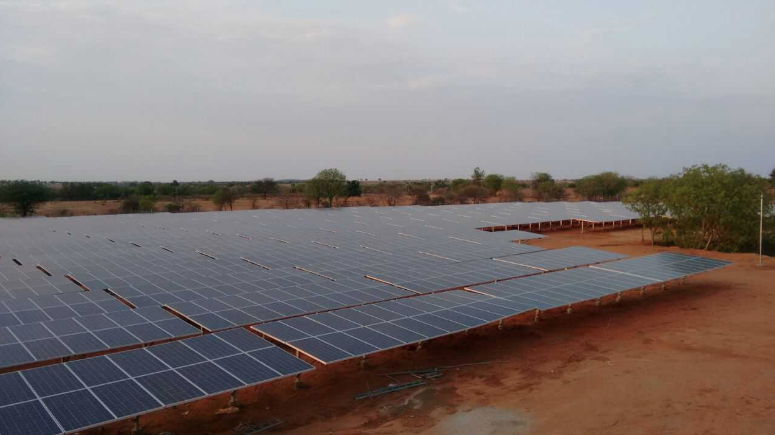 NTPC's 750MW auction draws winning price of 2.72 rupees
10 May: Winning prices in India's latest large-scale solar auction for 750MW capacity held by NTPC in Andhra Pradesh hit INR2.72-2.73/kWh (~US$0.04).
Sprng Energy, Ayana Renewable Power, and SB Energy each won 250MW of capacity in the Ananthapuramu solar park.
Sprng, which is backed by UK development finance institution CDC Group, put in the lowest bid of INR2.72/kWh, while SB Energy, a Softbank JV, and Ayana went for 2.73 rupees.
Other bidders that lost out included: Acme, Tata Power, Fortum, Shapoorji Pallonji, ReNew Power, Hero, Mahindra Susten and Azure Power.
The Gujarat Urja Vikas Nigam Limited (GUVNL) recently scrapped a tender after its 500MW auction saw tariffs hover around the 3 rupee mark since it was hoping to attract far lower bids.
Rays Power Infra completes 130MW of open access solar plants in Karnataka
10 May: Indian EPC firm Rays Power Infra has commisisoned three utility-scale PV projects in Karnataka, under the state's open access scheme.
The projects in Jhamkhandi (40MW), Bijapur (45MW), and Kustagi (45MW) are set to be a cost-effective source of energy for the businesses and MNCs in the region.
Ketan Mehta, CEO, Rays Power Infra, said: "Built with the best available technology in less than a 100 days, these projects reflect upon our company's capacity to commission state-of-the-art solar power plants at three separate locations simultaneously. This sets a new benchmark for quality and efficiency, and showcases the depth of our engineering skill and capacity. We are extremely grateful to the support we have received from all stakeholders, particularly the state government with its open access policy, and our private partners who have provided extensive support."
AfDB approves US$1.5 million for 1GW solar power procurement program
9 May: The Board of Directors of the African Development Bank (AfDB) has approved a US$1.5-million grant from the Sustainable Energy Fund for Africa (SEFA) to support the Nigerian Government's implementation of Phase 1 of the Jigawa 1-GW Independent Power Producer (IPP) Solar Procurement Program.
The approved SEFA grant will support the completion of outstanding technical and feasibility studies and the design of a masterplan for the entire program site.
Subject to the outcome of the technical and feasibility studies, the Bank will provide additional support to the government in the form of funding of a transaction advisor to design and launch the competitive IPP procurement. The government has committed to de-risking the program through the provision of land and common facilities including transmission facilities.