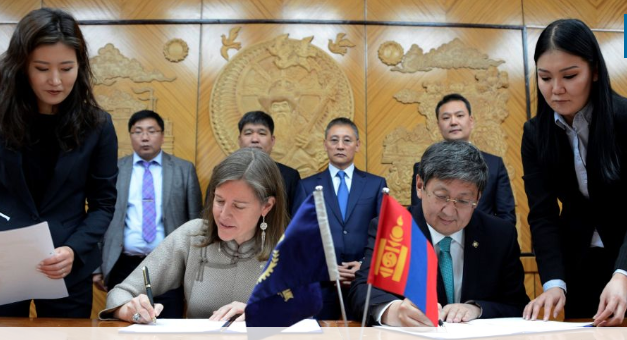 Singapore's EDB consults on 100MW floating solar
31 October: Singapore's Economic Development Board (EDB) has consulted the industry to explore the possibility of a 100MW floating PV system for private sector consumption at Kranji Reservoir.
The Kranji Reservoir is suitable due to its larger water surface area, according to the issued Request for Information (RFI),
Just a small portion of Kranji's surface could yield up to 100MW of floating solar, however the reservoir is also considered an important ecological biodiversity site so the viability of the project will be subject to the results of environmental studies.
PUB, Singapore's National Water Agency, will also be deploying a 50MW floating solar PV system at Tengeh Reservoir by 2021.
ADB funds Mongolia 41MW distributed solar-wind-storage project
2 November: The Asian Development Bank (ADB) is provide US$40 million in loans to the Government of Mongolia for a 41MW distributed solar PV, wind, battery storage and thermal heat pump system – said to be the first-of-its-kind in the Asian country.
The project will include energy management systems and will supply electricity to about 260,000 people in remote and less-developed towns in western Mongolia, who currently rely on high-cost and high-polluting carbon-intensive electricity.
The loan was originally approved in September.
ADB's funding of $40 million is supplemented by grant cofinancing; US$14.6 million from the Strategic Climate Fund under the Scaling Up Renewable Energy Program in Low-Income Countries; and US$6 million from the Japan Fund for the Joint Crediting Mechanism. The Government of Mongolia is contributing US$5.6 million to the project.
ADB country director for Mongolia Yolanda Fernandez Lommen said: "These projects will support the government's efforts to raise the share of renewable energy, decrease carbon dioxide emissions, and improve public financial resource mobilization and management. They are also closely aligned with ADB's Country Partnership Strategy for Mongolia to foster inclusive growth, improve people's access to services, and strengthen environmental sustainability."
Solarcentury to install solar panels at Moi International Airport in Kenya
30 October: UK-based solar developer Solarcentury will install a ground-mounted 500kW solar system at Kenya's Moi International Airport, Mombasa, that will generate 820,000 kWh per year.
The system will be interconnected to the airport terminal grid, and will prioritise consumption of the solar power over the grid. Solarcentury will also install airport gate electrification equipment consisting of a mobile electric-powered pre-conditioned air (PCA) unit and an electric 400 Hz Ground Power Unit (GPU) converter and a large battery storage that will provide uninterrupted power to the PCA and GPU whilst in use.
This marks the first airport to have a solar PV system installed in East Africa.