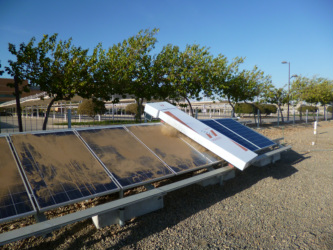 Saudi Arabia-based PV module cleaning technology start-up NOMADD (NO-water Mechanical Automated Dusting Device) has secured US$1 million in funding from the KAUST (King Abdullah University of Science and Technology) Innovation Fund.
NOMADD was said to use the funds to further market its cleaning technology in Saudi Arabia and hire key staff and carry out testing activities with potential customers.
Jos van der Hyden, CEO of NOMADD said, "NOMADD's dust mitigation technology will help make solar energy viable in the GCC region – one of the major global markets for solar energy in the coming decades. We are grateful for the vote of confidence that this funding represents and look forward to further commercialization."
The cleaning technology is said to have eight patents pending, primarily related to the mechanical actions of the system with only three moving parts. The company claims the system can remove 99.6% of dust with a cost effective daily cleaning regime.