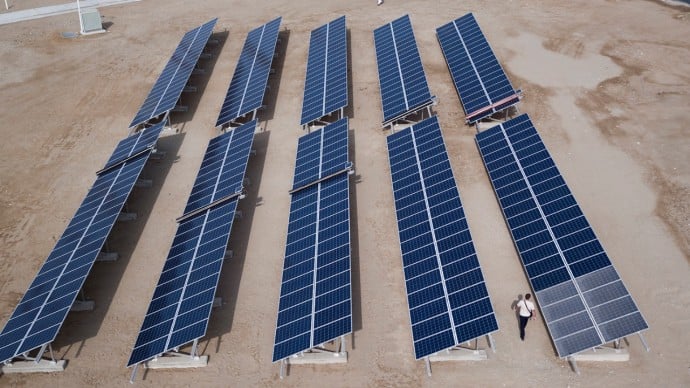 Saudi Arabia's sovereign wealth fund has rejected media reports that a multi-billion dollar solar programme has been halted.
The Saudi Public Investment Fund (PIF) was responding to a story in the Wall Street Journal that claimed the manufacturing and deployment plans were scrapped.
In March Softbank chief Masayoshi Son said the first phase would involve the development of 7.2GW of solar and that the company's Vision Fund would provide US$1 billion of the US$5 billion required. In total, Son said they would deploy 200GW of solar.
Despite the Wall Street Journal story being widely reported, the PIF said it was incorrect, and that any perceived lack of progress was owed to the ambition of its plans.
"The announcement in March 2018 clearly stated that this includes solar generation projects and joint plans to develop large-scale solar panels manufacturing facilities in Saudi Arabia for solar power generation," read a statement issued on Tuesday. "This will be complemented by R&D and training components. These plans to develop a leading champion for the industry remain on-track and in-line with the timeline that would be anticipated for projects of this scale and ambition."
A government-backed plan to develop more than 100GW of solar in the Kingdom stuttered and stalled despite great fanfare. A more conservative tender programme open to private investors has been more successful with 300MW of solar already awarded. It is targeting more than 9GW of renewable deployment by 2023.
Saudi Arabia recently paused plans for an interconnection with Egypt and is now working on a link to Ethiopia. Renewable resource-rich Ethiopia is in discussions for interconnections with Kenya, Tanzania and other neighbours.