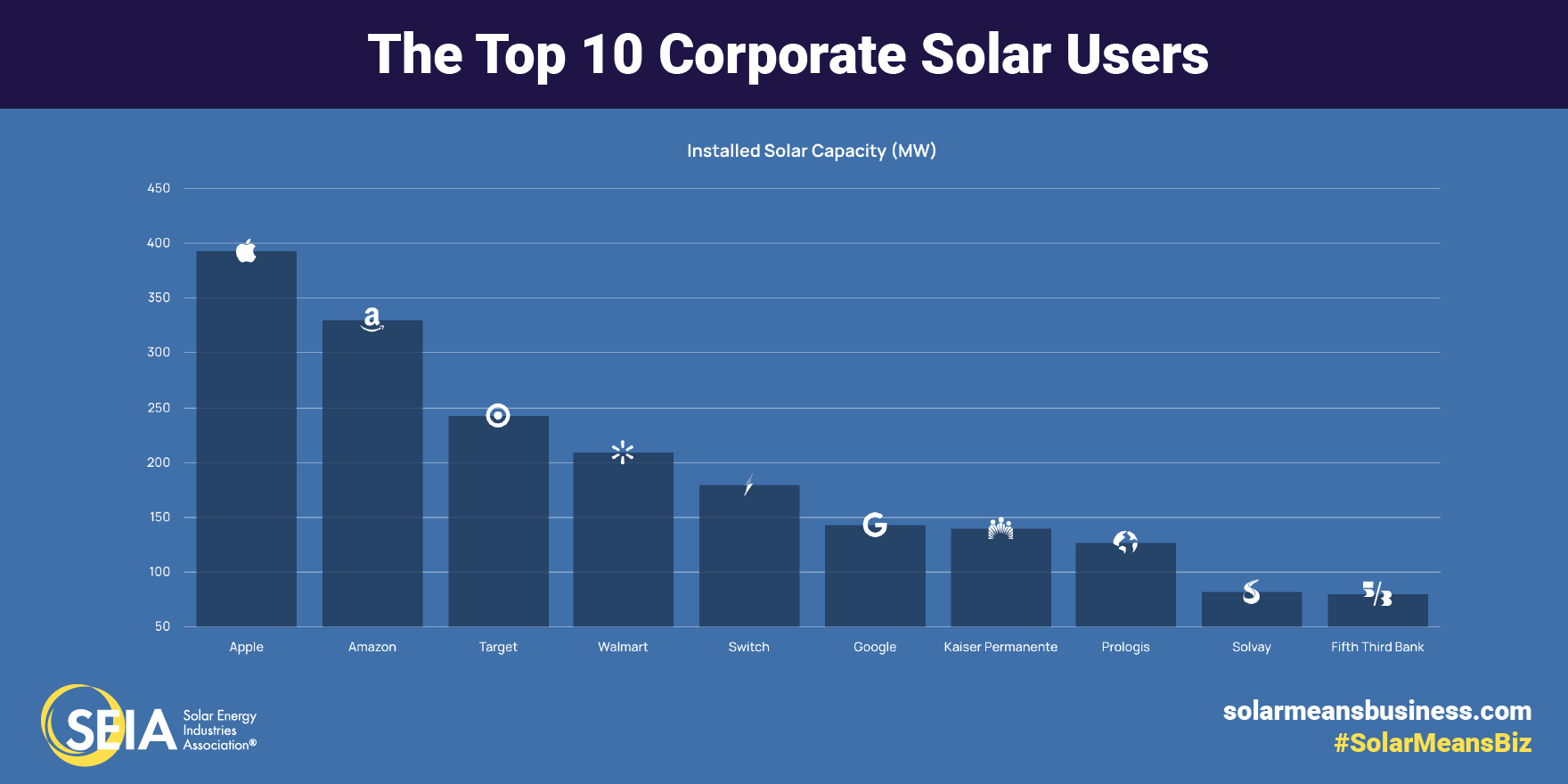 A new report from the Solar Energy Industries Association (SEIA) speaks volumes about the level of commitment that corporate giants have made to embrace PV energy both in the present and moving forward.
SEIA's Solar Means Business 2018 Report tracked more than 7,000MW of installed solar capacity across 35,000 projects, up from 2,500MW and 7,000 projects in the 2017 report.
Tech giant Apple now stands as the leading procurer of corporate solar in the US with nearly 400MW of total installed capacity.
Abigail Ross Hopper, president and CEO of SEIA, said: "Top companies are increasingly investing in clean, reliable solar energy because it makes economic sense. During the Solar+ Decade, corporate solar investments will become even more significant as businesses use solar to fight climate change, create jobs and boost local economies. When global brands go solar, the rest of the world takes note, and this report puts the power of corporate solar investment on full display."
While Apple leads the pack when it comes to installed generation capacity, nine total corporations have installed at least 100MW, with Apple, Amazon, Target and Walmart all installing over 200MW to date.
Kara Hurst, director of sustainability at Amazon, said: "Playing a significant role in helping to reduce the sources of human-induced climate change is an important commitment for Amazon. Major investments in renewable energy are a critical step toward addressing our carbon footprint globally. We will continue to invest in these projects and look forward to additional investments this year and beyond."
When it comes to on-site PV installations, the same three companies at the top of the 2017 report remain the following year in Target, Walmart and Prologis.
John Leisen, vice president of property management at Target, said: "We are honoured to be recognized by SEIA for a third consecutive year for our solar development. Target is committed to sustainable operations and creating a healthier environment for our team members and guests with renewable energy."
Matt Singleton, senior vice president of global energy at Prologis, added: "Prologis was among the first in the logistics real estate industry to invest in solar, and our future-focused approach to environmental, social and governance practices has put us on pace to surpass our goal of 200MW of solar capacity by 2020. We are honoured to be recognized for our efforts to deliver value to our customers and minimize our environmental impact through our renewable energy program."
Both falling prices and more flexible financing and procurement systems have played a key role in the rapid growth of corporate solar adoption, with more than half of all corporate solar capacity in the US-installed since 2016. The 7,000MW of installed commercial solar today generates 10.7 million MWh of electricity on a yearly basis, enough to power 1.4 million homes.
The report added that each week 6.6 million people visit a Walmart store with on-site solar, Amazon's solar installations offset the CO2 equivalent of more than 200 million miles of truck deliveries, while Apple's solar installations generate enough electricity annually to charge more than 60 billion smartphones.