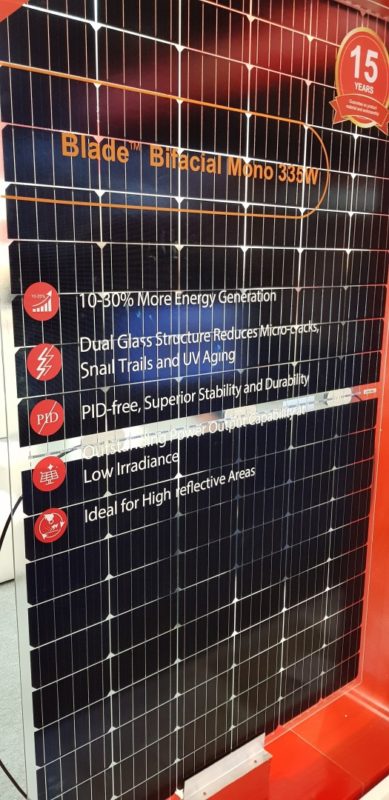 Jiangsu Seraphim Solar System Co has recently rolled out an innovative bifacial solar panel, 'Blade Bifacial'. According to Seraphim, the new product integrates industry-leading half-cell technology and latest bifacial PERC cell technology, allowing it to have such features as low internal power loss, reduced hot spot potential, higher power output and improved reliability. In 60-cell (120 half-cut) format, power classes are from 310Wp to 325Wp.
Problem
Compared to traditional modules, half-cell modules have lower current and series resistance, which can minimize mismatch losses, internal power losses, and shadow effects.
Solution
The technical upgrade of the PV module, as a core component of the power station system, is an important measure to reduce the electricity cost and promote on-grid PV power at a fair price. The integration of the half-cell technology and the bifacial PERC cell technology is an important route to develop the PV module technology and adapt to the needs of the PV industry. Yields up to 30% more energy from back side power generation, depending on the albedo/reflectivity of each individual project site.
Applications
Utility-scale and commercial & industrial rooftops. Available in 60 cell 120 half-cut and 72 (144 half-cut cell) formats.
Platform
Apart from the higher performance, the Seraphim Blade Bifacial module is much lighter as it uses the 2.0 mm double AR coating tempered glass, instead of the 2.5 mm glass used by most PV manufacturers, making it easy for installation and saving transportation costs. IP68 protection class junction box with multiple diodes integrated to reduce hotspot risk. Separated design reduces cable loss. Unobstructed view of cells improves safety and power generation. Dimensions are 1690 x 992 x 5.5mm, weight 19.5kg. PERC Mono crystalline 156.75 x 78.375 mm (120pcs). Blade Bifacial panel comes with and extended product warranty of 15 years. Seraphim has set up a new plant in north China's Shanxi Province jointly with Shanxi Lu'An Photovoltaics Technology Co. Ltd. to manufacture one gigawatt of ultra-efficient modules including the bifacial half-cell modules annually.
Availability
May 2019, onwards.