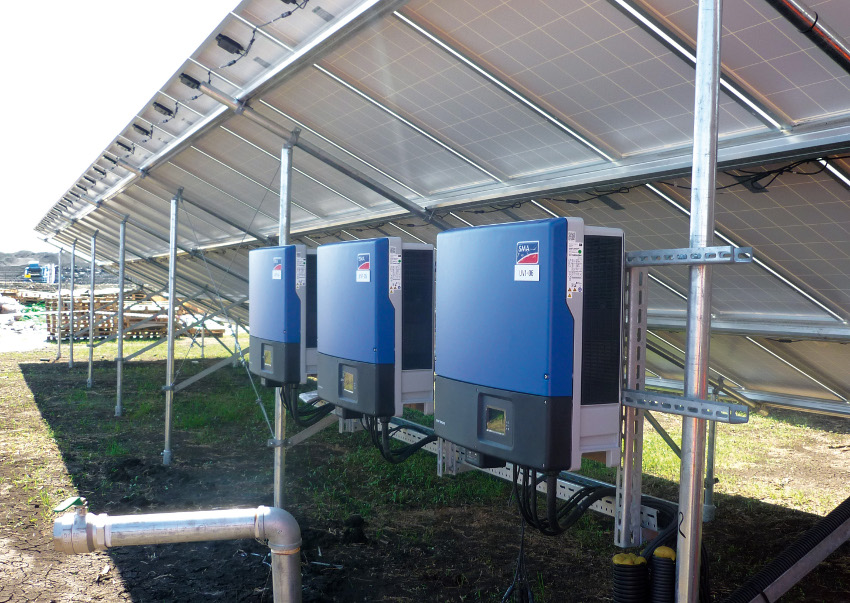 Despite preparing investors' expectations for flat revenues in 2016, inverter maker SMA Solar Technology has reported an increase in sales for the first quarter and exceeded management expectations by more than €10 million (US$11.4 million).
The company underwent an extensive restructuring process during the past couple of years which necessitated a scaling back of the workforce. It began reporting a return to profitability last year, topping global rankings for inverter revenues in 2015 according to a GTM Research report in March. However, as reported by PV Tech at the time of that publication, SMA slid to third in the rankings for total inverter shipments, behind China's Huawei and Sungrow.
In the latest results, sales were reported to have increased to €253.8 million for Q1 2016, a rise of 12.2% over the equivalent period last year, when the tally stood at €226.3 million. The management board had forecast sales to be in the region of €235 million to €240 million.
The largest growth driver was in the commercial segment, SMA said, where year-on-year sales showed an increase of over 50%, while residential and utility-scale sales were "stable" as well as profitable. There were also increases in business in SMA's operations and maintenance (O&M) business.
The share of sales made outside its home territory of Germany increased even further from 88% in Q1 2015 to 92.4% in the most recent quarter, while overall PV inverter sales totalled 2.1GW, representing an increase from 1.7GW in the first quarter of 2015 of 21.3%.
Gross cash flow was improved from €16.1 million in Q1 2015 to €40.6 million, and net cash from €285.6 million to €323.4 million. Equity ratio moved up slightly from 41.1% to 21.9%, leading the inverter maker to conclude that the company has a "comfortable equity base and…extremely solid balance sheet structure".
Board confirms forecast for year
The board confirmed forecasts it made in January at its annual analyst day; that it is anticipating sales of €950 million to €1,050 million for this year, with earnings before interest and taxes (EBIT) to be between €80 million and €120 million. SMA said order backlog at the end of Q1 2016 stood at €691.6 million.
SMA also launched its own Tesla Powerwall-compatible bi-directional inverter a few months ago. Senior vice president of hybrid energy and storage integration, Volker Wachenfeld, told PV Tech that the company's plans for this year include taking a more active role in seeing how solar inverters can provide ancillary services to grid operators in Germany.
"If we want to further increase the share of PV we need to think about the third generation [of SMA inverters], which means more functionality," Wachenfeld said.
"Primary reserve without batteries is something that's very interesting. You could use a PV inverter and throttle it down a little bit, so if the sun is [irradiating] 10kW you could operate at 9kW and if additional power is required you could open up the throttle and the inverter could feed in 100%. You lose a little bit of yield but it would be a functionality that's very similar to a conventional power plant."
SMA will also be looking to add more 'virtual power plant' functionality to residential solutions, so that the systems can be aggregated to form assets that can benefit the grid, Wachenfeld said.
In other notable developments during the quarter, SMA purchased a stake in module-level power electronics (MLPE) maker Tigo Energy.