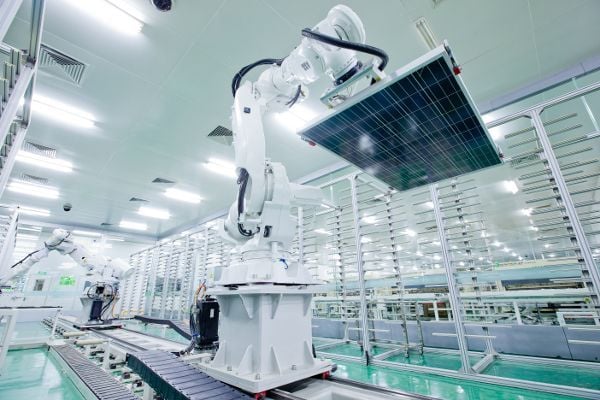 'Solar Module Super League' (SMSL) members, JinkoSolar, JA Solar, GCL SI, Q CELLS and Canadian Solar have announced supply deals, new project developments as well as new partnerships and awards this week.
Manufacturing Champion
Leading SMSL, JinkoSolar has been recognized for the first time as a 'China National Manufacturing Champion' by the Ministry of Industry and Information Technology (MIIT) and the China Federation of Industrial Economics (CFIE) amongst 52 other 'Manufacturing Champions' for its excellence in the manufacturing of PV modules.
Unlike most awards, JinkoSolar will gain priority applications for a series of programs that will have government funding, including technical support, industrial foundation development (key components, materials, and processes), support in major special projects as well as energy conservation and emissions reductions.
Manufacturing Champions are defined as enterprises focusing on specific manufacturing segments for the long-term, with internationally leading technology, and the market share of a single product among the top 3 globally.
JinkoSolar had capital expenditures of US$563.8 million and R&D spending of US$53.3 million in 2018.
Battery pact
SMSL member, GCL System Integration (GCL SI) has created a joint venture, branded as G-Powin Energy Solution, to expand its energy storage business in the Asia-Pacific region, notably Australia with US-Based Powin.
GCL SI chairman, Eric Luo said, "Powin is a U.S. based, world leading designer and developer of energy storage solution, it has delivered over 200 MWh projects and holds a global pipeline of more than 6 GWh, we are proud to partner with it, the new G-Powin JV intends to collaborate on front-of-the-meter energy storage solutions for grid support to better integrate and increase capacity, and look forward to integrating are matching expertise to create even greater value for customers."
"Vietnam's goal of strengthening its grid with the integration of more renewables will require more efficient storage solutions," added Hui Wu, vice president of GCL-SI energy storage solution. "Likewise, in South Korea, the G-Powin systems lithium-ion phosphate batteries offer a more stable and safer alternative to conventional Nickel Manganese Cobalt batteries. With Powin's patented battery management system, we have high confidence in our ability to deliver a safe and cost-competitive product to answer the unique needs of each customer in every corner of the region."
PERC mono modules used in Hokkaido project
SMSL member, JA Solar has supplied p-Type mono PERC modules for a 32MW solar-plus-storage facility located in the coastal area near the city of Shibetsu, Hokkaido, Japan. The facility is said to be one of the largest PV plants in Hokkaido, which has been successfully connected to the grid.
The solar-plus-storage plant is equipped with a storage battery of 10,445kWh, which can self-regulate to ensure stable operation of the power plant in both peak and off-peak hours. The plant is expected to generate an annual energy yield of 30,000,000kWh, reducing the emission of carbon dioxide by 24,180 tons each year.
New flat roof mounting system heading to France
SMSL member, Q CELLS is launching its latest roof mounting system (Q.FLAT G-5), which is specifically designed for flat rooftops into the booming French PV market, notably the commercial and industrial rooftop sectors.
The Q.FLAT G-5 has been granted an ETN (Enquête de Technique Nouvelle) license following a positive evaluation, according to the company.
Stephan Maurel, Head of Sales France for Q CELLS, said: "We have worked hard to achieve this ETN especially for the French market. We believe that the Q.FLAT G-5 is an excellent solution towards meeting growing C&I demand. The French government's six-year solar program has set ambitious goals to install vast amounts of new PV capacity each year for the next six years, of which a growing portion of that will be in the C&I rooftop space – which is a growing, under-tapped market."
Government support for the growth of France's C&I sector continues in the form of a series of tenders, the most recent of which in October saw more than 268 projects – with a combined total of 130 MW of solar capacity – awarded for projects ranging from 100 kW to 8MW in size.
In 2020, tenders are expected for C&I installations for systems ranging from 200 kW to 8 MW will be launched, with an estimated 300MW of capacity assigned to auction and ring-fenced solely for this sector, according to Q CELLS.
Mexican PV project pipeline sold
SMSL member, Canadian Solar has sold a 49% interest in three solar photovoltaic projects in Mexico totalling 370MWp, which is currently all the SMSL's late-stage, utility-scale solar project pipeline in the country.
The SMSL has sold the projects to Korea Electric Power Corporation (KEPCO) and Sprott Korea, a leading fund manager. Under the agreement, KEPCO and Sprott will acquire Canadian Solar's remaining interest in the projects following their commercial operation dates, which extend into the first quarter of 2021.