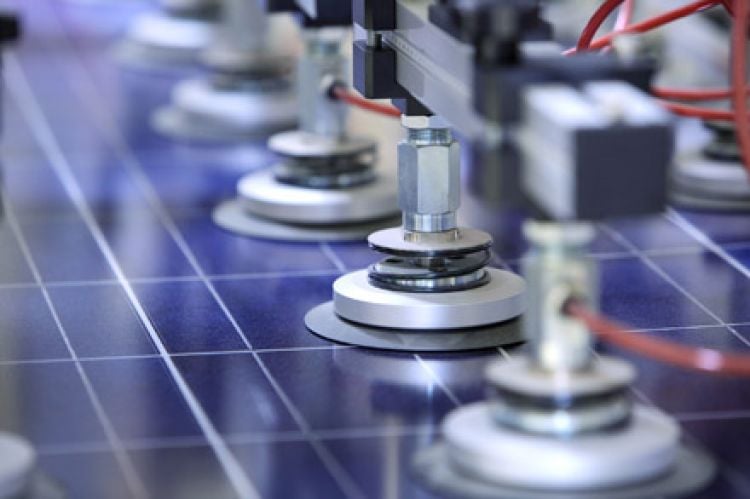 Having topped RMB1.9/Watt (US$0.29/W) in early 2020 before falling to RMB1.4/Watt (US$0.21/W), PV module prices in China have been on a rollercoaster of late. This continued into Q4 2020, when the price rebounded strongly to 1.8 – 1.9RMB/Watt.
Having struggled to contend with the rush of installations at the end of last year, the industry has been confronted by a new round of obstacles, notably insufficient silicon supply in the early throes of 2021.
Recent weeks have seen a handful of major power plant investors in China released detailed plans regarding centralised module procurement for 2021. As could be seen from quotations for module orders topping 10GW in capacity, as well as the opening prices, the module price has been experiencing a widespread surge with the highest exceeding RMB1.8/Watt.
Calculated by the total price and capacity, the centralised procurement of 7GW of standard mono modules generated a lowest price of RMB1.609/Watt and a high of RMB1.779/Watt among 21 tenderers, up 7-14% year-on-year compared to the RMB1.496-1.55/Watt recorded last year.
In the meantime, Nanjing China Nuclear Energy Engineering also announced its centralised PV module procurement plan for 2021, which attracted 19 companies bidding for capacity totalling 1.3GW. The lowest mono module quotation was RMB1.465/Watt and the highest was RMB1.8/Watt, vying with different module types. Modules over 500W recorded the highest price and averaged at around RMB1.72/Watt.
1.3GW of Centralised Module Procurement by Nanjing China Nuclear Energy Engineering
| | |
| --- | --- |
| Module Type | Bidding Price (RMB/W) |
| Mono modules≥400W | 1.465 – 1.75 |
| Mono modules≥440W | 1.504 – 1.7 |
| Bifacial mono modules≥440W | 1.546 – 1.76 |
| Mono modules≥500W | 1.538 – 1.73 |
| Bifacial mono modules≥500W | 1.573 – 1.8 |
Auctions held by other companies, such as the 1.08GW tender issued by Guangzhou Development Group, have also witnessed bidding prices climb to new heights. The tendering results pointed to the fact that PV module quotations in the Chinese market had jumped by 10-15% during the past few weeks.
One executive from a top industry company told PV Tech: "Our previous prediction indicated weakened market demands after mid-December 2020, accompanied by falling prices throughout the supply chain. On the contrary, it went the other way round. Led by silicon price surges, the module price also continued to increase. There were some cases where we had to go through several rounds of price negotiation to strike a deal."
Collective price rises pushing up module price, the global average will rise slightly
After China's Spring Festival, the price of raw polysilicon material in the domestic market skyrocketed, breaking the RMB100,000/ton barrier before going on to exceed RMB110,000/ton, equivalent to an increase of over 10%. Insufficient silicon supply has made purchasing a difficult task.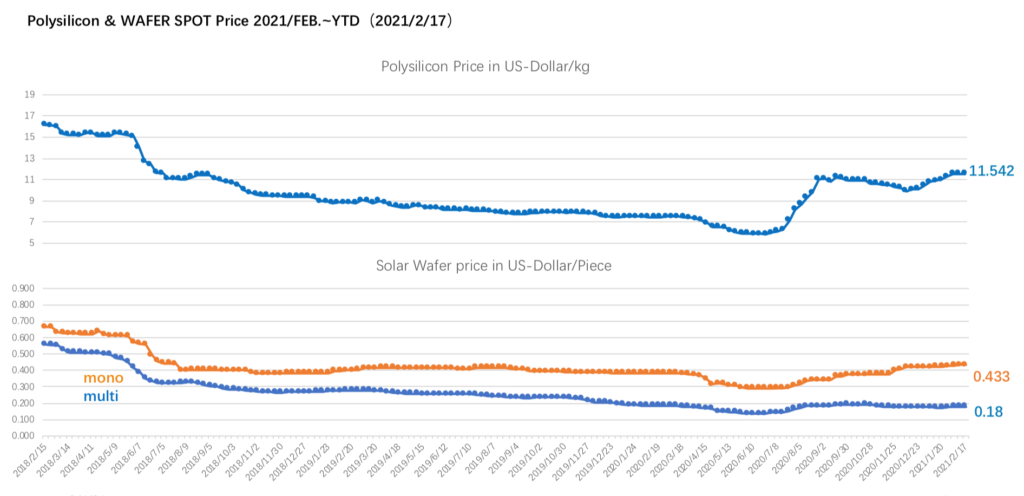 The surging price of raw materials upstream has been driving up prices in all sectors along the PV manufacturing chain. Top wafer providers like LONGi and Zhonghuan Semiconductor have increased wafer bidding prices one after another. As a result, the latest price of mono wafers (G1/M6/M10) is up by RMB0.26-0.39 per piece, and the price for G12 wafers has soared by RMB0.56 per piece.
For the cell sector, the recent prices have also risen accordingly, best evidenced by Tongwei. As shown in bidding information released by Tongwei this month, prices for mono cells of varied sizes all rose by RMB0.05/Watt. Prices for 158.75mm cells rose to RMB0.96/Watt and the 166mm rose to RMB1.00/Watt, reaching prices not seen since January 2020. Prices for 210mm cells broke the RMB1 threshold, standing at RMB1.04/Watt.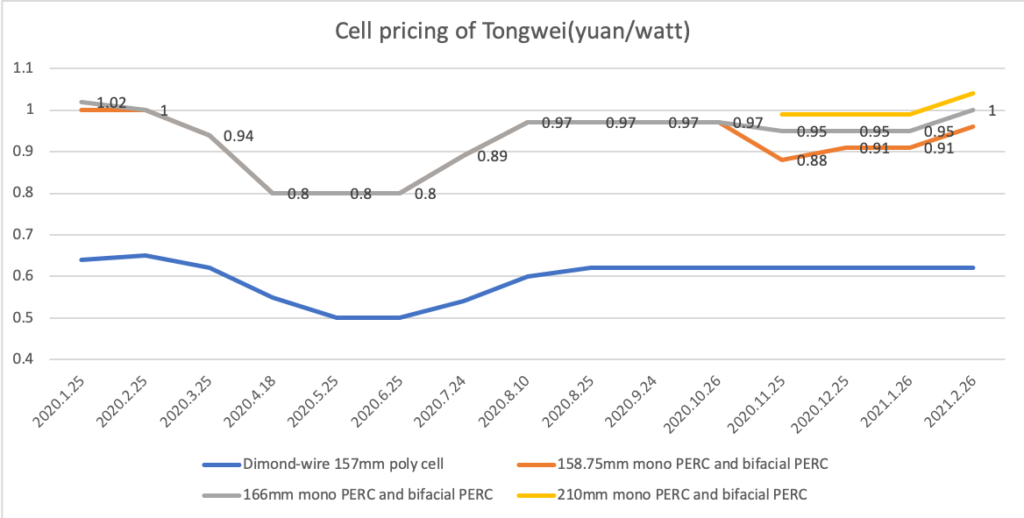 Price pressures upstream have been extending to downstream, where module manufacturers have found themselves in a dilemma. If module prices remained unchanged, profitability would definitely be impacted, but if module prices continued to increase, it would be difficult for project owners to move forward.
As a result, module manufacturers in the Chinese market are said to be preparing for possible price rises. For many, net profits have been approaching zero and in some cases, losses are even being recorded. The price surge has been observed in a wide range of sectors including other module materials, such as aluminium frames, have also experienced price spikes to varying degrees in addition to the already noted price increases in polysilicon, wafers and PV cells. The cost pressure has forced module prices to be adjusted upward.
The latest price monitoring statistics from EnergyTrend showed that, under cost pressure, the price of mainstream mono modules had continued to rise this week. The price of 325-335 watt/395-405 watt mono PERC module rose by 3.77%, averaging at US$0.22/Watt and spiked at US$0.35/Watt.
The price of 355-365/425-435 watt mono PERC module spiked at RMB1.73/Watt and averaged at RMB1.68/Watt, up 0.6%; The price of the 182mm and 210mm mono PERC modules reached between RMB1.65-1.75/Watt and averaged at RMB1.7/Watt, up 2.41%.
Following the widespread price hikes throughout the supply chain in 2020, some Chinese power plant investors, central enterprises included, had lowered their expectations on yields accordingly and were accepting a slightly higher module price than before. Industry stakeholders are, evidently, still trying to find the right balance.
Zhuang Yinghong, marketing director at Risen, told PV Tech: "Now all PV-related products, the raw materials for example, are experiencing considerable price increases. Players downstream are starting to feel the pressure passing down from the upstream. We are planning to raise the module price for domestic customers and later on, for overseas customers."
China is the world's primary PV manufacturing base and, as a result, price fluctuations on the industry chain will undoubtedly transmit to international markets. According to the industry chain price review released by PVinfolink this week, price increases of a similar scale were also observed in overseas markets, where poly wafer prices risen significantly to top US$0.185/piece, while M6 cell prices jumped to US$0.118-0.120/Watt.
"It is very difficult for end manufacturers to accept that many times of price rise from last year till now. Module manufacturers have further enhanced their market share, the average module prices both home and abroad are expected to experience a slight increase," said one PVinfolink analyst.