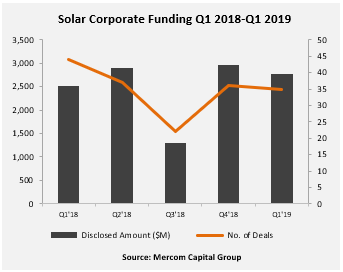 Fresh figures from Mercom Capital Group point at a bullish first 2019 quarter for the solar industry, with financing flows picking up pace compared to last year.
At US$2.8 billion, the funding raised by solar in Q1 2019 was up 10% on the US$2.5 billion seen in Q1 2018, according to the consultancy's latest update.
Mercom CEO Raj Prabhu contrasted 2019's "upbeat" start with last year's woes with module glut and tariffs. China will remain a "wild card" after subsidy and roll-out cuts last year, said Prabhu; its policy direction could impact this year's fortunes "significantly," he added.
Fewer but larger deals
Across most corporate funding segments, a defining element of Q1 2019 is that deals became fewer but larger. Venture capital houses, for instance, poured US$176 million into 13 deals during the quarter, against US$161 million into 22 deals in Q1 2018.
Most of the VC inflows (US$111 million) ended up with downstream players, with upstream names – including Oxford PV, which raised US$41 million – securing the remainder.
For its part, Ginlong's "rare" US$78.9 million IPO helped double public financing between Q1 2018 (US$103 million, four deals) and Q1 2019 (US$247 million, three deals). Meanwhile, debt financing saw a slight quarter-on-quarter raise (US$2.3 billion to US$2.35 billion), with downstream securing the greatest slice.
Funding commitments hit record high
According to Mercom, the jump in funding announcements for large-scale projects was more pronounced, with volumes doubling to a "record high" of US$5.68 billion between Q1 2018 and Q1 2019 even as deals slightly dipped from 47 to 43.
Deal count on the M&A front saw a minor decline from 19 to 18, 14 of which involved downstream firms. Investor appetite for projects in Q1 2019 also appeared on the wane, with some 5.9GW (down from 7.7GW in Q1 2018) recorded.
See here for the full version of Mercom's report