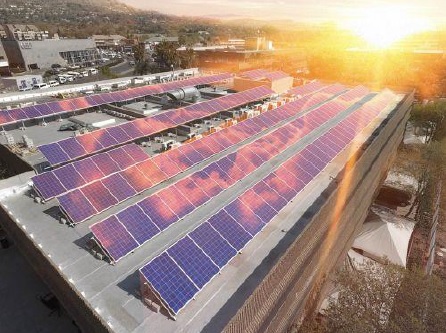 Major PV inverter company, SolarEdge Technologies continued its streak of record quarterly revenues in the third quarter of 2019. However, fourth quarter revenue growth is expected to slow compared to previous quarters.
SolarEdge reported record revenue of US$410.6 million, up 26% from US$325.0 million in the previous quarter and up 74% from US$236.6 million in the prior year period.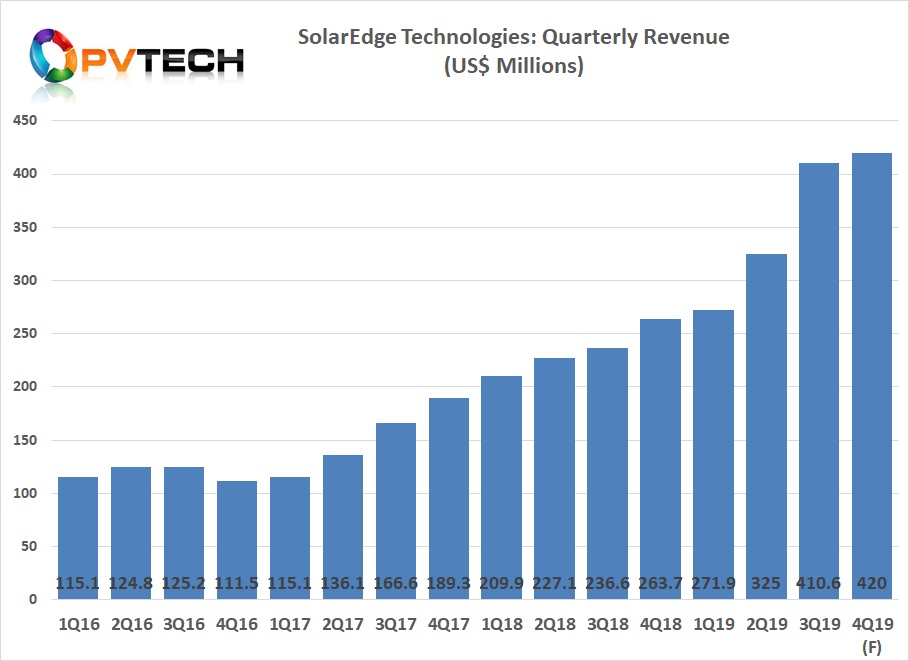 The company reported specific revenue related to its solar business reached US$387.8 million, up 26% from US$306.7 million in the previous quarter and up 66% from US$233.8 million in the prior year period.
Total PV inverter shipments in the third quarter of 2019, reached almost 1.5GW (AC), compared to over 1.3GW (AC) in the previous quarter.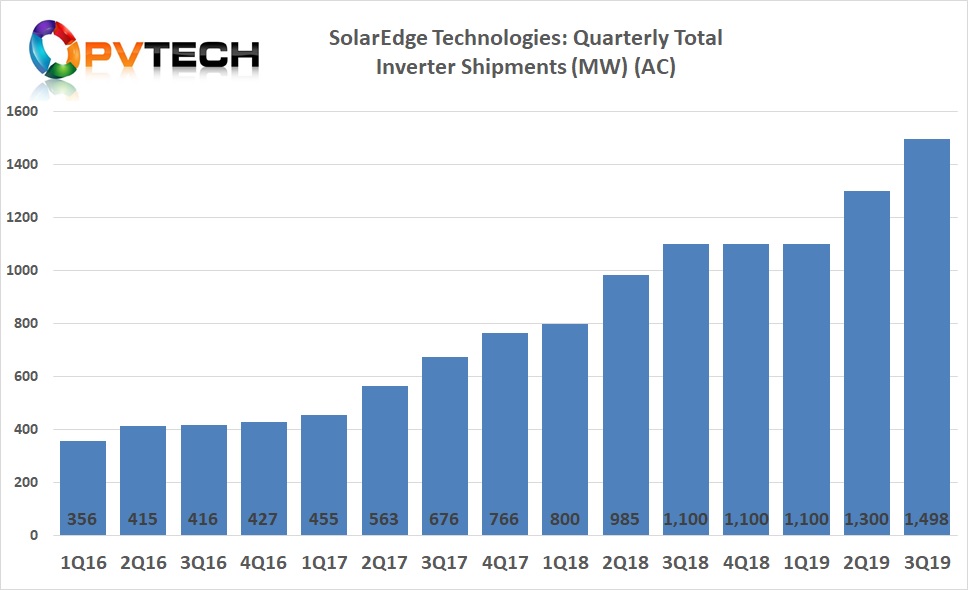 Total inverter unit shipments in the third quarter of 2019, jumped again as manufacturing constraints continued to ease, although air shipments, due to strong demand continued to impact the company. In the third quarter, unit shipments were almost 188,000, while second quarter inverter unit shipments had jumped to 160,000, up from 131,000 in the first quarter.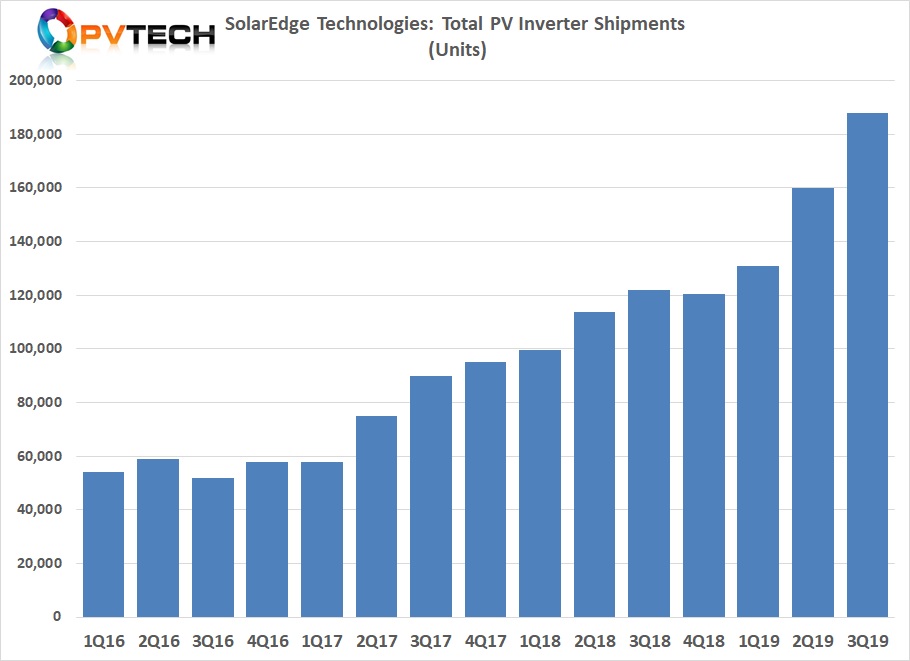 SolarEdge reported power optimizer unit shipments of over 4.5 million in the third quarter, compared to over 3.7 million power optimizers in the second quarter of 2019. Not surprisingly a new record for the company.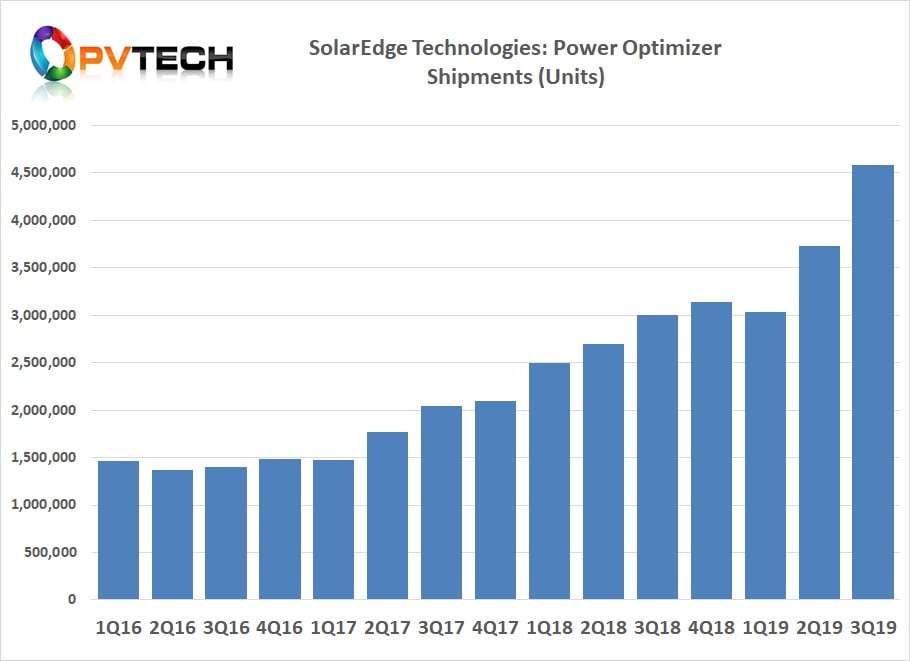 GAAP gross margin was 33.9% in the third quarter of 2019, down from 34.1% in the prior quarter and up from 33.0% in the prior year period. Gross margin was said to be negatively impacted by increased air shipments as well as the increase in US tariffs on China made products.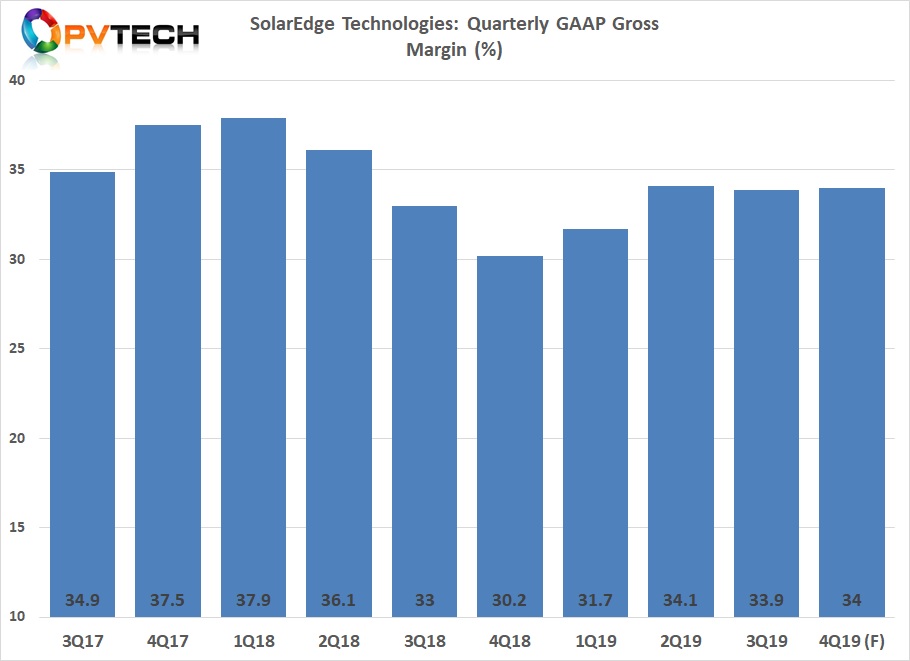 "Our performance this quarter was at the upper range of our guidance, with record revenues, record non-GAAP profitability and record cash generation," said Zvi Lando, Acting CEO and VP Global Sales of SolarEdge. "While we are pleased with the financial and operational results, this was a somber quarter for the Company due to the untimely passing of Mr. Guy Sella, Founder, Chairman and CEO of SolarEdge. Guy was not only our CEO and Chairman but a technological visionary, a role model and dear friend and will be greatly missed. SolarEdge management, most of whom have been leading the company together with Guy for many years, are dedicated to continue to strive for excellence in innovation and execution. We believe we are well positioned for continued growth both in our core business as leaders of PV inverter technology and in our new businesses of lithium-ion cells and batteries, e-mobility powertrain solutions and uninterruptible power supply systems."
However, management acknowledged that it had experienced higher than expected product failure rates in the quarter with new production ramps at new manufacturing plants for single phase and three phase inverters. However, such failure rates were said to have significantly declined as manufacturing maturity increased.
Guidance
Although the company has yet to provide 2020 financial guidance, management noted in the earnings call that it still expected historical growth patterns that would be in the range of 15 to 20% annual revenue growth rates.
SolarEdge did guide fourth quarter 2019 revenue to be in the range of US$410 million to US$420 million, only slightly higher that the third quarter.
Gross margin is expected to be within the range of 32% to 34%, indicating further margin pressure, which could be related to continued air shipments and increased capacity expansions to meet demand.
Revenue from solar products in the fourth quarter of 2019, is expected to be in the range of US$388 million to US$398 million.