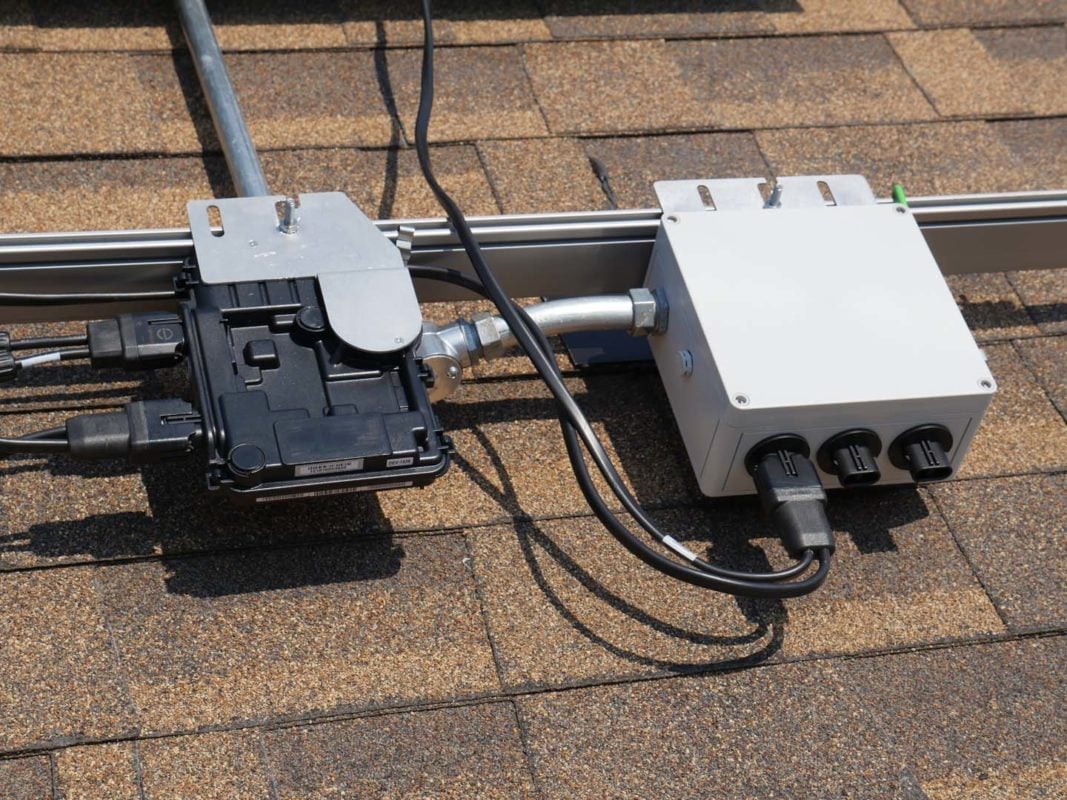 In PV Tech's second Solar Power International (SPI) 2016 new product round up several companies have taken a more holistic or scattergun approach to new product announcements, whereby a number of things, like the IoT (Internet of Things) are showcased, rather than a single product.
Solar of things
SMA Solar
SMA Solar is promising to provide "never-before-seen" residential and commercial PV Solutions at its booth at SPI this year. These include the debut of the SMA Smart Home, featuring Sunny Boy PV, module-level and Sunny Boy Storage technologies, paired with high-voltage batteries, all with North American market in mind.
On the commercial side, SMA Solar is showcasing its new Sunny Tripower CORE1, a 50 kW Sunny Tripower inverter. Not new, but also showcased will be its plant-wide O&M service offering and partner network offering and 'Authorized Distributors' thing.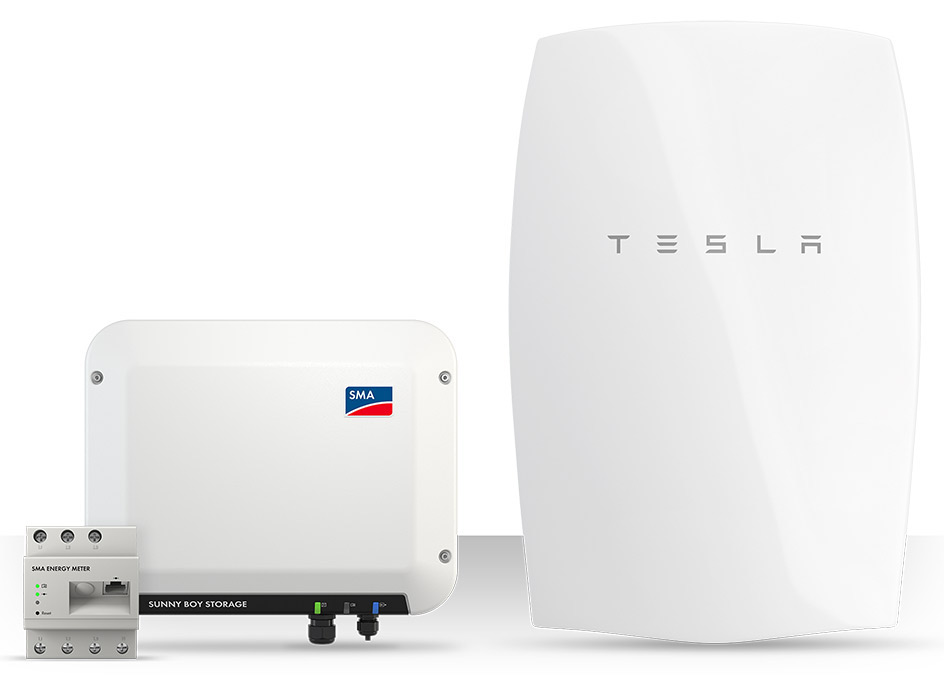 SolarEdge
PV inverter specialist SolarEdge is expanding its portfolio of sector products to further simplify PV installations. Simply, 'more of things' is better than 'fewer of things' on the SolarEdge booth.
As part of the company's commercial solution expansion, SolarEdge is launching its highest wattage power optimizer – the P800, which enlarges its commercial power optimizer offering. Installers can now connect even higher-wattage modules in a 2-to-1 configuration in commercial projects, according to the company.
The expansion also includes new PV asset monitoring capabilities with the launch of a new commercial cellular solution that directly integrates with weather stations and Revenue Grade Meters (RGMs) that are also conveniently available from SolarEdge.
As part of its smart energy management solution, SolarEdge is also increasing the capabilities of its 'StorEdge' offering for self-consumption and backup power that supports double battery installations for twice the power and twice the energy. More is more approach.
In the less is more category, SolarEdge will be displaying a new generation power optimizer for module manufacturers that features a lower-profile design with new snap-in technology for manufacturing flexibility and easy serviceability.

Boviet Solar USA
Not content with showcasing its new 1500 volt polycrystalline solar modules that will come in 72-cell configuration, Vietnam-based Boviet Solar Technology is promoting its new line of PERC (Passivated Emitter Rear Contact) solar modules that will include an n-type mono-PERC module that is said to be shipping in early 2017. Boviet Solar USA's PERC modules will also be available in both p-type multicrystalline and p-type monocrystalline versions.
However, the company is also launching 60-cell monocrystalline 250-270W solar modules with 'Built-In Racking' in a partnership with racking firm, Spice Solar. The system is UL/1703 and UL/2703 certified, including grounding, bonding, and mechanical loading.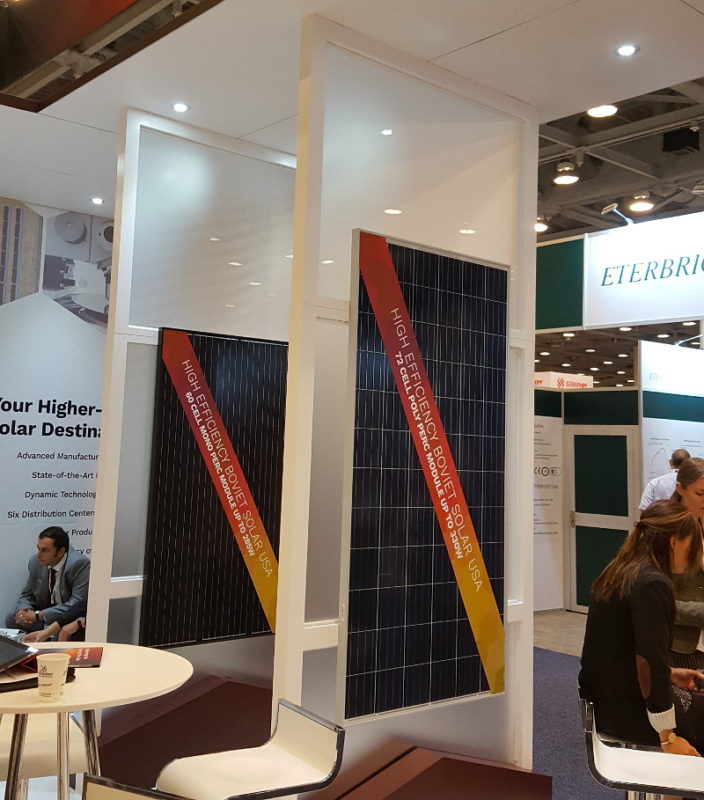 Energy of things
Sungrow and Samsung SDI
Sungrow and Samsung SDI will showcase their new energy storage system products and solutions with the release of a UL standards certified 250kW energy storage inverter, the SC250KU. The SC250KU has a Virtual Synchronous Generator (VSG) function, high power & energy density, large capacity, high efficiency and wide voltage range. Additionally, Sungrow-Samsung SDI will also showcase its li-ion battery products, which can be used in various applications such as energy shifting, frequency regulation and commercial projects based on the flexible configuration of battery pack.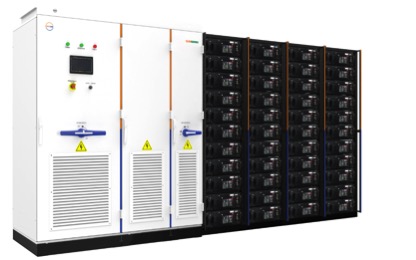 Enphase Energy
Enphase Energy has unveiled its Enphase Home Energy Solution with 'IQ', its next-generation integrated solar, storage and energy management offering.
The solution features the company's sixth-generation Enphase IQ microinverter system, which supports high-powered 60-cell and 72-cell solar modules, integrates with upcoming AC modules from LG and SolarWorld, and offers installers faster and simpler installations, saving on soft costs and is expected to be available in the North America in the first quarter of 2017.
The Enphase IQ microinverter system supports up to 400W (DC) and the Enphase IQ 6 Micro pairs with modules up to 330W (DC). They are said to be 30% lighter than Enphase S-Series microinverters, and 40% lighter than other microinverters on the market today, partly due to their double insulated, non-corroding polymeric enclosure. The IQ family, like all previous Enphase microinverters, is fully compliant with NEC 2014 and 2017 rapid shutdown requirements.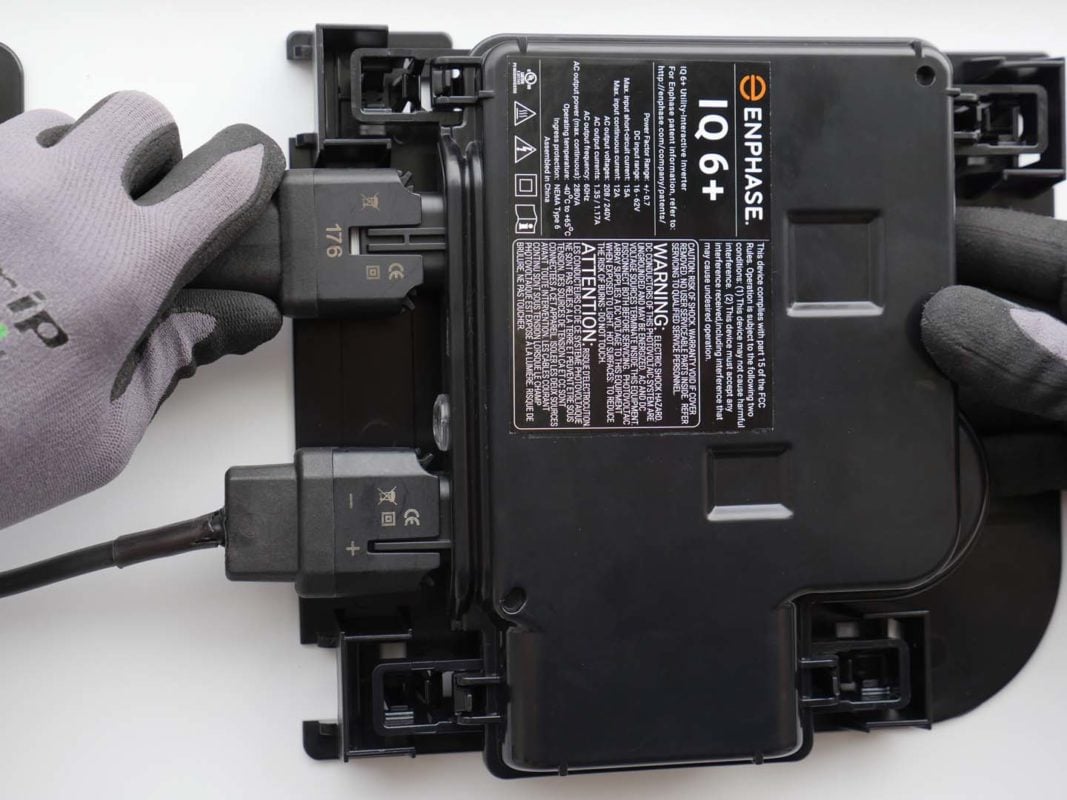 Mountings of things
Unirac
Unirac said it was excited to unveil the 'SUNFRAME MICRORAIL' (SFM) racking system that features a structural front 'Trimrail,' post-install height adjustment, single module access, and single tool installation. Overall, the system provides quick and easy array alignment.
The company also said it had a new 'ROOFMOUNT' 5 (RM5), which provides adaptability with 5 degree tilt. Row spacing options of 7.5″ or 11″ for better project energy production.
'ROOFMOUNT Dual Tilt' (RMDT) is another new product for maximizing energy density with 8 degree dual tilt, allowing up to a claimed 33% increase in PV modules on a given roof.
Unirac's 'SOLARMOUNT' has been enhanced with a superior aesthetics package, which includes front trim and end caps. 'SOLARMOUNT' also offers standard and light rail options.
Finally, Unirac highlighted its 'U-Builder Online Design Tool' which has seamless HelioScope integration and Google Maps with enhanced zoom capabilities to create a process for installers to design a project and produce a bill of materials with site-specific engineering documentation, seamlessly.