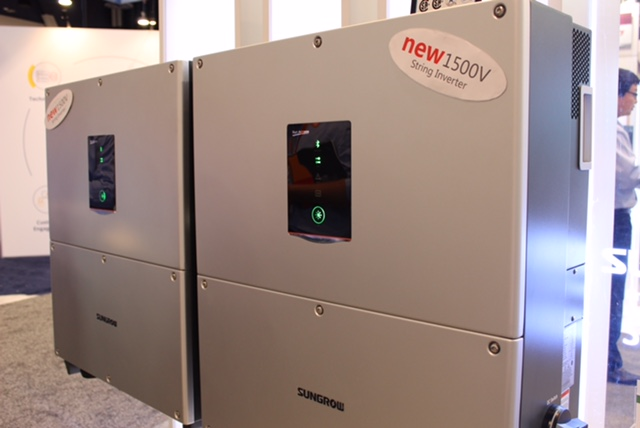 At the beginning of August, major PV inverter manufacturer Sungrow Power Supply Co., raised around US$400 million in new capital via a private placement of shares with multiple Chinese banks.
Significantly, Sungrow said that the capital raised would enable it to increase investment in R&D and "deepen the company's focus on innovation related to its PV inverter and energy storage line-ups".
To put the US$400 million raised into some numerical perspective, Sungrow had generated revenue in 2015 of around US$703 million, some 49% higher than in the previous year. In the first half of 2016, the company reported, coincidentally, revenue of circa US$366 million, while it had allocated around US$16 million to R&D in the first half of 2016.
Looking at the new capital from another angle, third ranked inverter manufacturer SMA Solar Technology (until recently the leading supplier) had reported first half year revenue of over US$1 billion and for more years than I will mention, had spent well over US$100 million per annum on R&D activities.
Outside the top 10 inverter companies is microinverter pioneer Enphase Energy, which reported 2015 annual R&D expenditure of US$50.8 million.
Of course, no one should expect Sungrow to splurge the US$400 million on R&D in one year and the company has not publicly divulged the timeline for the burn rate of investment. On that basis, let us use a theoretical five year plan timeline, which would put Sungrow's annual R&D spending between that of SMA Solar and Enphase, which would be more than double its 2015 spending levels.
Spending drivers
In general terms, R&D spending amongst the major PV inverter manufacturers surpasses that of the majority of major PV module manufacturers. The inverter market is considerably more competitive than any other sector of the PV industry and that trend has only been intensifying in recent years.
Unlike PV modules where, until recently, competitors could get away with a very limited product portfolio and supply globally, inverter firms have to provide both a broad product offering and meet country specific grid requirements.
Like rival SMA Solar, Sungrow produces inverters for residential, commercial and utility-scale applications that include string and central inverter technologies. This broad commitment typically requires higher annual R&D expenditure.
William Zhou, vice president of Sungrow, told PV Tech that a number of factors were behind the R&D spending drive, but its global business expansion and new emerging sectors for future product launches were shaping its business approach.
"Higher investments are required to further expand internationally," noted Zhou, "with different markets often each requiring differing products."
One of the key examples has been the introduction of 1500VDC central inverters that Zhou said had already accounted for around 100MW of deployments in China, but adoption was growing across multiple geographical markets.
"The US is a strategic market for Sungrow, with a growing number of utility-scale solar projects adopting 1500VDC technology and with increasing demand for string inverters, notably for commercial and industrial applications, we have over 300MW of inverter system installations in the US to date," added Zhou.
Subsequent to the conversation, Sungrow launched a dedicated 1500VDC system at SPI 2016 to address the US market – its SG2500HV-MV central inverter system – and for the first time showcased its SG125HV, 125kW inverter, which is projected to be released for key global markets in early 2017.
The SG80HV has a power output of 80KW rated at 1500VDC. With a 2.5MW PV power block design and the ability to raise the maximum efficiency to 99%, it is the world's first 1500V string inverter.
This is a continuing trend, with new products introduced for European markets at Intersolar Europe, where Sungrow showcased its SG3000HV-MV turnkey container solution, designed to be grid-friendly with full-grid support and offering power curtailment.
The company also showcased the SG80KTL string inverter, designed to enable multiple inverters to be directly coupled at the AC side with 3MW power block design. Sungrow noted that such a configuration lowers the cost of AC transformers and overall installation.
Partnerships
Another aspect of Sungrow's evolving R&D strategy is to actually partner with other companies.
In June, Sungrow signed a strategic alliance agreement with ABB that incorporated the co-design of a medium voltage inverter container that would be offered globally and the combining of transformers and inverters in advance for further installation cost savings.
Arguably the key partnership so far has been with Samsung-SDI in the field of energy storage and micro-grids. The collaboration, which kicked off several years ago, has now evolved into a suite of new products, such as its recently launched 250kW energy storage inverter, the SC250KU.
Although Sungrow's Zhou was naturally reluctant to cover other key new innovations that are behind the R&D investment, with a focus on international markets and emerging trends such as 1500V and energy storage, it is clear that there is much more to come from the company in 2017 and beyond.