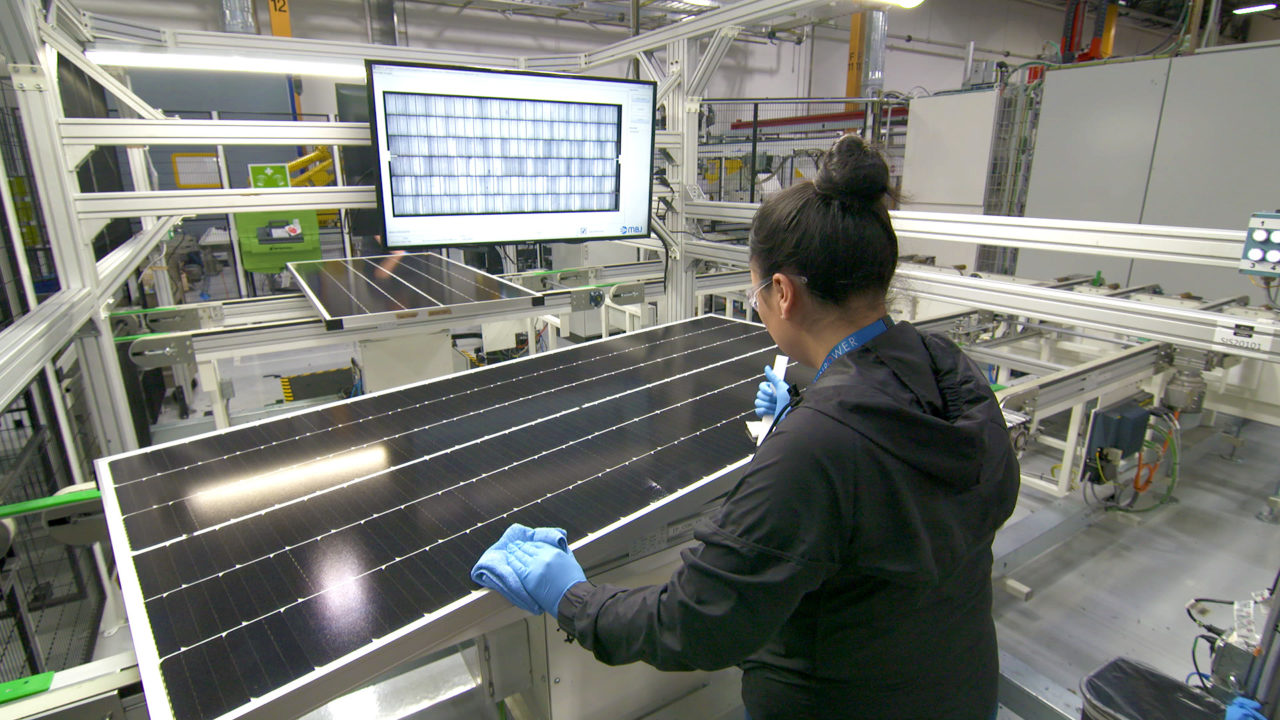 Updated: US-headquartered high-efficiency solar panel manufacturer SunPower Corp is to spin off most of its manufacturing operations into a separate public listed entity, Maxeon Solar, which will include monocrystalline silicon wafer producer, Tianjin Zhonghuan Semiconductor (TZS) as an investor.
SunPower had been seeking a partner to invest in expanding production of it's NGT solar cells at its manufacturing plant in Malaysia, which had two production lines with a capacity of only 250MW. The NGT cells, which use larger n-type mono wafers produced by TZS are used in SunPower's highest performance rated PV modules, the A Series. A TZS subsidiary provides over 2GW of module assembly capacity to SunPower through its P-Series (p-Type mono PERC) modules.
SunPower's Board has approved the spin-off and an equity investment of US$298 million from TZS, which would give the China-based firm around a 28.8% initial stake in Maxeon Solar. Around 71.1% ownership will be held by SunPower shareholders. The deal is expected to be completed and funds provided by TZS in the second quarter of 2020.
Jeff Waters, currently chief executive officer of SunPower's Technologies business unit, has been named Maxeon Solar's CEO. SunPower said that Maxeon Solar had been incorporated and would be headquartered in Singapore and its ordinary shares are expected to be traded on NASDAQ.
SunPower will only retain the P-Series module assembly operations at its facility in Oregon and focus on its downstream residential and commercial businesses.
Tom Werner, president and CEO of SunPower will remain in his post.
"We believe that the solar industry is entering a period of extended growth where success will be driven by value chain specialization, technology innovation and economies of scale," noted Werner. "This new structure and investment will create two focused businesses, each with unique expertise to excel in their part of the value chain."
Haoping Shen, chairman and general manager of TZS said, "In the past eight years, TZS and SunPower have established a great and long-term partnership and the rapid scale-up of Performance Series technology to multi-gigawatt capacity has already demonstrated the power and synergy of our cooperation. "We share with Total the consensus on business philosophy and are happy to become a shareholder of Maxeon Solar Technologies and look forward to supporting the scale-up of Maxeon technologies and the deployment of future technology innovations."
"During the last years, SunPower has successfully adapted the company and its products in a challenging global solar market," said Patrick Pouyanné, Total CEO. "As the main shareholder of Sunpower, we support this transaction which will bring clarity and focus for both entities on their respective activities. We welcome TZS as partner in Maxeon Solar Technologies which will be able to further develop its highly differentiated PV technology platforms and SunPower will focus on developing its leadership position in distributed generation in Northern America. Total intends to remain shareholder of both Sunpower and Maxeon Solar Technologies."
SunPower has struggled to return to sustainable profitability in recent years and has undergone a number of restructuring phases but was not expected to return to GAAP profitability in 2019.
As of September 29, 2019, Total's shareholding in SunPower was 55.0981%.
TZS would become the second largest shareholder in Maxeon Solar Technologies Ltd, which will be headquartered in Singapore.
Separately, TZS said it had hired Morgan Stanley Asia Limited, PricewaterhouseCoopers Consulting (Shenzhen) Co., Ltd., Weijia International Law Division, King & Wood Law Firm and Fraunhofer Institute for Solar Energy Systems ISE, as a consultant for the transaction.
The investment by TZS was said to advance the manufacturing capacity of Maxeon-5 solar cell production and the development of Maxeon-6 cell R&D, while accelerating the conversion of Maxeon-2 capacity to higher efficiency and lower cost Maxeon-5 technology.
TZS will gain from overseas manufacturing operations in Malaysia, Mexico and France and the ability to sell PV modules outside North America.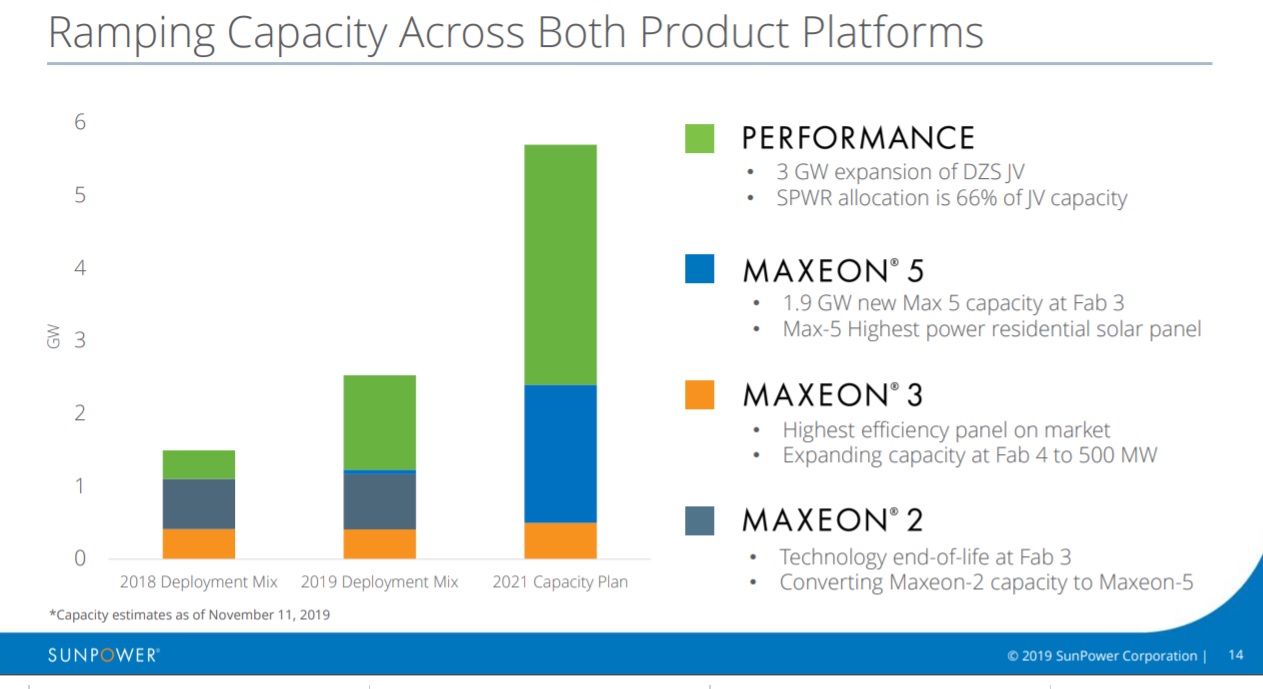 The PV manufacturing exclusivity was said to last for 2 years with SunPower.
Maxeon Solar is not expected to make a GAAP net profit through 2020 as the new company is expected to carry new debt funding.
Around US$300 million in capital expenditure is expected to allocated to converting Fab 3 in Malaysia from SunPower's legacy E-Series IBC cell technology (Maxeon 2) to NGT (Maxeon 5) cell technology, which would be give Fab 3 a nameplate capacity of 1.7GW.
Maxeon Solar was forecasted to incur a GAAP net loss of US$78 million in 2019, followed by a GAAP net loss of US$72 million in 2020. The loss was also attributed to SunPower's long-term polysilicon supply deal with Hemlock Semiconductor at highly uncompetitive pricing.
Maxeon Solar is expected to make a loss of US$139 million on the polysilicon supply deal in 2019, followed by a loss on the deal of US$111 million in 2020.