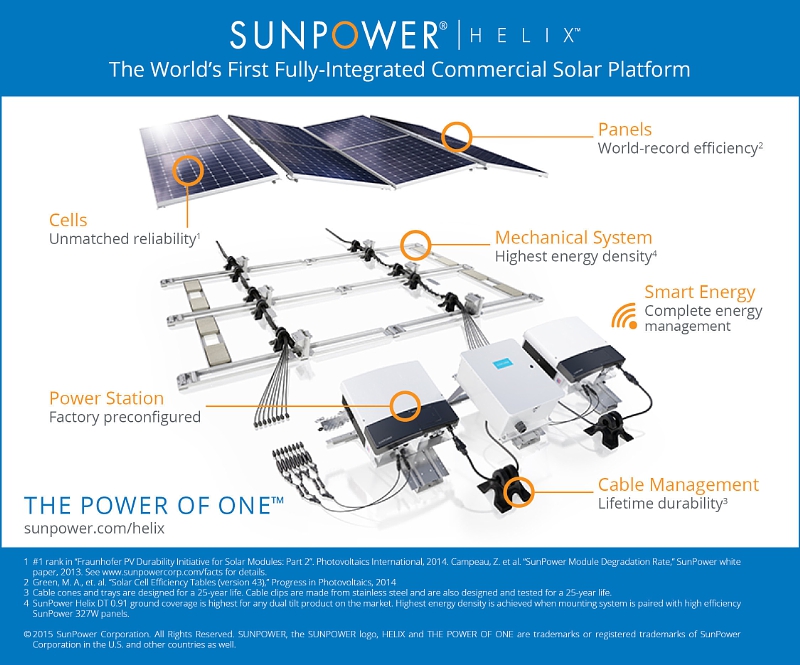 SunPower has launched its 'Helix' platform that is claimed to be the world's first fully-integrated commercial solar solution combining PV power production and energy management. Every component is said to be precision-engineered for fast installation, long-term reliability and features snap-in panel installation, a plug-and-play electrical system, and a fully ballasted power station.
Problem
Minimizing the complexities of commercial rooftop PV system installation is critical for keeping projects on schedule and meeting return on investment goals. Providing a pre-engineered, modular solution could reduce design through to installation costs, while potentially providing a highly reliable, maximized yields and long-serving system.
Solution
Helix is a pre-engineered, modular solution that is standardized across rooftop, carport and ground installations. It includes SunPower modules with 'Maxeon solar cells. Helix Dual Tilt and Single Tilt Mounting systems are said to be the latest in ballasted rooftop photovoltaic system designed to cut panel installation time in half, minimizing business disruption and reducing labour costs. Helix Single Tilt is claimed to support the installation of up to 20 to 30 panels per installer hour, which is significantly faster than the 12 to 15 panels per installer hour achieved by leading mounting systems on the market today. Panels simply and securely snap into the Helix Single Tilt system, requiring no tools and are made with marine grade aluminum and stainless steel to withstand harsh weather and UV over the system's lifetime. Conventional systems are often made with galvanized (G90) steel, which can corrode and weaken more quickly even in moderate environments, according to the company. The Helix solution also offers SunPower's first integrated cable management system. The system is pre-engineered to ensure that every cable within the product is supported reliably for the life of the system. The cable management components are made with durable and sustainable materials such as 92 percent recycled rubber and stainless steel to protect cables against extreme weather conditions. The plug-and-play Helix Power Station, including the inverter, AC combiner, eBOS mount, DC branch and AC whips, is claimed to be the only pre-configured power station in commercial solar in the US. Connecting the Power Station does not require any manual stripping or landing wires on the roof. Nearly all of the wiring is completed in the factory, reducing labor costs during installation, eliminating wiring errors and enhancing safety and has NEC-compliant rapid shutdown.
Applications
Commercial rooftops.
Platform
The SunPower 'EnergyLink' software is designed to make it easy to compare energy patterns and identify demand peaks across sites. It provides visibility into energy economics to ensure energy goals across an organization's facilities are on track, allowing customers to make informed decisions about their energy portfolio. EnergyLink's Solar Savings Report quantifies savings from solar with a very high level of accuracy by tapping into high-resolution metered data and world-class utility tariff models. The software can also monitor multiple sites, not just the sites with solar power systems. It enables identifying, prioritizing and tracking savings opportunities.
Availability
October 2015 onwards.