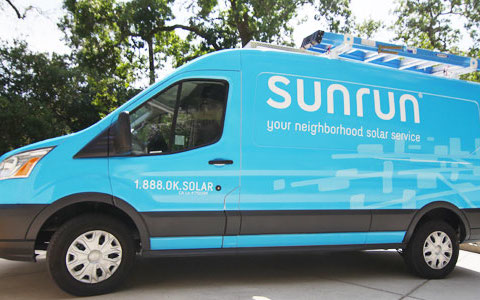 Residential installer Sunrun has teamed up with LG Chem, a Korean battery manufacturer, to offer solar-plus-storage systems in the US.
LG Chem will supply its lithium-ion RESU batteries for Sunrun's BrightBox solar generation systems, which gives homeowners the ability to store solar energy generated during the day for use in the evening, offering significant savings on electricity bills.
"The energy storage market is advancing at a breakneck pace. At Sunrun, we are enabling a home energy management service that integrates rooftop solar generation with onsite energy storage to offer greater energy choice and savings to our customers while helping to modernize the grid," said chief marketing officer Michael Grasso, in a statement. "We're thrilled to offer LG Chem's best-in-class battery technology to homeowners. The partnership with LG Chem supports our financing advantage, enabling our customers to install solar plus energy storage for little to no money down."
San Francisco-based Sunrun started offering BrightBox this year in Hawaii, using Tesla batteries. The company has plans to expand the system to California in 2017. According to company co-founder Ed Fenster, the company is waiting to see how California regulators adjust electricity rates next year, and peak-hour prices in particular.
In future, BrightBox will allow consumers to adopt a time-of-use (TOU) rate model to time shift when solar energy is used to minimise peak prices. TOU is expected to be the most-used rate design in California by 2019.
The partnership expands the application of LG Chem's energy storage systems, which are normally deployed in the electric vehicle market, to the consumer residential market, giving more individuals the chance to access clean, affordable energy.
On the residential scene, the pairing of batteries with solar is often considered too expensive a proposition. However, solar-plus-storage makes sense in Hawaii where electricity prices are particularly high. Systems are typically leased to avoid upfront costs. Since Sunrun plans to own the BrightBox systems, it could potentially sell electricity from the batteries to the utilities during peak hours, allowing Sunrun to offer the system to its customers for a lower cost than would otherwise be possible.