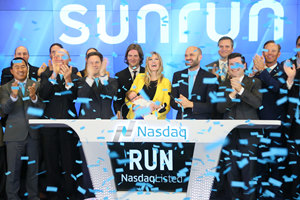 US dedicated residential solar PV installer Sunrun reported strong revenue and deployment figures in the third quarter of 2015.
Sunrun installed 55.7MW in the quarter, an increase of 85% year-on-year. Cumulative deployments had reached 528.2MW at the end of the quarter.
Total revenue in the quarter was US$82.6 million, up from US$56.1 million in the third quarter of 2014. Operating leases and incentives revenue grew 46% year on year to US$31.7 million.
Solar energy systems and product sales reached US$51.0 million in the quarter, an increase of 48% year on year.
Sunrun said it booked 94.5MW of future installs in the quarter, an increase of 115% year-over-year.
However, the company reported a net quarterly loss attributable to common stockholders of US$2.8 million, compared to a net income of US$7.5 million in the second quarter of 2015.
"Our NPV growth in the third quarter demonstrates our ongoing focus on value creation," said Lynn Jurich, Sunrun's CEO. "Successful execution on MW deployed and bookings growth means we are poised to continue our strong growth in 2016. We recently added our 100,000th solar customer, a new milestone as we rapidly add to the nation's second largest residential solar fleet."
Sunrun expect to deploy around 205MW in 2015, a 79% organic growth rate year on year.