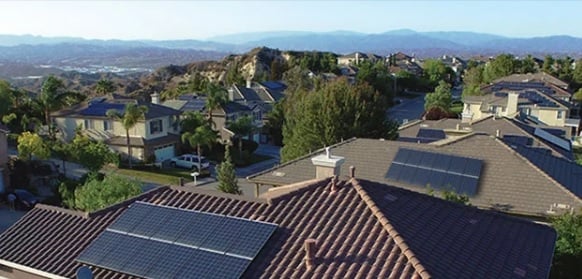 Leading US residential PV installer, Sunrun reported deployments of 86MW in the first quarter of 2019, a 27% year-over-year increase that was in stark contrast with former leading installer, Tesla that recently reported deployments of 47MW for the same quarter.
Sunrun overtook Tesla as leading US residential PV installer (public listed) in the second quarter of 2018. The seasonally weak first quarter played its part with both competitors as Sunrun's deployments fell from 115MW to 86MW but a fraction higher than previously guidance of 83MW to 85MW.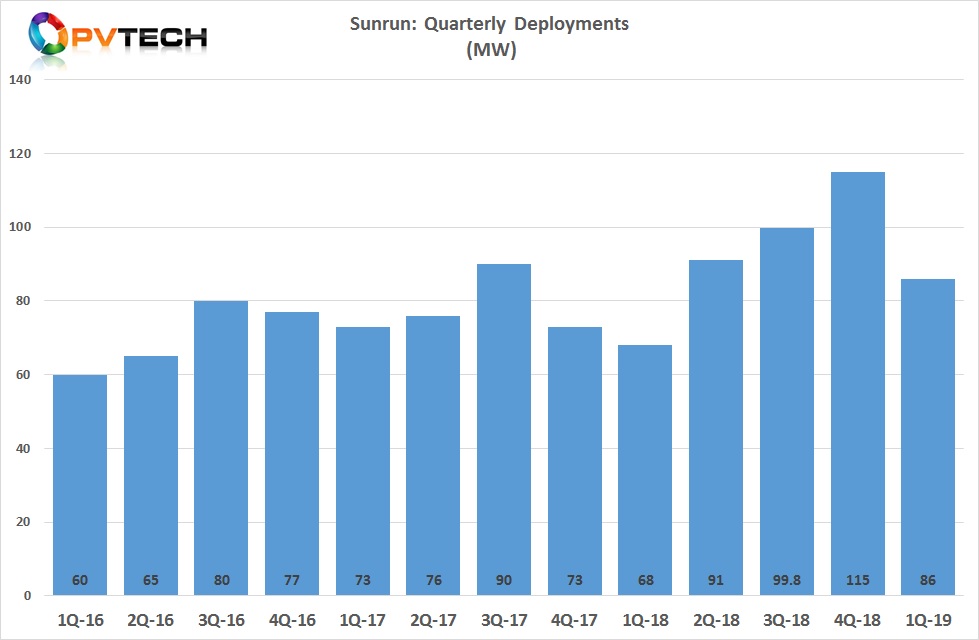 As a result, revenue in the reporting quarter was US$194.5 million, up US$50.1 million, or 35% from the first quarter of 2018 but significantly lower than the US$240.1 million record set in the previous quarter.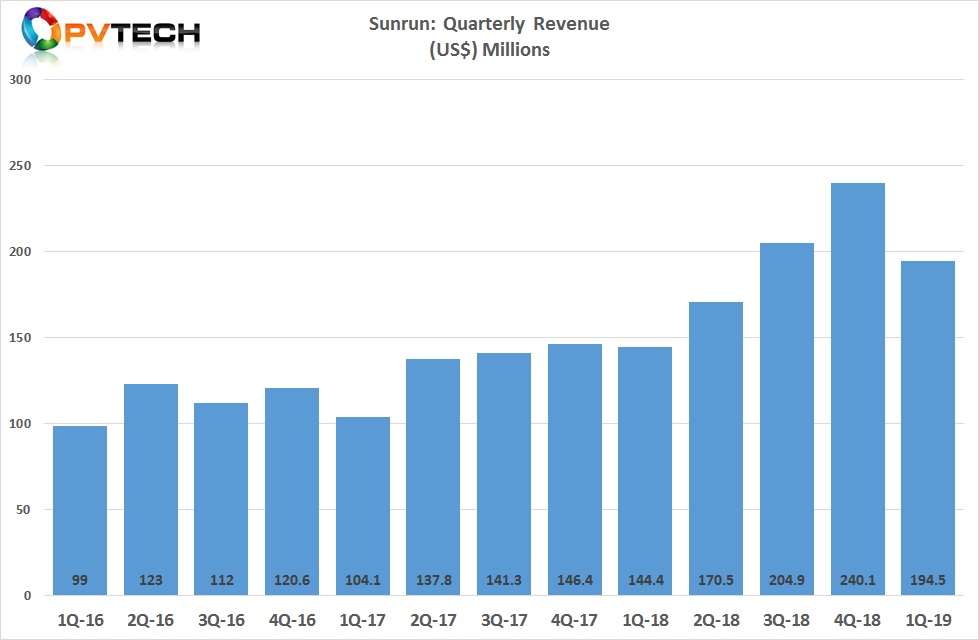 Lynn Jurich, Sunrun's Chief Executive Officer and co-founder said, "Sunrun is proud of our 242,000 customers who are helping to create a resilient and decarbonized energy system. We exceeded our deployment guidance in Q1 and are raising our margin target for the full year. At the same time, we are investing in a superior experience for our customers and advanced services that will build our future energy system."
Sunrun reported that its total cost of revenue was US$147.3 million in the quarter, an increase of 24% year-over-year. Total operating expenses were US$238.7 million, an increase of 19% year-over-year.
Net loss attributable to common stockholders was US$13.9 million in the first quarter of 2019.
Guidance
Sunrun said that it expect deployments in the second quarter of 2019, to be in the range of 102MW to 104 MW. This compares to prior year quarter deployments of 91MW.
Deployments for the full-year were reiterated to be in the range of a 16 to 18% increase from the prior year, or 434MW to 441MW.