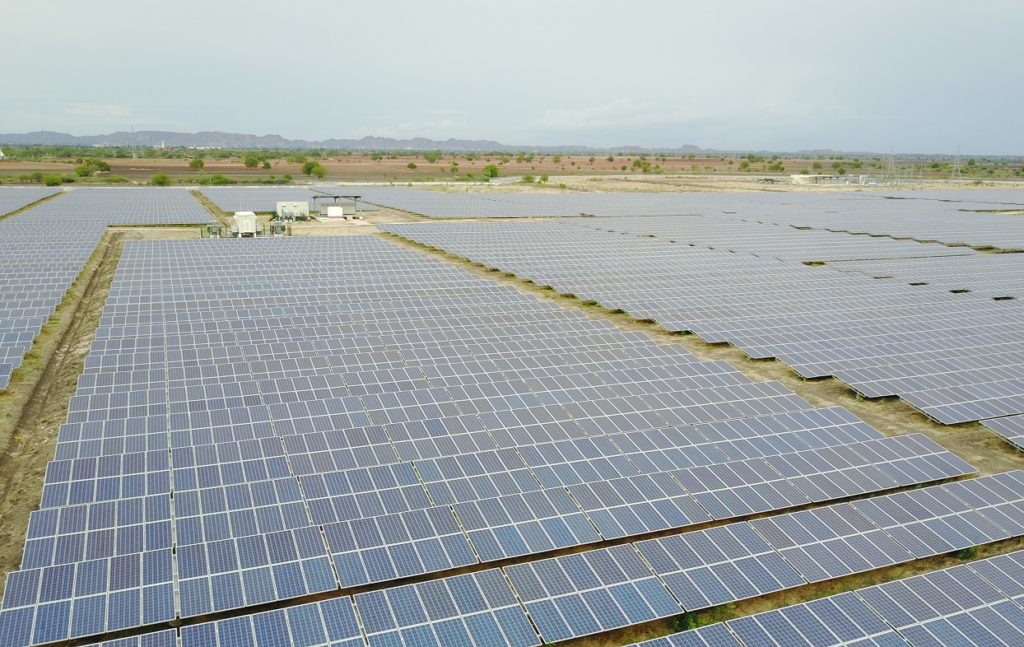 Solar developers have welcomed clarification on India's new import duties for modules and cells that will come into effect next year, but questions have been raised about the ability of domestic manufacturers to ramp up production to meet rising demand.
Under plans announced by the Ministry of New & Renewable Energy (MNRE) earlier this month, India will levy a 40% basic customs duty (BCD) on solar modules and 25% on cells as of April 2022, as part of government efforts to reduce the country's reliance on imports. This will be alongside a 20% duty on inverters that came into effect last month.
"The implementation date of April 2022 ensures that already contracted bids are not impacted and renewable energy players can factor in the new cost of solar cells and modules in upcoming bids," says Sumant Sinha, managing director of renewables developer ReNew Power, who believes the changes "will provide a level playing field" for domestic manufacturers.
With more than a year until the new duties are in place, developers are now expected to double down on efforts to commission solar projects before then, making use of cheaper equipment from abroad. In addition, there is uncertainty surrounding the eight-month gap between when a 14.5% safeguard duty on module and cells imports expires this July and when the BCD measures begin.
As it stands, there will be no duties during that period of time, meaning that module purchases in 2022 may be brought forward to take advantage, according to Nathan Judge, head of investor relations at Azure Power, an India-based independent power producer that has an operating and committed solar capacity of more than 7GW. "Having said that, the government clearly understands that there's going to be some of this timing, and they may want to adjust," he says.
Either way, Azure Power is expecting a "fairly drastic and rapid" ramp up of module manufacturing in India over the next 12 to 24 months. To meet its targets under the Paris Agreement, the government aims to reach 280GW of installed solar by 2030, which will require the country to deploy 25GW of capacity each year until then. To put that in perspective, it had around 37GW of installed solar as of January 2021 against a long-stated ambition of 100GW by 2022.
Manufacturing expansions are expected to come from both domestic suppliers as well as foreign companies setting up local subsidiaries. "We've seen a lot of plans out there that would allow for expansions of current facilities and/or new facilities to be built that would help address some of the supply concerns, but there's a difference between seeing plans and seeing the execution," Judge says.
With developers expected to bring forward project completion times to before April 2022, analysis from credit ratings agency CARE Ratings suggests that a sudden surge in demand for imported cells and modules could lead to increased prices if there are insufficient supplies. It warns there is a "slight possibility" that exporters may try and dump cells and modules in India, which could prevent a steep increase in module prices.
Citing figures from MNRE, CARE Ratings says India currently has a manufacturing capacity of about 3GW for cells and 15GW of modules, with capacity utilisation of about 40% to 45%.
Alongside customs levies, other efforts to assist domestic manufacturers have seen the government approve a production-linked incentives scheme for high efficiency modules that will provide INR45 billion (US$603 million) over five years, as well as a plan for the development of production zones near major ports.
Srivatsan Iyer, CEO of Indian renewables company Hero Future Energies, believes that while the BCD confirmation has eliminated uncertainty about project development costs in the future, more must be done to support domestic manufacturers through the production-linked incentive programme. "Domestic manufacturing will succeed only if we are able to compete in the global marketplace – in terms of price and scale," he says.
Last year, the country imported 93% of the total imports of solar modules and cells in from China, Vietnam and Thailand, according to India Ratings and Research, which suggests the limited operational history and poor insurance availability by international insurers for providing adequate warranty on Indian cells and modules could present initial roadblocks for developers looking to procure equipment domestically. The ratings agency said this may lead to a dependence on imports in the initial years following the BCD introduction, until domestic manufacturers are able to establish an operational track record.
BCD to result in tariffs hikes of up to 25%
With some short-term demand expected to be met through imports, this is expected to have a knock-on effect on tariff rates posted in solar auctions. The country's lowest solar tariff to date is INR1.99/kWh (US$0.0269/kWh) that was recorded in an auction last December for 500MW of PV capacity in the state of Gujarat. Prices have decreased in recent years as a result of higher energy yield thanks to improved technology, the lower cost of capital as well as reductions in module prices.
The country's first solar auction since the BCD announcement also took place Gujarat and received lowest winning bids of INR2.20/kWh, representing an 11% increase on December's record.
Analysis from ratings agency ICRA predicts the BCD on modules will increase the capital cost of solar projects by 23-24%, resulting in tariffs hikes that could be 25% higher than the record low. Despite the rises, ICRA believes the bid tariff trajectory will remain well below INR3/kWh rate, and would therefore "continue to remain cost-competitive from the offtakers' perspective".
According to Nathan Judge of Azure Power, rising tariff prices could be partially offset by progress made in terms of cost of capital and operational efficiencies, and in any case, the marginal cost of thermal types of generation is going to be "considerably" higher than new build solar. "If technology continues to improve, developers become more efficient, cost of capital and borrowing costs continue to decline, it still looks as if the solar projects will continue to be the lowest cost source of electricity."