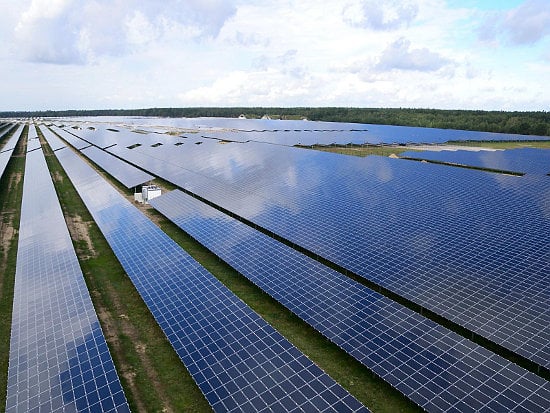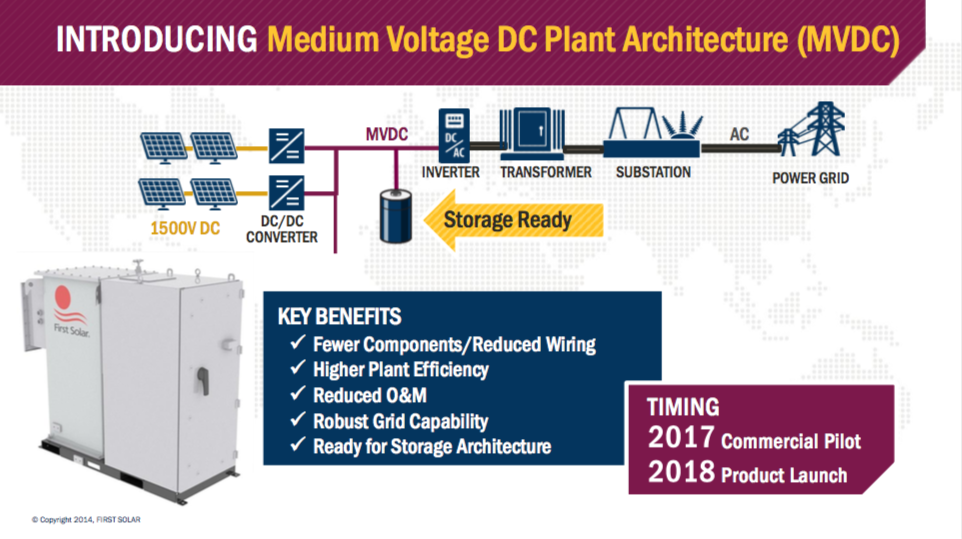 As envisioned by First Solar at their Analyst Day in 2016, the MVDC plant architecture replaces DC combiner boxes with DC-DC converters that boost string voltages from 1500V DC to the range of 5kV DC to 20kV DC. The higher DC voltages reduce current and can travel longer distances to the nearest substation where a rather large MVDC grid tie inverter converts back to AC for grid transmission, eliminating the PV array field inverters, transformers, and switchgear required by the present Medium Voltage AC (MVAC) approach. For example, the Siemens MVDC PLUS solution's inverter station is offered with power variants ranging from 30MW to 150MW covering the sweet spot for many utility-scale PV plants!
Of course, MVDC also eliminates the AC trenching and cabling from the PV plant, reducing upfront costs and installation effort. And more PV modules can then be installed on land area once reserved for cables, inverters, transformers, and switchgear. Further benefits touted by First Solar include being storage ready albeit on the MVDC bus and robust grid capability via the MVDC grid tie inverter at the substation. More interesting details emerged delving into the key First Solar patent application published by the World Intellectual Property Organization (WIPO):
WO 2016/054412 SYSTEM FOR OPERATION OF PHOTOVOLTAIC POWER PLANT AND DC POWER COLLECTION WITHIN
If a grid failure or blackout occurs, the MVDC architecture supports black start to restore electricity to the grid without relying upon outside electric supply. Islanding operation mode is also supported in microgrid applications. In both cases, either the self-start of the DC-DC converters or sufficient stored energy and the MVDC grid tie inverter are a necessity.
A majority of the patent relates to the DC-DC converters and their interaction with the PV plant system including string maximum power point tracking (MPPT), tracker power and control, DC storage connection, and local controller functions in coordination with the plant controller.
After catching his Center for Next Generation Photovoltaics lecture, I asked Mahesh Morjaria, Ph.D., First Solar Vice President, PV Systems, about the current state of MVDC for utility-scale PV. Dr. Morjaria said:
"Some of the core technologies, specifically the DC-DC converter to step up the low PV voltage (say 1.5 kV) to MVDC, are not fully developed and commercialized.
The main value story for MVDC is potential capital cost and labor savings over the current utility-scale PV plant design. There is also an expectation of some reduced losses in the collection system over AC collection system."
Siemens Transmission Solutions responded to my questions about the MVDC PLUS solution and potential use in MVDC PV applications. Siemens launched MVDC PLUS in October 2017 and emphasized the intended use as a transmission and distribution grid solution for MVAC utility-scale PV. Mr. Mirko Duesel, Head of Transmission Solutions at Siemens Energy Management Division, said:
"Yes, MVDC PLUS is ready to connect large PV farms in a range of up to 150MW and to transmit power via DC. Especially over long distances the use of DC-technology in the voltage range from 20 to 50kVdc is beneficial. This applies mainly to the use case "bridge the distance" by means of connecting remote areas such as e.g. large PV-farms to the distribution or transmission grid via DC-link.
Currently the PV-farms operate on 1500V low voltage level that need to be coupled to the MVDC PLUS via an AC-step up transformer to fit for the applicable voltage levels."
With regards to MVDC PV applications, Mr. Duesel said:
"In parallel Siemens is investigating direct DC-DC voltage step-up transformation in order to reduce the power-losses. In general this is possible, but in order to reduce losses the level of DC-voltage depends on the distance of the DC-link and the power that needs to be transmitted. Therefore case-to-case investigations are necessary.
Currently the MVDC PLUS inverter stations are designed to operate with MVDC PLUS rectifier stations.
For PV-plants there are no references currently, but we are in discussion with customers."
For the last statement, I interpret this to mean MVDC PLUS for the intended transmission use case.
Per an earlier 2015 article in PV-Tech, GE eyes 20-30MW solar inverters as it outlines next-gen technology plans:
Vlatkovic said GE's largest inverter was around 4MW at the moment, but that at medium-voltage much larger units would be possible. "We'd be looking scale that up into 20-30MW blocks," he said.
GE Power Conversion is rumored to have built a medium voltage PV test power plant for MVDC inverters fed by DC-DC converters, perhaps sourced from a third party, and a low voltage solar array. The GE Global Research keynote presentation by Kathleen O'Brien at the U.S. Department of Energy's SunShot Initiative 2016 Power Electronics Workshop further echoes the MVDC development direction.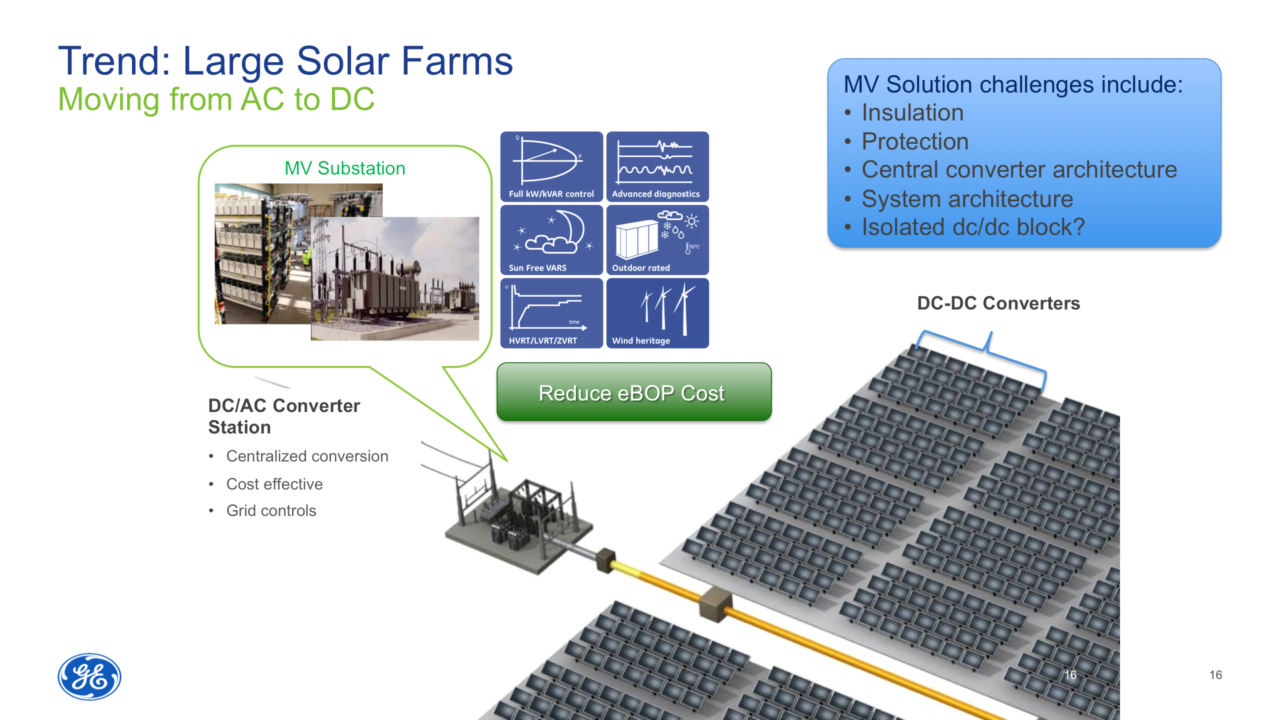 GE Power declined my interview request regarding the state of MVDC PV. The GE Power spokesperson said:
"We are in a changing environment and solar has been one of the fastest growing areas in today's energy landscape. We are constantly adapting our strategy to meet market conditions and customers' requirements. We are currently researching, evaluating and developing programs that will best fit for our customers' interests, MVDC being one of them."
Part of an overarching SuperGrid Study, Fraunhofer Institute for Solar Energy Systems ISE shares a similar vision to First Solar for new PV power plant structures based on MVDC as shown in the figure below. However, Fraunhofer ISE expects string voltages will increase to the range of +/-1.5kV DC to +/-3.5kV DC as inputs to the DC-DC converters. Double glass bifacial PV modules are well suited for higher string voltage conditions though the entire bill of materials will require qualification.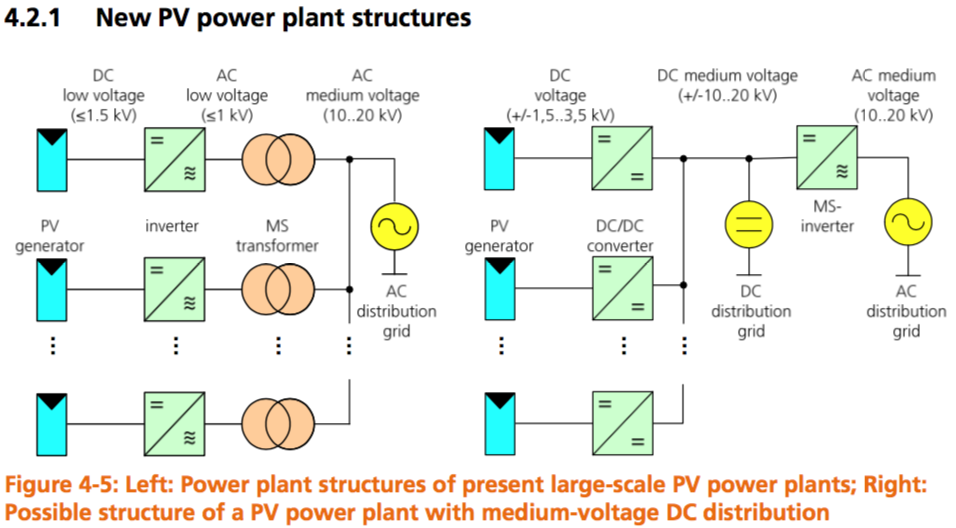 As a medium voltage power electronics demonstrator, Fraunhofer ISE developed a 30kW DC-DC converter using 10kV Silicon Carbide (SiC) MOSFETs with a switching frequency of 16 kHz. At 3.5kV DC input voltage and 8.5kV DC output voltage, it achieved 98.5% operating efficiency at rated power. Fraunhofer ISE noted a 17kV DC output voltage was possible with a ground symmetrical configuration of two (2) of these DC-DC converters. Higher voltages are needed to interface with MVDC grid tie inverters. With new 15 kV SiC MOSFETs more than 10 kV output voltage is possible with a single system and more than 20 kV with a symmetrical system. This is high enough for a three phase MV inverter with 10 kV AC output voltage.
Nearing completion, the second Fraunhofer ISE development is a three phase MV inverter with 20 kV DC link voltage and 10 kV AC output voltage. This demonstrator uses SiC transistors with high 15 kV blocking voltage and a switching frequency of 16 kHz. Due to the special switching pattern, the ripple frequency at the inductors is 32 kHz, so that extremely small inductors can be used for the inverter.
In the market, string optimizers offered by companies such as Ampt and Alencon Systems are the closest commercial products to the needed step-up DC-DC converters but fall short in output voltage terms. Alencon has developed 2500V DC output String Power Optimizers and Transmitters (SPOTs) with galvanic isolation to feed fixed voltage to Alencon's central inverter based on 2.5MW Grid Inverter Package (GrIP) modules. Alencon developed the GrIP module's patented Harmonic Neutralization technology in conjunction with the U.S. Department of Energy SunShot Initiative and is in the process of commercializing the central inverters. Alencon Systems' President Hanan Fishman said:
"In Alencon's case, the increased voltage step-up is not a technical limitation, but rather one that to date has not been an actual end user need."
Near term, much like Ampt, Alencon is targeting their string optimizers at PV plant retrofit, PV plant optimization, DC coupled storage, and microgrid applications. None of these applications require over 1500V DC outputs, and in many cases DC storage and microgrids instead have requirements for step-down DC-DC converters.
So MVDC for utility-scale PV is making gradual progress but remains in the development and test phase. Will it take a conglomerate like Siemens AG, GE, or ABB Group to complete the MVDC PV whole product or will a tangential company or startup "step up" to develop medium voltage DC-DC converters with an eye to disrupt the utility-scale PV market? The MVDC PV future will be about optimizing DC/DC power ratios.