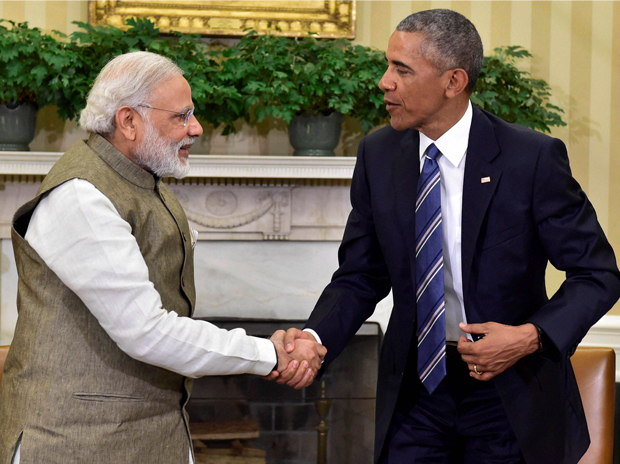 The US and India partnered on new renewable energy initiatives totalling a US$1 billion during prime minister Modi's visit to the White House on Tuesday.
The partnership for rapidly emerging Indian renewable energy sector paves the way for investment from several US and global equity agencies to enhance rooftop solar and modernise India's national grid.
The two initiatives for solar power are the US-India Clean Energy Finance initiative (ICEF) and the US-India Catalytic Solar Finance Programme (CSFP). ICEF will deploy up to US$20 million in project preparation support. According to White House reports, this funding is anticipated to leverage US$400 million in investment from the Overseas Private Investment Corporation (OPIC) and other investors for solar projects. The CSFP aims to deploy up to US$40 million in high-impact catalytic capital from US organisations and the Indian government; with a particular focus on off-grid and rooftop solar. It is anticipated to raise up to US$1 billion in capital flows, according to White House reports.
New incentives to advance clean energy
In September 2014, Obama and Modi pledged to strengthen and expand their US-India Partnership to Advance Clean Energy (PACE). On the back of the visit yesterday, both countries have launched new incentives to advance the joint clean energy objectives and Intended Nationally Determined Contributions (INDCs) initially outlined in under the Paris Climate Agreement.
Crucially, the two countries renewed strategies to support India's goal to deploy 175GW of clean energy by 2022. The US announced 5.4GW of new commitments to invest in India. One of those is 8minutenergy Renewables – who made a 4GW commitment to India's solar market. This will help the Indian government meet its aggressive renewable energy goal of 60GW alone in large and medium-scale solar. In addition, 8minutenergy's projects are expected to generate more than 10,000 domestic construction jobs, according to the company.
"We are dedicated to bridging US-India partnerships across the development spectrum – from financing to project construction and operations – in order to make this pipeline a reality," said Tom Buttgenbach, president and co-founder of 8minutenergy. "We will bring cutting-edge technology and deployment solutions, including many US-designed solar and storage options, to our global energy projects. It is 8minutenergy's mission to make clean energy abundant, and our commitment to the US and Indian solar markets are key to achieving this objective."
The company is also contributing to the Clean Energy Finance Forum, which provides private sector support to the US-India Clean Energy Finance Task Force – which explores bilateral approaches to clean energy funding. Under this initiative, the two countries are working to implement recommendations including standardising a model PPA, optimising a payment security mechanism for delayed payments for utility-scale projects and creating a warehousing facility of small renewable projects for an asset-backed green bond issuance.
California-based SunLink is also partnering with local Indian companies with a deployment target of 1.4GW spanning the next five years.
The US also announced a new Clean Energy Finance Hub that is to serve as a coordinating mechanism to filter US government effort that will increase renewable energy investment in India.
The main renewable energy goals that were re-focused during the visit include an effort to extend cooperation on rooftop solar to three new Indian states and steps to enable large-scale integration of renewable energy into the grid through the 'Greening the Grid' initiative. This latter piece includes a new US$18 million contract to implement new integration strategies and a new US$4.7 million initiative to pilot new technologies for balancing the grid.
The countries are also collaborating to enhance India's solar resource maps and data to help developers and policymakers identify quality solar projects.