The leading four PV module suppliers, having PV ModuleTech bankability ratings in the highest A-rated category, are set to be revealed on a webinar series to be presented by PV-Tech on 21 and 22 August 2019.
Details on how to register for one the webinars can be found though the link here. The two webinars cover the same material/slide content, but are timed to allow dial-in participation across western and Asian time-zones. Therefore, it is only necessary to register for just one of the webinar sessions.
The new PV ModuleTech Bankability Ratings list
During the past few weeks, the new PV ModuleTech Bankability Ratings methodology has been outlined clearly across a series of six PV-Tech articles that explained how PV module suppliers can be graded (from the top AAA-rated to the lowest/highest-risk C-rated). The final ratings system overview can be found on the final of the six articles here, with links to each of the series features highlighted at the bottom of this webpage also.
The new PV-Tech Ratings system is the first industry analysis that combines each company's track-record in large-scale global shipments, with its financial health, on a rolling quarterly basis. The analysis uses data collected over 10 years at PV-Tech, across a wealth of manufacturing and financial inputs; these are all covered in the series of six articles on PV-Tech recently.
In contrast to all other tier-based or top/leading-supplier related tables and lists disseminated throughout the industry over the past few decades, the PV ModuleTech Bankability Ratings system uses statistical analysis and modelling, carefully validated against each company's historic and current status within large-scale PV module deployment.
The driver for the new ratings system has been from downstream PV module users and investors who have been constantly confused about which module suppliers were truly bankable, being able to supply volumes with confidence and having a balance-sheet that reduced the risk of imminent bankruptcy or in-house manufacturing re-organization.
This PV ModuleTech Bankability Ratings system finally allows project developers, EPCs, site investors and asset owners to understand the key investment differences across the range of PV module suppliers bidding to supply to commercial, industrial and utility-scale PV solar sites globally. It is ideal for competitive benchmarking, and shows the strengths and weaknesses of each PV module supplier from each of the key manufacturing and financial perspectives. It is perfect for short-listing potential suppliers, prior to factory audits and reliability tests that are essential to meet specific investor requirements.
Only four PV module suppliers meet AA-rated qualifications
During the webinars this week, I will reveal the leading – and most bankable – PV module suppliers to the industry; and why only a select group of companies (even from among the 40-50 companies currently featuring on tier-type tables) have both the track-record and financial stability to be considered as key contenders for some of the largest utility PV plants currently in planning or construction globally.
The webinars will not only reveal these four companies, but also show historic ratings over the past 3-5 years, on a quarterly and year-end basis. The use of historic checks has turned out to be one of most important validation steps within our entire bankability analysis done in-house at PV-Tech; it allows forward-looking conclusions to be reached on all PV module suppliers, indicative of any 'red-flags' that may be forthcoming from a manufacturing or financial standpoint.
The webinars will also show that no company today meets the top-performer AAA-rated grade, and that this has rarely been obtained by any PV module supplier in the past. This is not too much of a surprise however, as I will explain during the webinars, and is in part arising from a still-fragmented landscape where the market-leaders command typically a 10% market-share of module supply; and where some 200-plus companies fight over business globally. It is also arising from the rather precarious financial health of companies that have been overly-dependent on revenue streams from module sales that have been impacted regularly by ASP declines well above cost-reduction measures implemented internally.
The highest ratings grade achieved by a PV module supplier today is AA-rated, and there are only four companies within this top-performer category only. The webinars will therefore focus on why these four companies have top bankability status within the industry, and what can be learned from this in terms of the chasing pack – most of whom are at best CCC-rated or worse (higher-risk).
The graphic below has the names of the top-4 rated PV module suppliers anonymized. They will be revealed for the first time in the webinars, where the historic values are shown to make perfect sense given the status of each company by quarter over the past three years.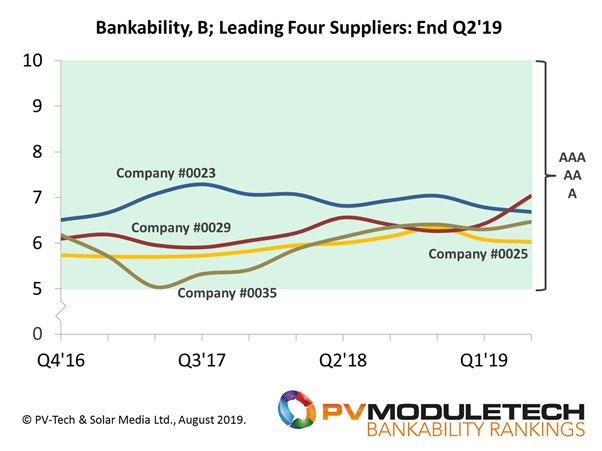 PV ModuleTech 2019 to provide further details on suppliers' ratings status
The forthcoming PV ModuleTech 2019 conference in Penang, Malaysia on 22-23 October 2019 will see many of the AA-rated and A-rated companies presenting and in attendance. This event will start with a 45-minute talk I will deliver, specific to the PV ModuleTech Bankability Ratings. To register to attend PV ModuleTech 2019, go to the link here.