Solar deployment in the UK looks set to return to the gigawatt level next year, with more than 6GW of live projects now making up the large-scale pipeline of projects being worked on across the country.
Over the course of the past year the large-scale utility pipeline has grown by approximately 3GW, all coming from new sites being scoped and screened, in addition to a host of full applications either approved or going through local council deliberation.
While only a handful of sites have been built during 2019, all the signs point to 2020 – and in particular from April 2020 onwards – becoming the timeline when the UK firmly moves into post-subsidy (or subsidy-free) utility-scale build-out.
First, let's have a look at the current utility solar pipeline trends since the start of the year. This is shown in the graphic below.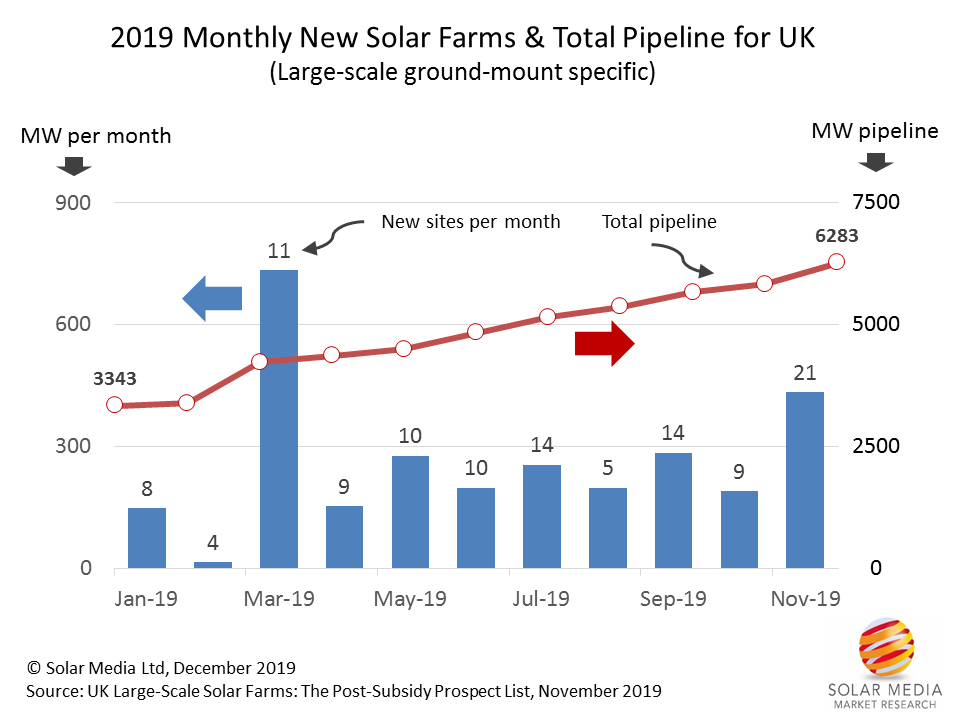 Since March 2019, about 100 new sites have been identified by our in-house research team, by tracking all pre-build market activity on a daily basis. The full listing of the projects is updated each month in our Post-Subsidy Prospect List, details of which can be found here.
With almost 3GW of new capacity being added across the year, this shows that the average size of a new utility-scale solar farm in the UK is about 30MW, reflecting a benchmark of the scale that is needed to make the numbers work in the absence of any subsidies. Indeed, similar to previous times where large-scale UK solar qualified for ROCs, there is a trend to maximising site DC capacity at the 50MW-level.
A handful of sites exceed the 50MW limit, and each of these is subject to governmental scrutiny and ultimate sign-off. All other sites can easily progress through planning portals without the government having any input whatsoever.
Perhaps the most interesting part of the 3GW of new sites/capacity in planning during 2019 is the profile and range of project developers now active in the UK; not to mention the very professional means through which full planning applications are now submitted. These address upfront every aspect of biodiversity, glint-and-glare (where needed), design-and-access, etc.
This is showing clearly that utility-scale solar in the UK is no longer an arena where speculative greenfield players can toss a bunch of half-baked placeholders into planning, knowing that a gilt-edged revenue stream is on offer to a broad range of portfolio-hungry investors.
Putting in a full planning application for a 30-50 MW site in the UK, accompanied by a full audit trail of planning-ready documents (typically through a range of third-party planning consultancy firms), is a hefty investment. The fact that so many credible developers (and developer/owners) are now doing this in numbers in the UK is one of the key indicators that they mean business.
All the signs are that building will start in earnest during 2020, probably post-Brexit (assuming certain political-fuelled uncertainties are removed during Q1 20) and after any February-to-April adverse weather-related build factors have passed.
Right now, we are probably about 3-4 months away from being able to forecast the volume within the 6GW pipeline that will come to fruition during 2020. This will become much clearer by about April 2020. At first glance however, it is now looking a fairly safe bet that utility-scale solar is moving to a GW-plus annual market from 2020 onwards, with the real action in 2020 occurring between May and October.
Solar Power Portal has become the only outlet discussing the factors that have led up to this huge change in UK solar that is set to unfold in a few months; for the past 18 months, I have written regular updates on the pipeline, and this feature here is simply another flag to prospective large-scale site suppliers (modules, inverters, mounting, trackers), EPCs and sub-contractors and subsidy-free portfolio seekers.