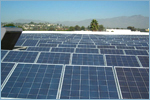 PV manufacturer Yingli Green Energy will supply 38.4MW of its solar panels for a rural distributed PV poverty alleviation project in China.
The project, located in Zhangbei County, Hebei Province, is comprised of 128 rural distributed PV poverty alleviation plants for Zhangbei County's remaining 128 low-income villages, with each plant holding the generation capacity of 300kW.
The 128 PV plants will be constructed in one site. Once completed, it will provide energy to more than 10,000 low-income villagers in Zhangbei County over the next 20 years.
The project will be comprised of over 140,000 Yingli solar panels. It is expected to be connected to the grid in the fourth quarter of 2017.
Bo Yu, vice general manager of Yingli, said: "We are glad to supply our advanced PV panels for this poverty alleviation project in Zhangbei County, which is also the part of practice of our corporate social responsibility.
"With reliable quality and excellent performance, Yingli Solar panels can maximally guarantee the sustainable and stable power generation of the project, effectively increasing the income of local low-income villagers from green solar electricity sales. The project is of great significance to local poverty alleviation and environment protection."