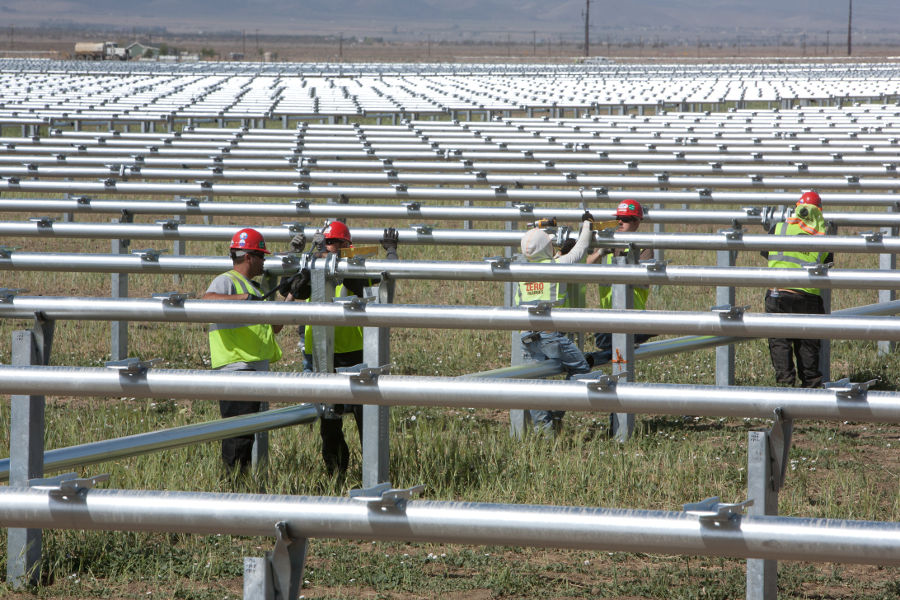 As expected, the global solar industry delivered another year of impressive growth in 2015 and no shortage of news for PV Tech to get stuck into. There were takeovers and bankruptcies, new money for new projects and the same old trade disputes. Governments around the world agreed to cut their carbon but offered solar varying degrees of opportunity to help them do so. New end demand markets made the jump from promising to promises. Underpinning all of this, and poised to do so again in 2016, are the PV technologies leaping from lab to fab and, ultimately, delivering the cost-effective energy that a power-hungry, climate-conscious world requires.
With all that in mind, the top 10 most read stories on PV Tech offer a snapshot of the good, the bad and the ugly stories that defined the solar industry's 2015.
10
At number 10, an excellent blog from ISC Konstanz's Radovan Kopecek and Joris Libal entitled 'Bifaciality: One small step for technology, one giant leap for kWh cost reduction'. The piece includes an overview of the best environmental conditions for bifacial cells and explains why that small step offers the industry such rich potential gains in terms of LCOE and (correctly) predicts that Chile could be among the first end markets to benefit.
9
It wouldn't be the PV Tech annual top 10 stories without an efficiency record making an appearance. In at number nine is Liam Stoker's account of Panasonic and SolarCity's Silevo trading places within days at the top of the module efficiency leader board. That wasn't all the two traded as Panasonic went on the offensive and challenged SolarCity to reveal more details of its own claimed record.
8
While tech giant Apple garnered attention throughout the year for several major PV procurement rounds, the story that made it into the top ten owes more to schadenfreude than to any appreciation of their efforts to 'go green'. A fire at the former GT Advanced Technologies site took 100 firefighters 30 minutes to contain and caused a section of roof to collapse. Local press photos appeared to suggest that the fire had indeed started in the vicinity of a PV array.
7
At number seven is a story from PV Tech's reporter Tom Kenning, who has had plenty to write about on his India beat this year. The specific entry making it on to the PV Tech top ten list does a rather good job of summarising the current situation in the buoyant but immature market where big promises are aplenty. In his blog post, '100GW by 2022: Behind India's big solar numbers', Tom breaks down the raft of tenders, targets and tantalising memoranda of understanding and finds out what needs to happen if the big talk is to yield a big market.
6
Number six on the list marked the first major signal that there was appetite in Washington DC to extend the investment tax credit (ITC) beyond 2016. The announcement in February by President Obama that his budget proposal included a plan to breathe new life into the ITC was a boost for the industry and demonstrated how highly the policy was valued. After nearly a year of frantic lobbying and negotiating, an extension was indeed finally agreed.
5
US tech entrepreneur Elon Musk sprinkled a little of his magic dust over the renewables industry midway through the year when he unveiled plans for his much-hyped stationary storage product, the Powerwall and Powerpack battery systems. Later on in the year Musk and other executives from his company, Tesla, prompted further excitement when they suggested the that production at Tesla's Gigafactory, the facility being built in Nevada to manufacture its storage products, could be ramped much higher than initially expected. Apparently the company had devised ways of making the product more efficiently. Never one to miss an opportunity for a touch of sensation, Musk said it would be possible to shut down half the world's power plants "if you had stationary storage".
4
In at number 4, a blog post from Ash Sharma and Susanne von Aichberger of market research firm IHS, giving their take on the big questions facing the global solar industry in 2015. The two analysts took on a number of the big themes currently concerning the sector, including its overall growth in 2015, the most promising emerging markets and the extent to which module and other harwdware prices would perform this year, among others. Their take on most points was broadly positive: steady growth, moderate price declines, some new markets stepping into the light. Looking back, it wasn't a bad forecast for what has been a year of decent growth for the industry, with a handful of stand-out markets – particularly China, the US and Japan.
3
Another blog post at number three, this time from PV Tech's senior news editor, Mark Osborne, who took on the subject of SolarCity's planned module fab in Buffalo, New York. In 2014 SolarCity announced its intention to become the largest US PV manufacturer (as well as installer), backing up its chutzpah with the not-insignificant acquisition of module start-up Silevo. Innevitably the move raised a few eyebrows and further information on how SolarCity expects to ramp to such scales of product has been scant. The post assessed SolarCity's capabilities to deliver on its promises, based on the experiences of some of its main rivals around the world. The conclusion? Further detail required, but don't bet against SolarCity pulling it off.
2
A late-year entry in at number two, the US deal to save the investment tax credit (ITC) got a huge amount of attention. After a year of fairly unoptimistic sentiments about whether the necessary political common ground could be found to save the credit, despite President Obama's intervention earlier in the year (see nuber six, above) the news it had made it on to a tax extenders bill last week was almost a bolt out of the blue. And the deal is more than many had dared hope for, offering the same 30% until 2019, before falling incrementally to 10% by 2022, at which level it will remain indefinitely. There was a last-minute wobble on Thursday last week, but the deal was finally sealed on Friday. Unsurprisingly, pundits are now predicting great things for US solar for many years to come.
1
With PV manufacturers now all planning production capacity expansions from next year and further ahead, the cell technologies they will opt for are understandably a hot topic of debate. Crystalline, thin-film, mulit, mono, CIGS CdTE… there are plenty of options out there for the next generation of PV workhorse technologies. ISC Konstanz's Radovan Kopecek and Joris Libal clearly tapped into this mood of curiosity about the next stage in the PV story with what was our top-read piece of content of the year – their blog post on the potential for n-type silicon PV to take off and challenge the predominance of p-type in recent years. Doubtless there will many who disagree, but their post certainly caught plenty of attention.
Additional reporting by Ben Willis