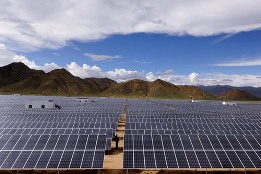 Zambian State-run firm the Industrial Development Corporation Limited (IDC) has invited expressions of interest for 150MW-250MW of solar PV capacity in Round 2 of the 'Scaling Solar' programme.
The first 'Scaling Solar' round for 100MW in Zambia, facilitated last June by International Finance Corporation (IFC), an arm of the World Bank, saw a new benchmark for low-cost solar power in Sub-Saharan Africa in June. The winners of the auction were Neoen and First Solar, who jointly bid at just US$0.0602/kWh.
Once the second auction is complete, a third round will see the remaining 250MW-350MW tendered to make up the full target of 600MW.
IDC expects both individual companies and consortia to participate in the tenders, including international, regional and local companies.
Even with the low prices achieved in Round 1, the 'Scaling Solar' scheme is not without opposition. For example, a panel at Solar Media's annual Solar Finance & Investment Europe last month said that the programme could be fostering a race to the bottom for unrealistic tariffs, diverting focus from essential bankability.
Riaan Meyer, managing director, GeoSUN Africa, a South African firm that specialises in on-site solar resource assessments, told PV Tech that many developers are not yet aware that the 'Scaling Solar' initiative is now also available in Senegal, Madagascar and Ethiopia. He also highlighted that all related projects will have solar-meteorological stations installed with the data made available to developers. This is critical in a region where quality solar mapping is widely unavailable.