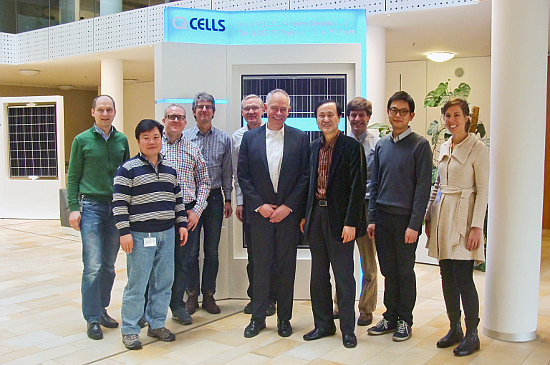 US-Based 'Direct Wafer' producer, 1366 Technologies has secured a major supply deal with Hanwha Q CELLS, a 'Silicon Module Super League' (SMSL) member that will enable the company to ramp its planned initial 250MW facility in Genesee County, New York state in 2017.
The deal, based on 1366 Technologies having to meet certain terms and conditions related to its wafer qualification and timing of wafer deliveries with the ramp of the new production facility would result in Hanwha Q CELLS purchasing up to 700MW of wafers over a 5 year period.
"This agreement aligns with our continuing efforts to bring about world leading technologies that enable solar energy to be more competitive and more affordable," commented Seong-woo Nam, CEO of Hanwha Q CELLS. "We are pleased with the progress we have made together during the past year and excited about the potential of 1366's 'Direct Wafer' products with Hanwha's cell and module technologies to deliver further cost reductions and LCOE competitiveness to standard multi-crystalline wafer-based modules."
Hanwha Q CELLS has previously entered into a development partnership with 1366 Technologies that achieved a solar cell efficiency of 19.1%, independently verified by Fraunhofer ISE.
"This agreement with one of the world's most respected and innovative solar manufacturers is, no doubt, a significant milestone for our business. It further demonstrates the compelling capabilities of the Direct Wafer™ technology and the readiness of this innovation, and establishes its long-term bearing on the industry," said Frank van Mierlo, CEO of 1366 Technologies.
The company had previously announced longer-term plans to expand production in phases that would take the capacity to 3GW, equivalent to 600 million wafers per annum and create around 1,000 jobs. The facilities would be supplied energy from hydro-electric sources, providing the lowest possible cost and lowest energy payback. Around 400 'Direct Wafer' furnaces will be housed at the facility.
1366 Technologies was issued a US$150 million loan guarantee from the U.S. Department of Energy (DOE) to build a commercial-scale manufacturing facility.