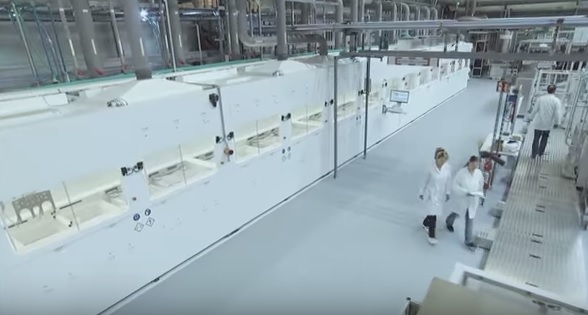 Enel's PV module manufacturing subsidiary, 3SUN has outlined its '2.0 innovation project,' which includes the installation of a new assembly line to enable the manufacture of bifacial panels.
3SUN is kicking-off plans to install a new 80MW annual nameplate capacity crystalline silicon cell line to then assemble bifacial panels starting in the second quarter of 2018.
In the first quarter of 2019, 3SUN expects to be operational with 110MW heterojunction (HJ) solar cell line and almost double the HJ nameplate production capacity to 200MW in the third quarter of 2019.
Based on productivity and optimisation strategies, nameplate capacity could eventually reach 250MW, according to 3SUN.
The retooling from a-Si thin-film modules to HJ technology is expected to see the manufacturing plant produce 1,400 modules per day and approximately 500,000 modules per annum when fully ramped.
Previously, 3SUN used a-Si technology from Sharp with module conversion efficiencies of 10%. The transition to crystalline cells is expected to produce modules with 18% efficiencies in 2018 and over 20% for bifacial HJ modules from 2019 onwards.
The module manufacturer said that the transition would cost around €100 million, which includes over €80 million in the HJ equipment and around €20 million invested in the Enel Innovation Lab in Catania.
The R&D facility is partially being financed by the European research and innovation programme Horizon 2020 European Call LCE-09-2016-2017, through the Ampere project, by the Italian Ministry of Economic Development and by the Region of Sicily.
Plans for the transition to n-Type mono HJ bifacial technology were first announced in February 2017.
In October, 2017 leading PV equipment manufacturer Meyer Burger announced that it had secured a CHF 45 million contract by an Italian PV manufacturer for bifacial heterojunction lines enabling production capacity of up to 200MW. Delivery of equipment was said to start by mid-2018 and full production was expected to begin in 2019.