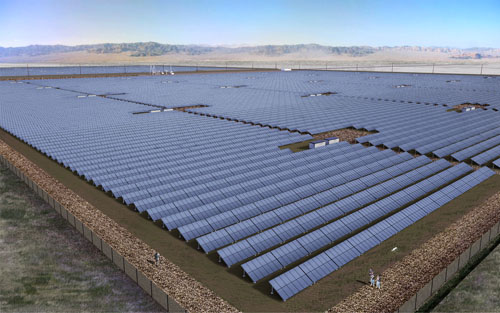 8minutenergy Renewables and Capital Dynamics plan to develop the 328MW Mount Signal 3 PV project.
The plant, located near the city of Calexico in California's Imperial Valley, is the third phase of the 800MW Mount Signal Solar Farm, which will be one of the largest PV installations in the world. Capital Dynamics acquired the 328MW project's equity interests from 8minutenergy, who will continue to serve as the project developer.
Terms of the transaction were not disclosed, but Capital Dynamics is currently arranging tax equity and debt financing for the project, with financial closing expected in late July 2017.
8minutenergy started development on Mount Signal 3 in 2011, and has already completed all procurement and construction contracts. Mortenson Construction was appointed as the engineering, procurement and construction (EPC) contractor, with the company hiring 300-400 local construction jobs, starting this year.
First Solar will provide 2.8 million Series 4 thin-film panels for the plant, while Southern California Edison (SCE) and 8minutenergy signed off on a long-term power purchase agreement in 2014 to deliver the project's energy to residents in 15 surrounding counties. 8minutenergy will continue to oversee construction, with the project expected to come online by the end of 2018.
8minutenergy CEO and Founder, Martin Hermann, said: "As the original developer of the Mount Signal Solar Farm, we successfully built the 260MW(DC) Mount Signal 1 project, and brought it online in 2013. We are thrilled to bring Mount Signal 3 to fruition, which is the largest in 8minutenergy's history. It's our mission to deliver abundant and affordable clean energy, and we are certainly doing that with Mount Signal 3. Through our rigorous project development approach, we are going to once again be delivering solar power at cost-competitive rates to fossil fuels."