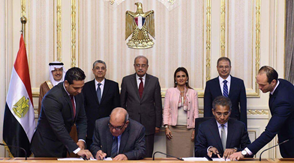 Acwa Power has been awarded three solar PV projects in the Aswan Province of Benban, Egypt, under Round 2 of the Feed-in Tariff (FiT) programme, by the Egyptian Electricity Transmission Company (EETC).
The firm has signed a power purchase agreement (PPA) with the Government of Egypt for all the projects, which have capacities of 67.5MW, 70MW and 28MW respectively. The projects will require total investment of US$190 million, according to an Acwa release.
The projects are expected to achieve financial close and commence construction by Q4 this year.
Acwa is also collaborating with local firms Tawakol and Hassan Allam Holding on the projects.
Rajit Nanda, chief investment officer of Acwa Power added: "Egypt has always been a strategic interest country for Acwa Power."
In April, another developer Scatec Solar and its partners signed PPAs for 400MW of PV projects, marking a significant step forward for Egyptian solar after various controversies had led to the stalling of projects awarded in the country's first 1.5GW FiT round.