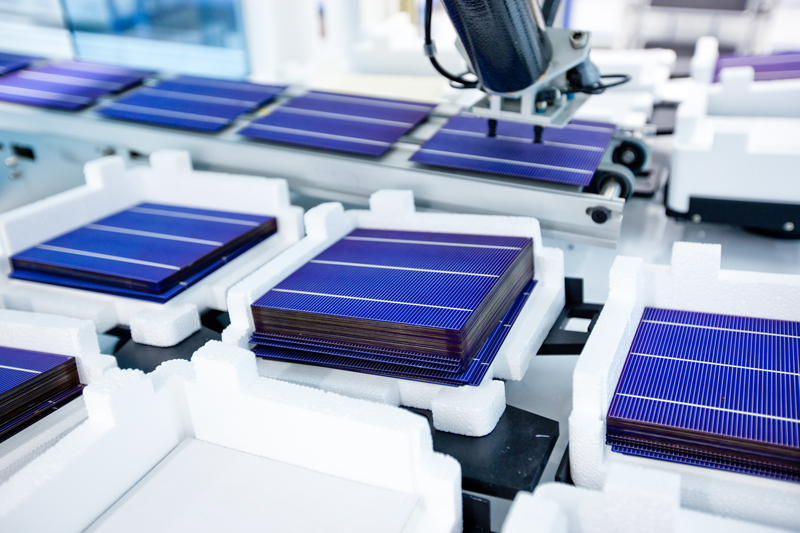 As most of the big-six 'Silicon Module Super League' (SMSL) members announce plans to increase cell capacity during 2016, the question of technology type remains highly important in terms of panel power ratings expected to be shipped over the next 12 months.
This article examines new forecasts for the technologies expected to be utilised by the SMSL in 2016, with the significance of these six c-Si manufacturers becoming all the more pertinent, given the fact that the SMSL is now expected to account for almost 50% of all modules shipped to the end-market next year.
Further inputs are included here from new research undertaken by our in-house research team at PV Tech's parent company Solar Media, ahead of the release of the PV Technology & Manufacturing quarterly report in January 2016, and the inaugural PVCellTech conference in Malaysia in March 2016.
What factors are driving PV technology choice today?
Before we look at the specific plans from the SMSL for cell manufacturing next year, it is useful to stand back and look at the market-driven factors that are now playing a role in cell technology, in addition to the economy of scale now accumulated with the leading technology type by market share – p-type multi.
An interesting observation right now is the uptick in capex for upstream manufacturing, consisting of new fabs, new production lines, upgrades, debottlenecking and routine maintenance. We have now modelled out our expected capex allocations for 2016 for each of the SMSL, and collated this in the figure below.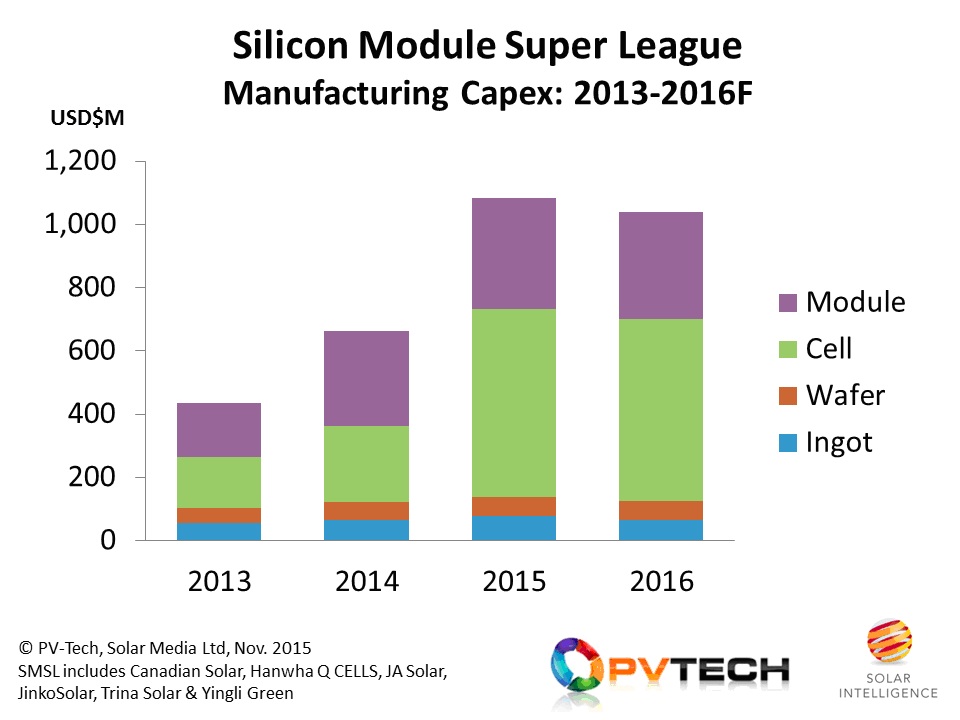 The fact that capex from the SMSL in 2016 is close to 2015 levels echoes much of the sentiment from these manufacturers about the need to retain fiscal prudence next year, the competing capex demand from projects business and the ongoing ability to remain partially asset-light.
Indeed, being asset-light, or being flexible with in-house and outsourced (or as many seem to call it these days, external OEM partnering) is actually providing the buffer for the SMSL in pushing shipment levels up quickly from one quarter to another. In fact, so long as there exists adequate qualified capacity from third-parties – and assuming these companies don't have the end-market presence to ensure their own badged modules can reach the final customer – we have a situation where the SMSL can effectively use these companies as a safety net to avoid chronic over-production/supply.
Consequently, this is allowing most (but not quite all) of the SMSL to run at fairly constant factory utilisation rates from one quarter to another, and then use the outsourced part as the variable supply to pull in or push out module supply needs. The only downside, which is far less risky than trying to produce everything in-house, is the outsourcing cost penalty that can pull down gross margins by a few percentage points, depending on the balance of in-house to third-party.
Collectively this feature is ensuring that the SMSL are not running the risk of repeating the mistakes made during the last capex upturn, when capacity was being added like there was no tomorrow.
In fact, while capacity announcements are running at multi-gigawatt-per-month levels across the industry, what we don't have is the Chinese deluge that we saw in 2009-2011 across literally hundreds of largely technology-agnostic entrants.
The other key takeaway from the capex of the SMSL is the lack of spending going into ingot and wafer manufacturing. This is partly due to the much lower in-house ingot and wafer capacity and production of the SMSL, but also because the expansions of the past few years have been very much focused on growing cell and module capacities.
The other broader industry driver here of course is the role of GCL-Poly as a somewhat de-facto JV supplier of wafers in China to most of the SMSL and whose capacity scales would make it rather futile for any of the Chinese funded SMSL players to challenge directly.
In fact, the GCL-Poly issue and relationship with the big-six SMSL is also having a strong impact on cell technologies for 2016, and in some ways, GCL-Poly is probably more influential in cell manufacturing roadmaps than some of the multi-gigawatt capacity companies to whom it is supplying its wafers.
To put this in perspective, in recent years improved wafer quality has been responsible for around 50% of average annual cell efficiency gains of 0.5 to 0.9% on multi c-Si cells.
Still no need to change from p-type multi production
When we look at cell technologies produced in-house from the SMSL in 2016, the picture is similar to that seen this year, with the only real change being the uptick in PERC from a select group of the SMSL.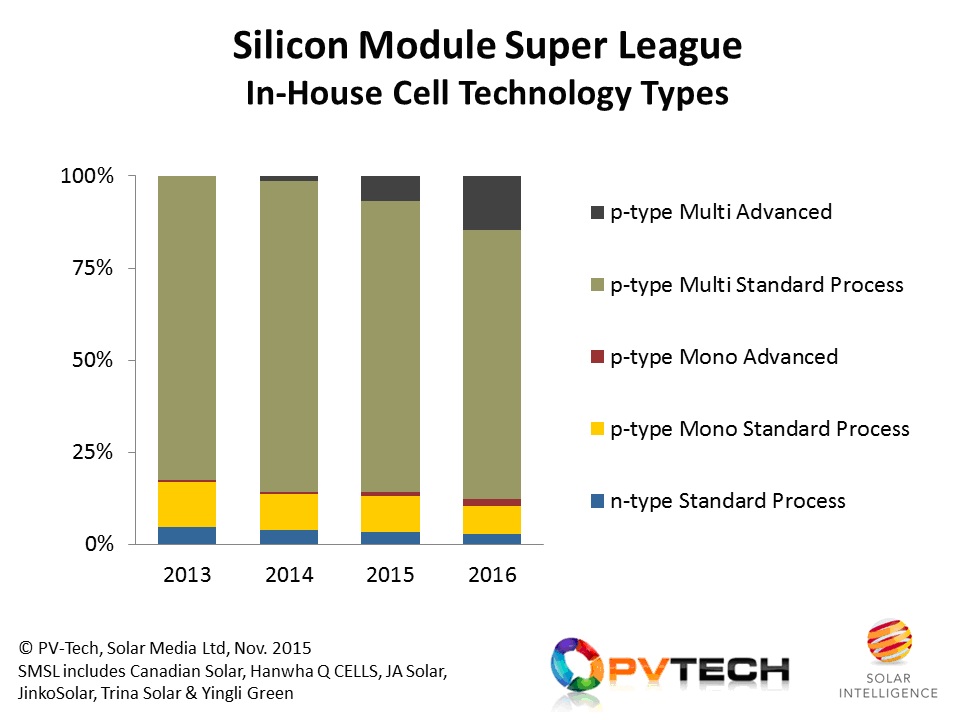 While wafer supply, from the likes of GCL-Poly is certainly having a major influence in the market-share from p-type multi (standard or PERC based), there are perhaps other factors of more relevance in preventing any immediate switch to mono (n-type or p-type substrate based).
The first question to ask is: why change? Here we have to recall that most solar manufacturers are still in recovery mode, with few now falling into the pure-play upstream manufacturing bucket. And from a cost standpoint, all-in in-house costs are still lowest for p-type multi and starting to trend at figures below 40c/W. Set against the current blended module ASP levels of 55-60c/W, you can see quickly that the resulting manufacturing gross margins are looking much better than during the past few years.
So long as the outsourcing cost penalty can be kept to a few pennies, the need for any wholesale technology change (not to mention the extra capex and downtime resulting) is simply not there. Couple this with the 'sold-out' status of most module suppliers for the first six months of 2016, and doing anything other than routine maintenance is just not an option.
Consequently, with the exception of Hanwha Q-CELLS, it may simply be an easier option for other members of the SMSL to add PERC capacity in new production lines planned, most of which are likely to be located in Malaysia and Thailand in 2016, leaving Chinese lines producing standard cells largely for the domestic market in China until there is a real need to upgrade these lines.
The final figure below shows the expected distribution of in-house cell and module capacities for the big-six SMSL across 2016, where the capacity levels are effective annualised figures, not year-end nameplate values. This figure breaks down cell and module capacity/production to China and non-China fab locations also.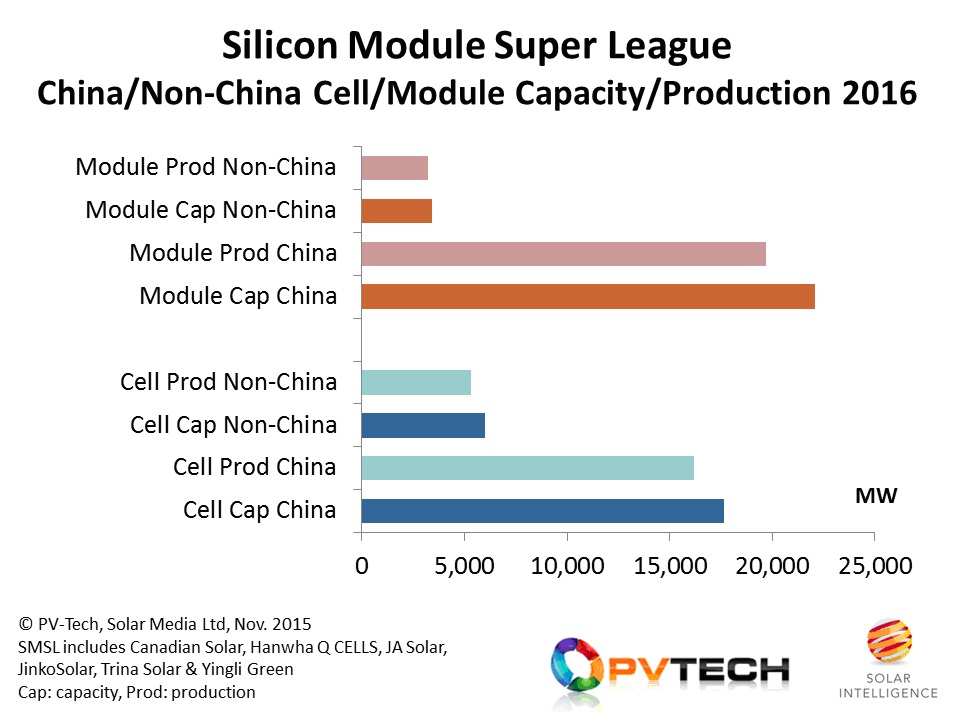 In fact, if we were to include the OEM capacity (friendly outsourcing) that some of the SMSL are relying upon, the percentage of non-China module contributions would be much higher. Either way, 2016 is probably going to the year that overseas cell production finally became a reality for the SMSL, having been floated as a concept as far back as 2012 when the initial US anti-dumping case first impacted on cell manufacturing location.
Module power ratings still on the up
Another factor preventing any need to perform any major technology changes to cell lines can be seen when looking at the strong increases in module power ratings over the past few years. A few years back, it was the norm for 60-cell, six-inch p-type multi cells to be packaged into modules that had nominal power ratings at about 235W. Fast forward to 2015, and this has increased to 260-265W, without any major changes to process flow configurations.
Module power ratings have increased due to better wafer quality (mainly ingot casting optimisation), higher quality paste for cell production combined with higher aspect ratio front printing, and the move to multi busbar forming at the module stage.
Adding PERC is still probably the most viable short-term play for cell makers to move 60-cell p-type module powers to 275-280W, but some final words of caution do need to come into play here.
This switch is far from simple, and only one company today – Hanwha Q-CELLS – has succeeded in doing this, with the mass production implementation coming after about a decade of R&D into PERC that dates back to the Q CELLS days and having an in-house R&D team that was almost bigger than the collective R&D efforts of the whole of China and Taiwan at that time.
Whether the Chinese members of the SMSL can do the PERC change on multi now may however be a moot question: most simply don't need to do this in 2016. Therefore, the big shift to PERC for the SMSL may not arrive until 2017 or 2018, by which time it will be fascinating to see what alternatives are in the mix, other than what we see today in rear-side cell processing.
All these topics are in fact set to dominate the PVCellTech conference in Malaysia in March 2016, with senior technologists from the SMSL lined up to present technology roadmaps and challenges, in addition to talks from almost every other leading cell manufacturer in the industry today, including SunPower, Panasonic, SolarWorld, REC Solar, Sunrise Global, and many others. Complementing this will be invited presentations from the key equipment and materials suppliers for cell manufacturing, and from some of the new n-type activities set to add to the competitive mix in the next few years.
Details on how to participate in the PVCellTech conference can be found here.