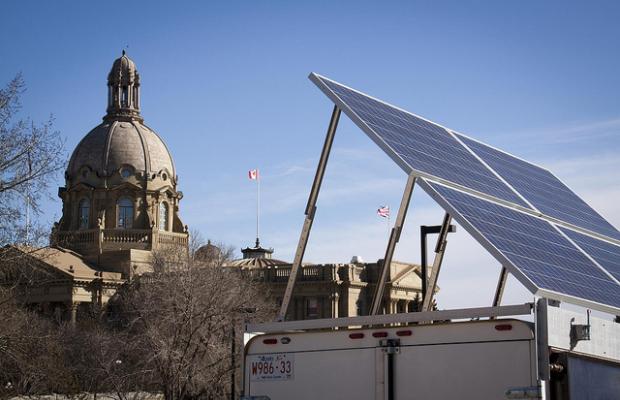 The Alberta government is investigating a proposal for the province's first solar farm that could power 50% of government operations.
A request for information (RFI) has been released to explore the cost and best approach for constructing what would be the first solar farm in Western Canada. Potentially, the farm could replace the province's existing green energy contracts for 135,000MWh a year with solar power.
"With this RFI, Alberta is leading by example and exploring how to create an opportunity for an emerging technology, drive new innovation and diversify our electricity sector," said Brian Mason, minister of infrastructure, in a statement.
Alberta's government-owned facilities have already been powered on 100% clean energy sources since 2009, but the province typically favours hydro and wind power for these efforts. But now, Alberta is learning from the example of other solar-rich provinces such as Ontario and Saskatchewan by looking to incorporate this into its energy mix. If the two existing green contracts can be fulfilled by solar, solar production in the province will increase tenfold.
If the construction of the farm is given the green light, it will be responsible for monumental landmarks in Alberta, including Canada's first 50% solar powered government; Western Canada's first large-scale solar facility and Alberta's first utility-scale solar jobs – as pointed out by Canadian Solar Industries Association (CanSIA) president and CEO John Gorman.
The RFI was launched yesterday and will be open for consideration and input for three weeks.
"The success of this initiative will secure the government and public confidence in a larger future role for solar energy in Alberta," said Gorman.