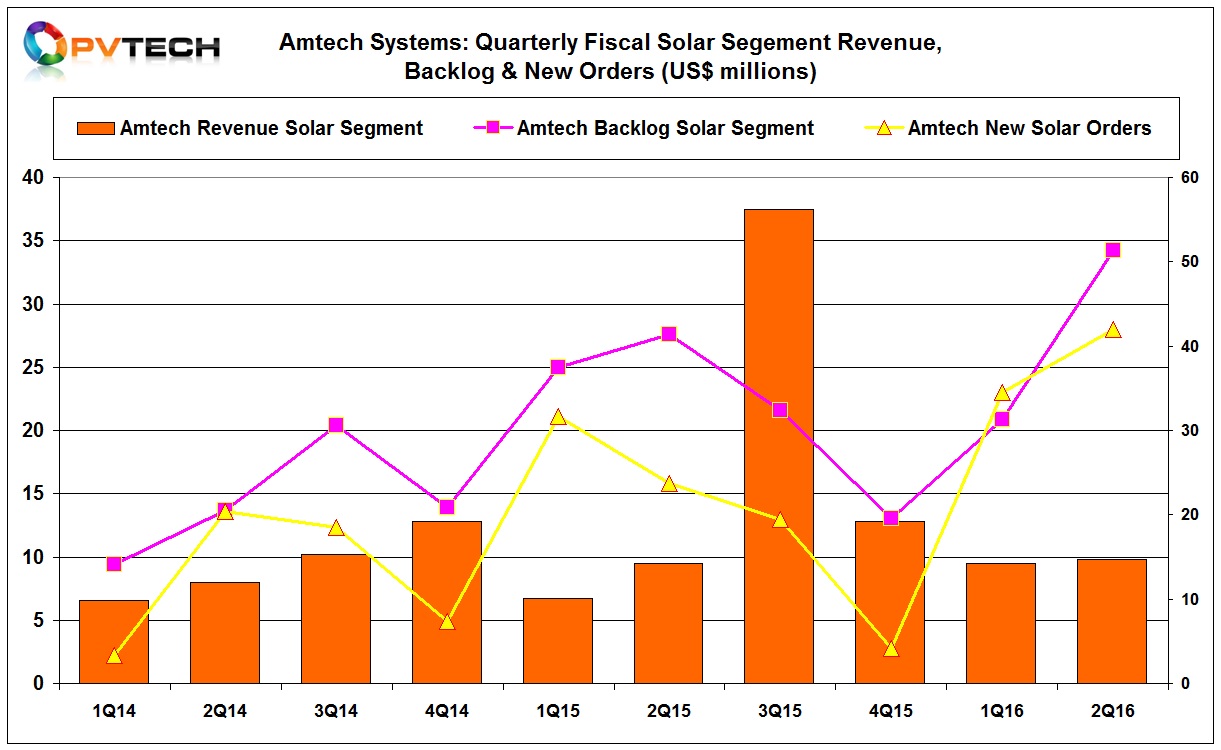 Specialist PV manufacturing equipment supplier Amtech Systems reported continued success in securing new solar equipment orders in its second fiscal quarter of 2016, the highest bookings since the March quarter of 2011.
Amtech reported second fiscal quarter sales of US$22.5 million compared to US$22.1 million in the preceding quarter. Gross margin was 27%, the same as the previous quarter. The net loss for the second quarter was US$1.5 million, compared to a net loss of US$4.0 million in the previous quarter.
The company reported new orders in the second quarter of fiscal 2016 of US$45million, including US$28.0 million in its solar segment, up from US$23 million in the previous quarter.
Total order backlog was US$67.3 million, including a solar segment order backlog of US$51.3 million, compared to US$31.3 million of solar segment backlog in the previous quarter. Order backlog includes deferred revenue and orders that are expected to ship within the next 12 months.
Fokko Pentinga, Chief Executive Officer of Amtech said, "We are pleased with our US$45 million of total bookings in the second quarter, including US$28 million of solar orders, which is the highest solar bookings since the March quarter of 2011. With those bookings, we now have a backlog of $67 million which is a 57 percent increase since December 31, 2015 and the highest in four years. We are positioning for the next wave of growth in solar with expectations to continue to expand our market reach, develop current and new customer relationships, and continue to be recognized as a market leader for our distinguishable technology solutions.
Guidance
With a strong solar order backlog, Amtech guided third fiscal quarter revenue in the range of US$30 million to US$33 million, however significant revenue recognition for solar segment sales are likely to be in the fourth fiscal quarter and beyond, compared to last fiscal year when major solar revenue recognition occurred in the third fiscal quarter.