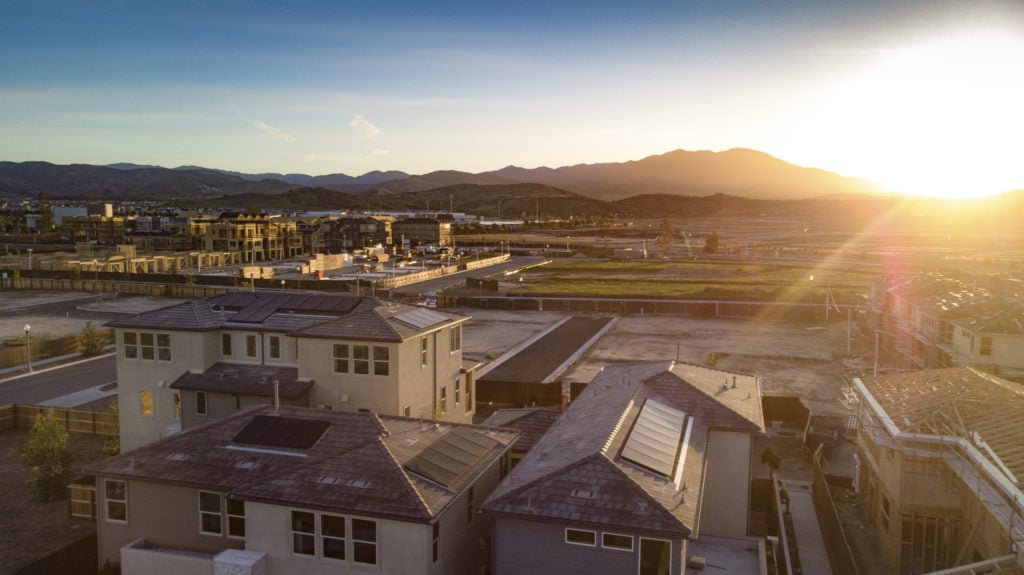 US residential PV installer Sunnova recently announced 2020 financial results and published its second annual financial report, having listed in mid-July 2019.
With three years of financial and business data available, we can start to analyse a number of possible trends, one of which being the changing landscape surrounding Sunnova's supplier base for PV modules, inverters and energy storage.
PV Tech recently covered Sunnova's fourth quarter and full-year financial results with the US installer reporting total 2020 revenue of US$160.8 million, up 22% year-on-year, while adjusted EBITDA was US$59.6 million, compared to US$48.3 million in 2019.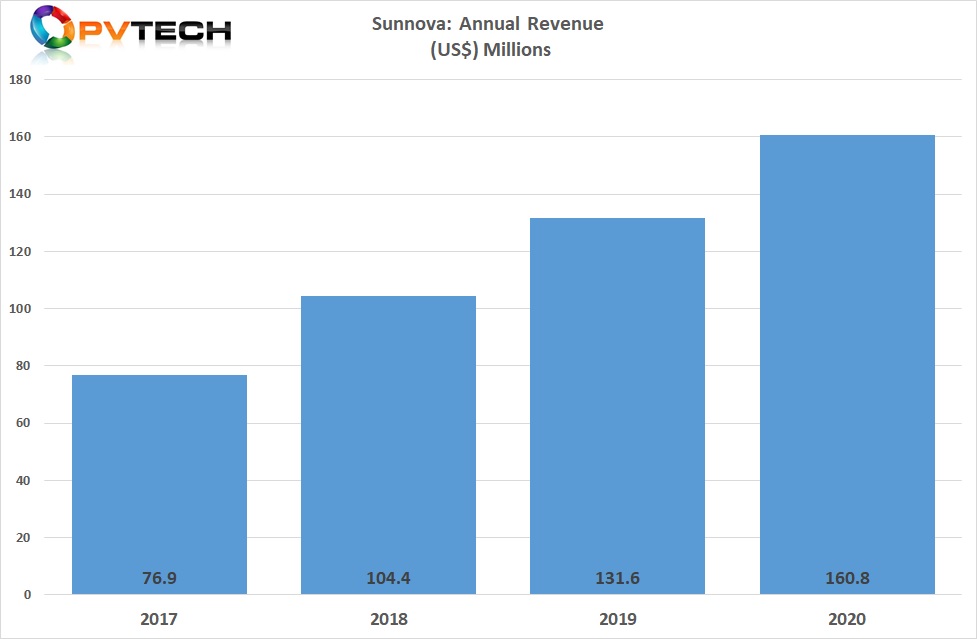 This was driven, despite the impact from COVID-19, by attracting approximately 29,000 new customers in 2020, bringing total customer count to 107,500.
The rate of customer acquisition increased 57%, compared to the prior year acquisition rate of 84%, over 2018.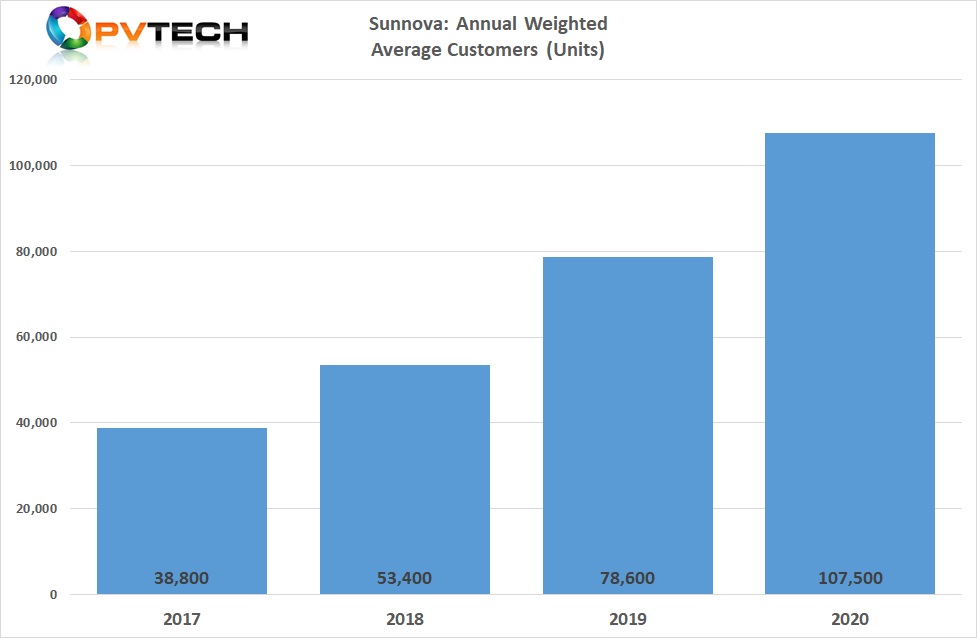 The company guided 2021 customer acquisition rates to be in the range of 55,000 – 58,000, up from its previous guidance of 42,000 – 48,000 and almost double that of 2020 levels.
These are important metrics for suppliers and possible new suppliers going forward.
In Sunnova's case it relies on its growing independent dealer network for installations, but select system components from a limited number of suppliers approved by Sunnova.
At the end of 2020, Sunnova had a total of 435 dealers and sub-dealers registered with 165 recruited in the fourth quarter of 2020, according to the company. This translated to a dealer acquisition rate of 391% in 2020, compared to the previous year.
PV module suppliers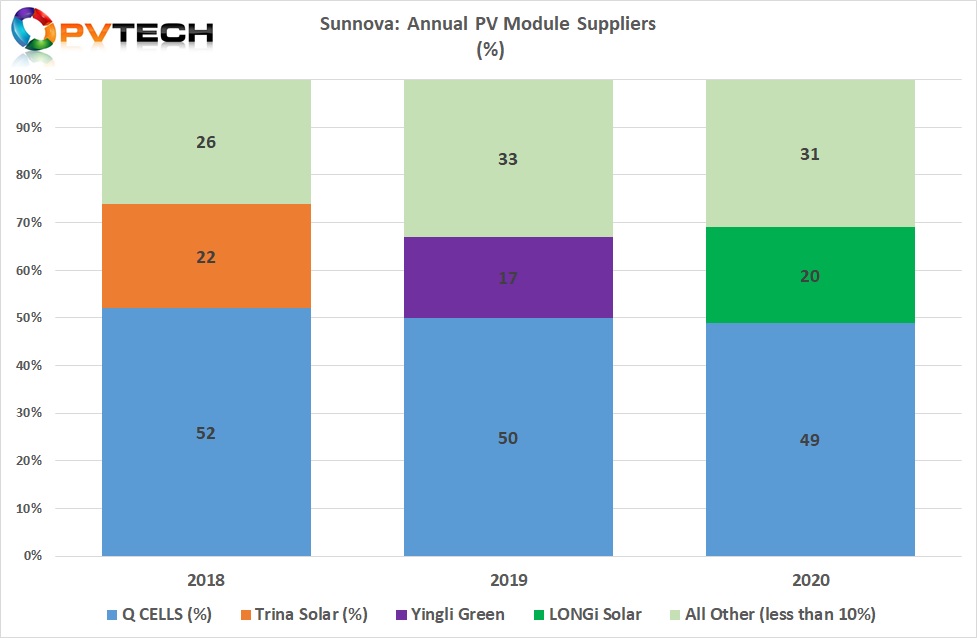 In 2018, Sunnova's largest PV module supplier was 'Solar Module Super League' (SMSL) member, Q CELLS, accounting for 52% of its rooftop deployments. The second largest module supplier was Trina Solar, accounting for 22% of Sunnova's rooftop deployments.
Sunnova noted in its annual SEC financial report that there had been no other module manufacturer supplying modules for deployments exceeded 10% of the total in 2018. The company does not disclose suppliers below the 10% threshold. However, 'other' module suppliers still accounted for 26% of the total in 2018.
2019
In 2019, Q CELLS accounted for 50% of rooftop deployments. Interestingly, Q CELLS had become the largest supplier of PV modules to the US residential market for the first time that year, achieving over 25% total market share, according to WoodMac. This had been supported by module assembly production starting in February 2019 at a US$200 million facility in Dalton, Georgia with a nameplate capacity of 1.7GW per annum.
But there was a dramatic change in its second largest supplier. Gone from 2018 was Trina Solar, which was replaced by Yingli Green Energy (Yingli Solar). Yingli Solar accounted for 17% of the total in 2019, while suppliers accounting for less than 10% of total supply increased to 33%.
It's not clear why Trina Solar lost its position and it's not clear if the manufacturer remained a supplier, but fell into the 'other' segment in 2019.
What is surprising is that Yingli Green would become Sunnova's second largest supplier that year, as the PV manufacturer had been struggling financially for many years.
PV Tech recently undertook an in-depth interview last year with the CFO of Yingli Green, which also detailed the key financial difficulties the company had been dealing with.
2020
Q CELLS was again the main module supplier last year, accounting for 49% of the total installations through Sunnova. But the deal with Yingli Green developed issues, and so Yingli lost its second placed position. Sunnova said in its recently release annual report that: "Yingli Green Energy is currently undergoing a restructuring of its debt. There is no guarantee Yingli Green Energy will honor its existing warranty coverage or will continue to supply us with solar photovoltaic panels in the future following the completion of this restructuring."
Sunnova's explanation is certainly understandable, although in November 2020, PV Tech covered Yingli Green's statement regarding its restructuring plan had been formally approved by the Chinese courts.
However, such complex restructurings can take significant time to be implemented and something both companies will have to work through the issues in 2021.
Replacing Yingli Green was SMSL member LONGi Solar, which accounted for 20% of total module supply in 2020.
Other suppliers below the 10% threshold combined, accounted for 31% of the total, down from 33% in 2019. With Q CELLS being Sunnova's largest and most consistent module supplier, we note that Q CELLS has been the only major supplier that has established a significant manufacturing footprint in the US and has focused product offerings and sales to the US residential market.
PV inverter suppliers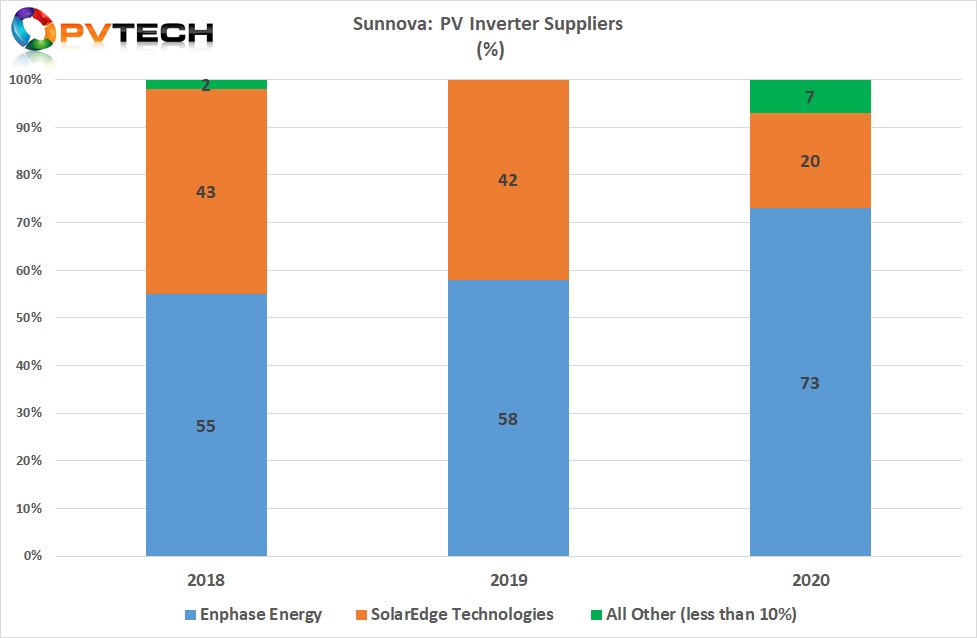 Although Sunnova does not breakout the types of inverters it predominantly uses for residential installations, the largest long-term supplier has been Enphase Energy, the leading microinverter supplier.
In 2018, Enphase accounted for approximately 55% of Sunnova's inverter requirements, followed by SolarEdge Technologies, the leading power optimizer supplier, which accounted for 43% of supply.
Only 2% of supply was supplied by other unrecognised suppliers.
2019
Sunnova's selection of Enphase and SolarEdge was consolidated in 2019 as Enphase took a 58% share of supply, while Enphase accounted for 42% of the total.
2020
The share between Enphase and SolarEdge changed significantly as Sunnova shifted to greater microinverter supply from Enphase, compared to power optimisers and string inverters from SolarEdge.
In 2020, Enphase accounted for 73% of Sunnova's total installations, while SolarEdge lost over 50% of its previous year supply and accounted for only 20% of Sunnova's total installations.
At the macro level, PV Tech has recently highlighted that Enphase had reported record full-year revenue and shipments in 2020. Enphase shipped almost 7 million microinverter units last year, a new record, despite slashing production by around 1 million units due to COVID-19 impacting demand in the second quarter. The company increased revenue 24%.
In contrast, PV Tech recently highlighted that SolarEdge reported year-on-year revenue growth of just 2.4% in 2020, compared to growth rates of over 50% per annum in recent years.
Enphase has been gaining significant sales momentum since 2019 as it transitioned to its IQ7 microinverter platform. Key attractions has been the simplified and fast installations as well as the ease of integration with high-performance modules.
Interestingly, by mid-2020, Q CELLS was supplying its first AC modules using the integrated IQ7 microinverter in the US.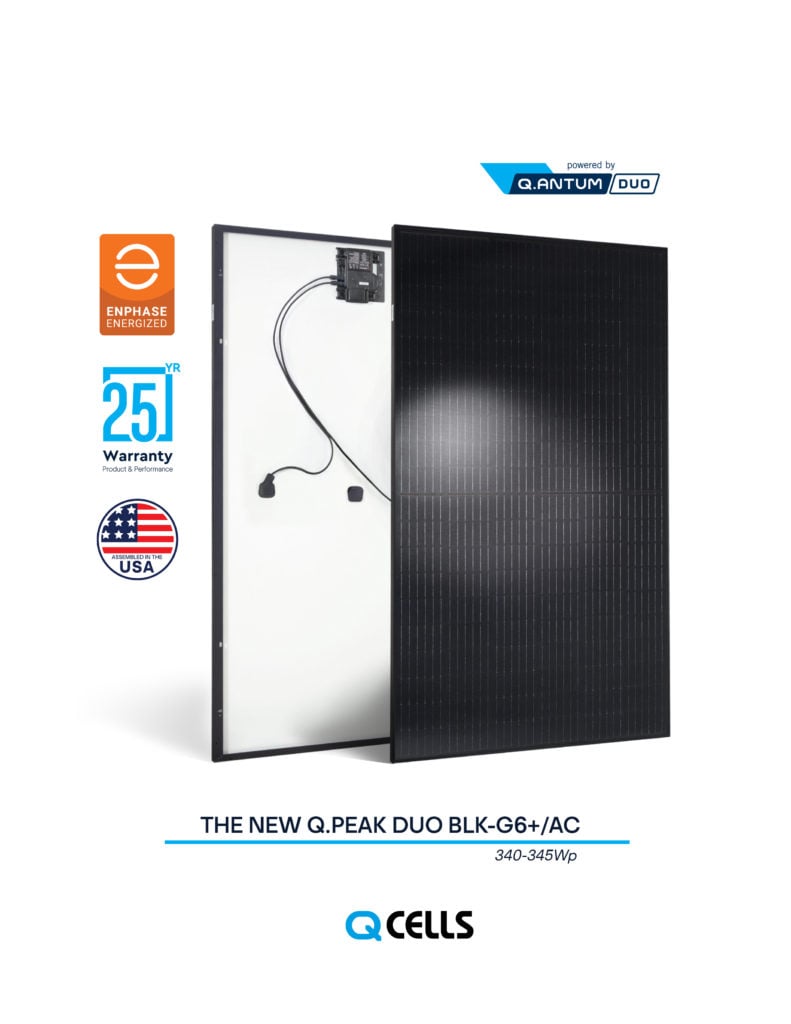 Another shift for Sunnova in 2020 was the increased use of other inverter manufacturers after relying 100% on Enphase and SolarEdge in 2019. Other inverter related suppliers accounted for 7% of installations in 2020, the largest level to date.
Energy Storage suppliers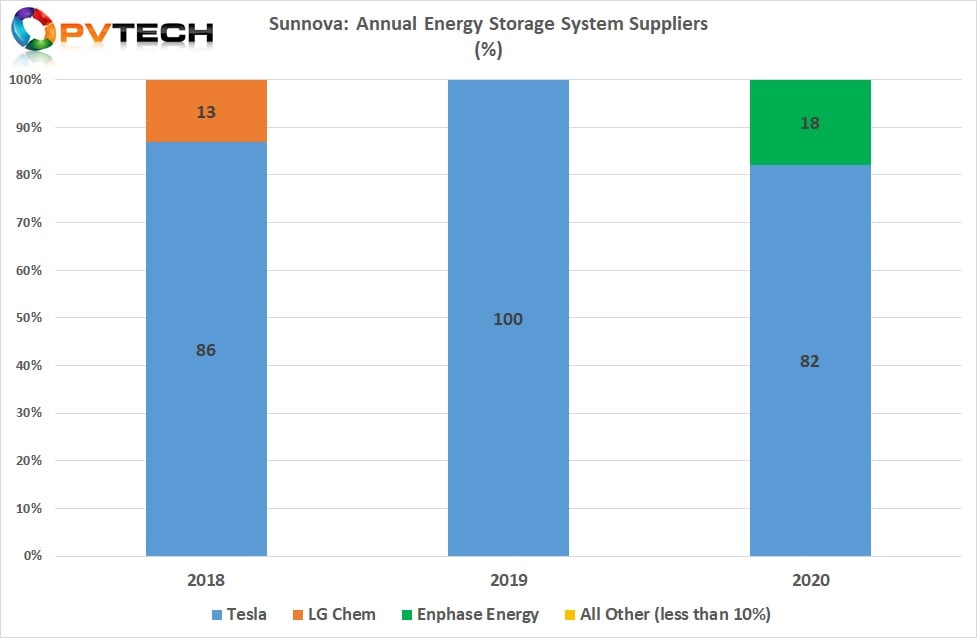 Limited supply from a limited number of third-party suppliers had restricted energy storage installations over the last three years. Sunnova highlighted these challenges in its 2019 annual report.
2018
Although energy storage attachment levels were low in 2018, Tesla accounted for approximately 86% of supply, while LG Chem accounted for the remaining 13%.
2019
A year later, Sunnova used Tesla for 100% of its energy storage system purchases in 2019. The penetration rate of storage in Sunnova's customer base was only 3.3% by the end of the year.
2020
Further changes occurred in 2020, partly due to the initially higher availability of Tesla battery systems as production at Gigafactory 1 was able to ramp storage systems rather than being curtailed by Tesla's focus on battery cells for electric vehicles. As well as later in the year the long-awaited availability of the Enphase battery system.
As a result, Tesla still accounted for approximately 82% of supply in 2020. However, Sunnova noted that attachment rates declined in the third quarter of 2020, due to battery supply constraints. Enphase secured a significant 18% share by year-end.
Sunnova also noted that storage penetration rates increased from 3.3% in 2019 to 9.2% in 2020 with a cumulative total of 1,109 battery retrofits by year-end.
One of the key takeaways from 2020 could be the possible corelation between Enphase's increased inverter share with its energy storage penetration with Sunnova.